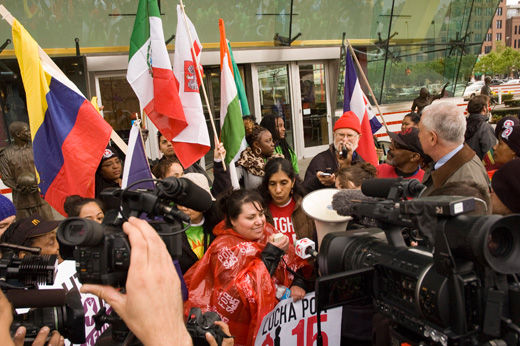 ST. LOUIS – Calling for a living wage and the right to form a union without retaliation, fast-food workers here, across the nation and around the world walked off their jobs in an unprecedented wave of strikes that literally swept a the globe. Strikers in the more than 150 U.S cities involved demand both the union rights and a $15 an hour wage. Around the world more than 230 cities were involved.
"It feels good to be a part of history. It's been exactly a year here in St. Louis that fast-food workers first went on strike for $15 and a union and now our movement has spread all over the world," said Danielle Polk, 25, mother of 2, who works at a McDonald's on W. Florissant. "We will not sit and wait for these billion-dollar companies to pay us enough to feed our families. I've worked in fast-food for nearly a decade, and I know that change will not come unless we fight for it."
Workers went on strike at St. Louis' major fast-food restaurants, including McDonald's, Burger King, Wendy's and KFC. Clergy and community supporters joined fast-food workers on the strike lines.
Beginning a little bit before 6am fast-food workers and community supporters filed into the McDonald's on W. Florissant Avenue chanting "Hey, hey, ho, ho, poverty wages have got to go". Over a dozen of the workers at the Ferguson McDonald's went on strike today for $15 an hour and union organizing rights. At noon, protesters arrived at the Wendy's on Gravois, just in time to catch four Wendy's workers walking out of the store. The four tossed their aprons and hats and picked up strike signs.
"Our communities deserve jobs that pay workers enough to live on, $7.50 is just not enough," said Dr. Rev. Martin Rafanan, co-chair of the Missouri Jobs with Justice and Community Director for Show Me 15. "We want good jobs that pay a fair wage, that's what our families deserve, and that's what will get the economy moving forward again."
In the U.S., workers went on strike from Raleigh to Los Angeles at major fast-food restaurants including McDonald's, Burger King, Wendy's and KFC. They held the first-ever fast-food strikes in Miami, Opelika (Ala.), Orlando, Philadelphia, Sacramento and San Antonio.
In Dorchester, Mass. managers closed down a Burger King where a half-dozen workers were striking. In St. Louis, a corporate McDonald's closed its doors at 3 a.m. because managers knew the entire morning shift was going to walk out, and reopened three hours later with managers at the helm. Nearly 20 workers from that store are on strike. There was no breakfast at a Chicago Burger King when striking workers forced the kitchen to close. Strikes forced a Wendy's in Pittsburgh to close, as well as McDonald's restaurants in Oakland and Sacramento. All non-managerial workers walked off their jobs at a First Hill McDonald's in Seattle, forcing managers to keep the store running.
San Diego fast-food workers led hundreds of religious and community supporters through a Burger King drive-thru Thursday morning, chanting, praying and holding signs that read, "Strike for Better Pay" and "Poverty Jobs Hurt San Diego." State legislators joined striking workers outside a Charleston, South Carolina Burger King and a McDonald's in New York City. And in Los Angeles, the Rev. Al Sharpton was expected to brave 100-degree temperatures to join protesters on a strike line Thursday afternoon.
Picketing in front of the McDonald's on Grand Boulevard in Detroit, 22 year-old Victoria Dunlap has one child she supports by working at the fast food giant. "It's very hard; I can't do it," she said. It's not the first time she's gone out on strike and Dunlap says it won't be her last. "Won't be peace until we win." She said she is overwhelmed that fast food strikes a year ago that involved only a few hundred workers have spread now across the globe.
In New York City fast food workers rallied at 34th St., the maximum visibility epicenter of the nation's largest metropolis. "Fifteen and a union," the spirited marchers chanted.
Just a week before the protests in New York and around the world it was clear that even the CEOs of the profitable fast food chains are feeling the pressure. Fred DeLuca of the Subway chain said he has no problem with raising the minimum wage and the wages of his workers.
Members of Congress joined the picket lines around the country and released a video declaring their support for the workers.
"Where Congress is failing to take action to address inequality, these workers are leading the way," said Rep. Keith Ellison, DFL-Minn. "Their fight for $15 and a union is a shining light that will ultimately benefit all workers in the country and help lift up our economy. It's clear this movement isn't going to stop until fast-food companies listen to the voices of these workers, who are struggling to support families on as little as $7.25 an hour."
On Twitter, the #fastfoodglobal hashtag trended in nearly 20 U.S. cities from New York to Phoenix, and around the world it trended in 50 cities from London to Lagos. Overseas, workers protested in 80 cities from Paris to Sao Paolo. Banner-waving protesters in New Zealand kicked off the international protests with a demonstration at a McDonald's adjacent to corporate headquarters in Auckland, reading out the names of the 150-plus US cities on strike and calling for higher pay and better rights for McDonald's workers in New Zealand. The police in India tried to shut down protests, but workers were not dissuaded and held a demonstration in front of a McDonald's in Mumbai. On Friday, fast-food workers across Italy will walk off their jobs in a strike that is expected to bring the industry there to a standstill.
In the Philippines, workers held a flash mob inside a Manila McDonald's during the breakfast rush. They sang and danced to "Let it Go," from the movie Frozen, calling on McDonald's to let go of low pay and let workers organize. In Japan, where protests were held in nearly every prefecture, workers protested at a McDonald's in downtown Tokyo, adopting the U.S. workers' fight for 15 by calling for the company to pay Japanese workers 1,500 Yen. Bystanders stopped and applauded protesters in Sapporo, a rare occurrence in Japan. Protesters shut down a McDonald's in Brussels during the lunchtime rush.
Last week, workers and union leaders from dozens of countries met in New York City for the first-ever global conference of fast-food workers, organized by the International Union of Food, Agricultural, Hotel, Restaurant, Catering, Tobacco and Allied Workers' Associations (IUF), a federation composed of 396 trade unions in 126 countries representing a combined 12 million workers.
"After coming together in New York, the commitment of fast-food workers to fight for higher pay and better rights on the job has grown stronger," said Ron Oswald, general secretary of the IUF. "These unprecedented international protests are just the start of a worldwide campaign to change the highly-profitable, global fast-food industry. We're putting the companies on notice: make real changes now, or this global fight is only going to continue to spread."
A campaign that started in New York City in November 2012, with 200 fast-food workers walking off their jobs demanding $15 and the right to form a union without retaliation, has since spread to more than 150 cities in every region of the country, including the South-and now around the world. The growing fight for $15 has been credited with elevating the debate around inequality in the U.S. When Seattle's mayor proposed a $15 minimum wage earlier this month, Businessweek said he was "adopting the rallying cry of fast-food workers."
As it spreads, the movement is challenging fast-food companies' outdated notion that their workers are teenagers looking for pocket change. Today's workers are mothers and fathers struggling to raise children on wages that are too low. And they're showing the industry that if it doesn't raise pay, it will continue to be at the center of the national debate on what's wrong with our economy.
A study released last month by the National Employment Law Project showed that the recovery has created far more lower-paying jobs than higher-paying ones. "Fast food is driving much of the job growth at the low end and the gains there are absolutely phenomenal," said Michael Evangelist, a policy analyst at NELP. "If this is the reality, if these jobs are here to stay and are going to be the core of our economy, we need to make them better by raising pay. "
Not only do fast-food jobs pay so little that a majority of industry workers are forced to rely on public assistance, but many workers don't even see all of the money they earn. Earlier this year, workers in three states filed class-action suits against McDonald's alleging widespread and systematic wage theft, and a poll by Hart research showed 89% of fast-food workers have had money stolen from their checks.
Companies like McDonald's are starting to realize they need to act. In response to the suits, the company said it was conducting a comprehensive investigation; while in a filing with the Securities and Exchange Commission, McDonald's said a growing focus on inequality might force it to raise wages this year. And the spread of the movement across the world should cause further alarm. International fast-food restaurants are expected to expand at four times the rate of U.S. businesses, according to a recent Merrill Lynch report. And while US sales slump, companies like McDonald's are relying on growth overseas to boost their bottom lines more than ever.
With shareholder meeting season upon us, and a recent report showing the industry has by far the largest disparity between worker and CEO pay, scrutiny on fast-food companies is bound to intensify. New York City Comptroller Scott Stringer said, "Excessive pay disparities pose a risk to share owner value," and that conversations around inequality should move into the boardrooms of profitable fast-food companies. Meanwhile, USA Today called the growing worker movement, "the issue that just won't go away" for the fast-food industry.
Fast-food workers went on strike in the following U.S. cities:
Alameda, CA; Arvada, CO; Atlanta, GA; Auburn Hills, MI; Aurora, CO; Austin, TX; Ballwin, MO; Belleville, IL; Bellevue, PA; Berkeley, CA; Bloomfield, CT; Bloomington, IN; Boston, MA; Cahokia, IL; Cary, NC; Central Falls, RI; Charleston, SC; Charlotte, NC; Chesterfield, MO; Chicago, IL; Commerce City, CO; Concord, NC; Creve Coeur, MO; Dearborn, MI; Decatur, GA; Denver, CO; Dublin, CA; Durham, NC; East St. Louis, IL; Eastpointe, MI; El Cerrito, CA; Fairfield, CA; Farmington Hills, MI; Ferguson, MO; Ferndale, MI; Flint, MI; Flint Township, MI; Florissant, MO; Forsyth, MO; Fremont, CA; Glendale, CA; Glendale, WI; Greendale, WI; Greenfield, WI; Goldsboro, NC; Greensboro, NC; Greenville, NC; Grandview, MO; Gretna, LA; Haines City, FL; Hamden, CT; Hamtramck, MI; Hartford, CT; Harvey, LA; Hayward, CA; Henderson, NV; Henrico, VA; Highland Park, MI; Houston, TX; Huntington Park, CA; Indianapolis, IN; Inglewood, CA; Independence, MO; James Island, SC; Jennings, MO; Kannapolis, NC; Kansas City, KS; Kansas City, MO; Knightdale, NC; Lakewood, CO; Lansing, MI; Las Vegas, NV; Lenexa, KS; Lincoln Park, MI; Livonia, MI; Los Angeles, CA; Madison, WI; Milwaukee, WI; Melvindale, MI; Memphis, TN; Metairie, LA; Miami, FL; Miami Beach, FL; Miami Gardens, FL; Morrisville, NC; Mt. Olive, NC; Nanuet, NY; Nashville, TN; New Haven, CT; New Orleans, LA; New York, NY; North Charleston, SC; North Las Vegas, NV; Oak Park, MI; Oakland, CA; Opelika, AL; Orlando, FL; Overland Park, KS; Pawtucket, RI; Peoria, IL; Philadelphia, PA; Pittsburgh, PA; Pleasant Hills, PA; Phoenix, AZ; Pleasanton, CA; Plymouth, NC; Pontiac, MI; Providence, RI; Pueblo, CO; Raleigh, NC; Raytown, MO; Redford, MI; Redford Township, MI; Richmond, CA; Richmond, VA; River Rouge, MI; Rockford, IL; Roeland Park, KS; Sacramento, CA; San Antonio, TX; San Diego, CA; San Leandro, CA; San Lorenzo, CA; Seattle, WA; Seekonk, MA; Slidell, LA; Southfield, MI; Southaven, MS; Spencer, NC; Springfield, MO; St. Louis, MO; St. Petersburg, FL; Tampa, FL; Taylor, CA; Taylor, MI; Temple Terrace, FL; Union City, CA; University City, MO; Warren, MI; Warwick, RI; Waterford, MI; Wayne, MI; Wausau, WI; Wauwatosa, WI; West Allis, WI; West Milwaukee, WI; Westin, WI; West Memphis, AR; Westview, PA; Wilkinsburg, PA; Wheat Ridge, CO; West Haven, CT; Wethersfield, CT; Wilmington, DE; Windsor Locks, CT; Wentzville, MO; Williamston, NC; Winston-Salem, NC.
Fast-food workers protested in the following global cities/countries:
Akita, Japan; Aomori, Japan; Antigua; Auckland, New Zealand; Auxerre, France; Bandung, Indonesia; Bangkok, Thailand; Batangas, Philippines; Belfast, Ireland; Berlin, Germany; Bermuda; Bogota, Colombia; Bologna, Italy; Bordeaux, France; Brasilia, Brazil; Brussels, Belgium; Buenos Aires, Argentina; Bussan, South Korea; Cardiff, United Kingdom; Casablanca, Morocco; Cebu, Philippines; Cesenatico, Italy; Colombo, Sri Lanka; Copenhagen, Denmark; Cork, Ireland; Curitiba, Brazil; Davao, Philippines; Djakarta, Indonesia; Dublin, Ireland; Florence, Italy; Fukuoka, Japan; Fukushima, Japan; Geneva, Switzerland; Gifu, Japan; Glasgow, United Kingdom; Goias, Brazil; Hachinohe, Japan; Helsinki, Finland; Hirosaki, Japan; Hong Kong; Kagoshima, Japan; Karachi, Pakistan; Kathmandu, Nepal; Kofu, Japan; Kyoto, Japan; Lahore, Pakistan; Leicester, United Kingdom; Lilongwe, Malawi; London, United Kingdom; Manaus, Brazil; Manila, Philippines; Matsuyama, Japan; Milan, Italy; Mito, Japan; Morioka, Japan; Mumbai, India; Nagano, Japan; Nagasaki, Japan; Nagoya, Japan; Nara, Japan; Newcastle, United Kingdom; Oita, Japan; Okayama, Japan; Osaka, Japan; Oslo, Norway; Panama City, Panama; Paris, France; Porto Seguro, Brazil; Rawalpindi, Pakistan; Rome, Italy; Saga, Japan; San Juan, Puerto Rico; San Salvador, El Salvador; Santo Domingo, Dominican Republic; Sao Paulo, Brazil; Sapporo, Japan; Sendai, Japan; Seoul, South Korea; Sheffield, United Kingdom; Shizuoka, Japan; Stockholm, Sweden; Swansea, United Kingdom; Taipei, Taiwan; Takasaki, Japan; Tokushima, Japan; Tokyo, Japan; Trinidad; Valletta, Malta; Venice, Italy; Wigan, United Kingdom; Yamagata, Japan; Yogyakarta, Indonesia; Zurich, Switzerland. (Note that the Italian strikes are taking place May 16.)
Tony Pecinovsky, John Rummel and Gabe Falsetta contributed to this article.
Photo: Chicago fast food workers protest. Earchiel Johnson/PW