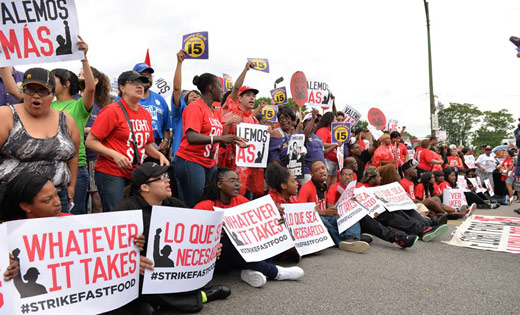 CHICAGO – Fast food workers will walk off the job Thursday during a nationwide strike in 160 cities for higher wages and union rights. They will demand an industry-wide wage of $15 per hour.
For the first time ever large groups of workers in other industries are expected to walk off their jobs in solidarity with the fast food workers who are demanding $15 an hour. Sources close to organizers say that both home care workers and airport workers will join the fast food workers on the picket lines across the country as the Fight for $15 campaign expands to include other industries.
The announcement of the strikes coming this week was first made Monday night by the Fight for 15 movement.
The actions in individual cities are being led by grassroots organizations of workers and their supporters. They have the backing of labor unions like the Service Employees International Union, AFL-CIO unions and citywide labor federations. In this city the low-wage workers and their supporters are operating under the umbrella of the Workers Organizing Committee of Chicago.
Spokespeople for the committee say that protests will kick off at the huge Rock N' Roll McDonald's at 600 N. Clark St. The workers then plan to march in the downtown area and picket outside of other low-wage employers.
The strikes on Thursday are expected to be the largest since the first such strike that took place in New York on Nov. 29, 2012, making them the largest work stoppage ever faced by the fast food industry.
"We expect this action to o be bigger, bolder than anything we've seen in this movement so far," a leader of the steering committee of the National Worker Organizing Committee said. "This Thursday will show that this movement is now bigger than ever." Leaders of the national steering committee work at fast food restaurants themselves with several of the 25 on the committee holding down jobs in more than one fast food establishment at the same time.
Rev. William Barber, president of the North Carolina NAACP and architect of that state's Moral Monday movement, announced his support for the upcoming strikes during a press conference call. "I want you to know without a shadow of a doubt that the fight for labor wages and the fight for civil rights are two movements headed in the same direction," he told people on the call. "The battle for fair wages is as critical as the battle that young people waged in the 1960's when they came into the sit-in movement," he added.
Workers from the industries just joining the fast food workers in their fight for a $15 minimum wage were also on the call. "In Minneapolis and across Amer4ica, we are fighting for $15 because we want to change our lives for the better," said Aber Siyoum, a worker at Minnesota's Minneapolis-St. Paul Airport-. "This is why I'm proud to stand together with fast food workers and home care workers. This is why I'm in this movement."
The Fight for $15 movement has gained much support even outside the industries where workers are directly involved in strikes and protests. The militant protests seem to be benefitting workers across the board with cites like San Francisco and Seattle both having voted to raise their minimum wages to $15 an hour and numerous other localities having voting to raise the minimum wages to levels lower than that.
Organizers have not said whether the strikes this Thursday will, as have strikes in the recent past, include acts of civil disobedience. At a national conference of fast food workers here in July participants voted to do "whatever it takes" to win their demands. Since the conference workers have received training in how to carry out acts of civil disobedience in peaceful fashion.
There have been solidarity rallies with U.S. fast food workers in some 32 countries around the world.
Workers note that the solidarity actions have helped mobilize protests here at home. At September strikes in Chicago, for example, fast food workers from Argentina and Brazil joined the picket lines thrown up by U.S. workers, explaining to them how in those countries they had officially recognized unions, health benefits and earned living wages.
In countries like Denmark and Germany, for example, it is not uncommon for workers at McDonald's to be paid $20 per hour. Workers here cite facts such as these, which they learned during solidarity actions with workers overseas, when they say the companies can afford to pay a living wage here in the United States.
Organizers urge supporters to keep posted on the Fight for 15 and Fast Food Forward websites and Facebook pages to find out how they can help on Thursday.
Photo: September 4th, 2014 Chicago & Cicero Strikes, Fight for 15 – Lucha por 15 WOCC