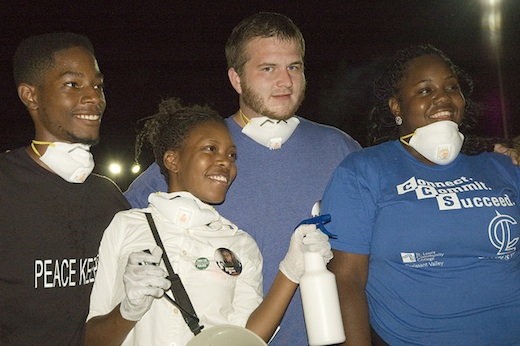 CHICAGO – Members of the Workers Organizing Committee of Chicago will travel with other community groups to Ferguson, Mo., on Friday, October 11. Dozens of Chicago fast food workers, will join thousands of people from across the country that are heading to St. Louis and Ferguson to kick off a series of protests, rallies and events entitled "Ferguson October: A Weekend of Resistance." Fast food workers from Indianapolis, St. Louis, Nashville, Memphis, New Orleans, Little Rock, and Kansas City will also join in solidarity. The weekend's activities will bring together thousands who want Justice for Mike Brown and will serve as a national call to action to eliminate racial profiling and police violence.
After nearly 60 days of sustained local protests without any indication of an arrest or indictment in the wake of Mike Brown's killing by Ferguson Police Officer Darren Wilson, Activists have noted the role that Ferguson has played in shaping a broad conversation about policing and criminal justice that they say is long overdue.
"The world has witnessed Eric Garner pleading for a breath while being choked by the NYPD, John Crawford gunned down in a Walmart in Ohio, and Mike Brown shot dead in the street in Ferguson," said Montague Simmons, chair of Organization for Black Struggle. "Our nation has received a wake-up call and the resistance, led by youth in Ferguson, has sparked a national movement to dismantle a broken policing system that unfairly targets black communities."
"I'm traveling to Ferguson to stand in solidarity with protesters from all over the nation and pay tribute to slain teenager Mike Brown, his family, and the Ferguson community," said Tyree Johnson, a McDonald's worker of 22 years. "We believe that everyone deserves basic dignity and respect, at work, in your community, and in all aspects of life."
Rashad Robinson of ColorOfChange.org, an endorsing organization of Ferguson October, added, "This weekend the nation comes to Ferguson to demand justice for Mike Brown and an end to the crisis of discriminatory and violent policing nationwide. We come to raise our voices for a criminal justice system that honors the lives, safety, and dignity of all communities. Hundreds of thousands of ColorOfChange members are outraged at the police killing of Mike Brown, the current spectacle of a Grand Jury, and the continued cover ups and unlawful arrests by St. Louis and Ferguson police. We stand in solidarity with Organization for Black Struggle and other partners in calling on Governor Nixon to hold Missouri law enforcement to a higher standard of policing, appoint a special prosecutor to Officer Darren Wilson's case, and protect the safety of community members protesting for justice."
"Young people in Ferguson have stood together day after day to demand Justice for Mike Brown and assert their right to live," said Tef Poe, local rapper and organizer with Hands Up United. "Local police departments have gassed us, beat us and shot us with rubber bullets, but they cannot stop our march for justice. We are inspired and energized by the outpouring of support from so many set to arrive in St. Louis this weekend."
The Ferguson October Weekend of Resistance is sponsored by hundreds of organizations across issue areas, both local and national, including: Organization for Black Struggle, Hands Up United, Missourians Organizing for Reform and Empowerment, ColorofChange.org, PICO National Network, Veterans For Peace, The Catholic Worker, Progressive Democrats of America, St. Louis NAACP, National Domestic Workers Alliance, CODEPINK, The Urban League of Metropolitan St. Louis, SEIU HCII, Working Families, National Network for Arab American Communities and many others.
For updates, a full schedule of events, and compete list of endorsers, visit www.FergusonOctober.com.
Photos: From left to right, fast food workers and leaders of the Show Me $15 movement Rasheen Aldridge, Shermale Humphrey, Josh Kersting and Jeanina Jenkins take their organizing skills and dedication to justice to the August protests in Ferguson, Mo., Aug. 19. Earchiel Johnson/PW