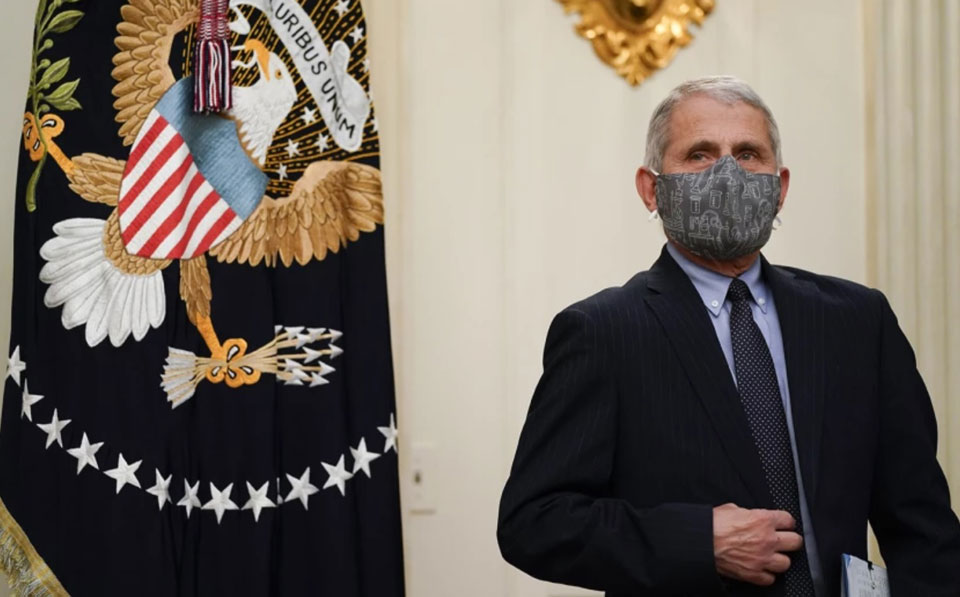 WASHINGTON—The nation's top expert on the coronavirus, Dr. Anthony Fauci, is optimistic that more pharmaceutical companies will announce "within the next few days" that they, too, have vaccines to join the two whose anti-viral vaccines are already being injected into people's arms.
"There's some light at the end of the tunnel" in the U.S.'s fight against the coronavirus, Fauci said. But the virus has killed more than 432,000 people since the first U.S. case was identified last January "and threatens thousands more," Fauci warned,
Fauci, longtime director of the National Institute of Allergies and Infectious Diseases, offered those observations and others in a 45-minute evening "Fireside Chat" with the presidents of the nation's two teachers' unions: Randi Weingarten of the Teachers (AFT) and Becky Pringle of the National Education Association.
To the big question teachers asked—When can kids, teachers, and staff go back to school?—Fauci said states and school districts need money to pay for preventive measures, such as vaccinations, masks, physical distancing, temperature checks, and sanitizing, first.
"We will not get back to normal until we get the children back in school. But we can't do that without the resources. You can't just say 'Go do it on your own," he said.
Fauci is now working and is pleased to do so, with an administration, headed by new Democratic President Joe Biden, who said this week he would put the U.S. "on a wartime footing" in the battle against the virus, officially called COVID-19.
But Fauci's concerned about two other developments. One is the coronavirus mutant that developed in South Africa, for which the current vaccines appear to be less effective. The other is that people don't realize after they've been vaccinated, that they can still transmit the virus to others.
That's because the two current vaccines mask symptoms, meaning people may still have the virus in their nasal passages, but not know it, and not be ill, but can still eject it out when they breathe, cough or sneeze, he explained.
"Theoretically, yes," he said of people who have been vaccinated. "You could get infected and not know it….The vaccine is preventing the symptoms."
"That's why we say people should wear a mask even if they are vaccinated." But in a note of hope, Fauci said: "I believe we'll see a level of virus in those [vaccinated] people that will be very, very low."
Nevertheless, "you have to double down on your prevention" against transmitting the disease, Fauci warned. "Always wear a mask when you're with other people or in a congregate setting. Wash your hands as much as possible. Keep [physical] distancing." And there's nothing wrong with wearing two masks on top of each other, as some physicians now advocate.
Fauci offered those observations and others while fielding questions teachers from around the U.S. sent to Pringle, a science teacher and president of the 3-million-member NEA, the nation's largest union, and Randi Weingarten, a civics teacher and president of the 1.7-million-member AFT.
Both unions and their members have wrestled with many questions dealing with the coronavirus, but the overriding one is when students, teachers, and staffers can safely return to physical school buildings, rather than rely on distance learning via Zoom, Skype, and similar services. Fauci, too, wants to see the kids go back—safely.
Biden "wants to, and believes, that all K-8 schools can reopen within 100 days," said Fauci, who, like Weingarten, spoke to the White House that day. "But that may not happen because of mitigating circumstances," he said in answer to a question she relayed from Ron Hobart of the United Teachers of Wichita.
Biden's "American Rescue Plan"—the $1.9 trillion economic aid bill the president unveiled—"provides resources for masking, better ventilation, better spacing" in schools "and vaccination of teachers" and "the team" of school support staffers, too, Fauci said.
Other points Fauci made, answering questions from teachers nationwide, included:
Though there are more than 300 cases in the U.S. in 28 states from a mutant virus that began in the United Kingdom, the current vaccines and those about to come to market can handle those viruses.
"That's not the case with the mutant from South Africa. We'll find out within the next couple of days whether they [the vaccines] are effective or not….We may have to modify the vaccines in the future to give someone a boost" in protection, Fauci said.
Black and brown people are more at risk not just because of ailments that make them more vulnerable to airborne illness, but also because those communities lack the medical infrastructure needed to get the vaccines into people's arms.
"We have Marcella Nunez-Smith as an equity officer, opening up centers, mobile units" and other ways to reach those still-underserved communities, Fauci told Pringle. Nunez-Smith is a Yale professor of epidemiology specializing in how to reach such communities of color.
"In the evidence of infection, hospitalization, and deaths, you have a tremendous disparity" and that gap "will still be there" after the pandemic ends. "We have to make a multi-decade commitment to closing it."
"Rapid antigen tests" are "effective, cheap and you can do it yourself at home," but they're only after the fact and are better to measure "the rhythm of" the virus's spread in communities.
In cases where state officials resist or transform anti-viral priorities, Fauci recommended local efforts and individuals do what they can. The question came from an unidentified teacher in Florida, where Trumpite GOP Gov. Ron DeSantis opened the state up too fast and too soon.
"I'm not sure what you could do" about DeSantis's moves, Fauci admitted. "Dr. (Deborah) Birx and I"—the MDs on former GOP Oval Office occupant Donald Trump's COVID-19 task force—"were on the phone with the mayors of Miami-Dade County once a week. Try to have the people locally do the right thing, whatever they can, to protect their citizens."
"The teachers and their team" of support staffers, such as bus drivers, custodians, and cafeteria workers "are a bunch of heroes," Fauci concluded. "They're trying to take care of the children and keep them safe, just as much as anyone else."
Like free stuff? So do we. Here at People's World, we believe strongly in the mission of keeping the labor and democratic movements informed so they are prepared for the struggle. But we need your help. While our content is free for readers (something we are proud of) it takes money — a lot of it — to produce and cover the stories you see in our pages. Only you, our readers and supporters, can keep us going. Only you can make sure we keep the news that matters free of paywalls and advertisements. If you enjoy reading People's World and the stories we bring you, support our work by becoming a $5 monthly sustainer today.