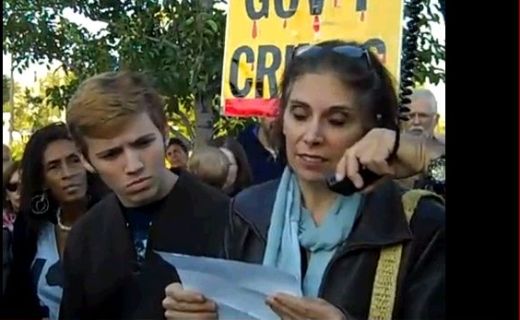 CHICAGO — Peace and solidarity activists, concerned about simultaneous FBI raids last week in Minneapolis and here, held picket lines in front of FBI headquarters in more than 20 cities, including Atlanta, Los Angeles (click here for video) and New York. Protestors here carried handmade signs that included slogans such as "Freedom to dissent."
The FBI supeonas seem to suggest it's an investigation into "material aid" for groups on the United States terrorist list. But civil liberties advocates warn that the government's definition of "material aid" is too broad and vague and could trample free speech rights. Activists also say this is a way to intimidate and harass law-abiding, nonviolent activists who disagree with U.S. foreign policy. The Department of Justice Inspector General, just days before the raid, issued a report on unwarranted FBI spying of peace groups from 2001-2006.
The following video is Stephanie Weiner, one of the antiwar activists whose home was raided, speaking at the Chicago rally. (Story continues after video)
The Chicago Sun Times, in an editorial this week, "Keep U.S. secure but don't chill free speech," reminded its readers of Chicago's notorious Red Squad, which spied on tens of thousands of Chicagoans involved in antiwar and civil rights activism, and incited violence.
"In the 1960s and '70s, the Chicago police Red Squad kept dossiers and spied on tens of thousands of locals. The squad was supposed to target anti-war violence, but often pursued people simply because they opposed then-Mayor Richard J. Daley, were active in unions, were neighborhood or environmental activists or were independent aldermen.
"Police spies eavesdropped, committed burglaries and tried to incite violence.
"We could hear echoes of the complaints about the Red Squad on Monday, when hundreds of protesters showed up at FBI offices in Chicago and Minneapolis to denounce the agency for searching the homes and offices of anti-war activists. During the searches, agents confiscated computers, cell phones, numerous documents and financial records."
The newspaper, known for its tabloid-style and rightward take on the news, said the FBI raids "can be a major deterrent to speaking out. It also discourages associating with those who have been targeted."
The Committee to Stop Repression of Antiwar and International Solidarity Activists suggests taking the following actions:
Call the U.S. Attorney General Eric Holder at 202-353l-1555 or write an email to: AskDOJ@usdoj.gov with the following message:
• Stop the repression of anti-war and international solidarity activists.
• Immediately return all confiscated materials: computers, cell phones, papers, documents, etc.
• End the grand jury proceedings against anti-war activists.
The committee asks that all concerned circulate statements of solidarity to your friends, neighbors and communities and ask them to sign on and do the same.
Photo and video: Activist Stephanie Weiner speaks in front of FBI headquarters in Chicago, next to her teenage son, whose room was also searched by the FBI. (John Bachtell/PW)