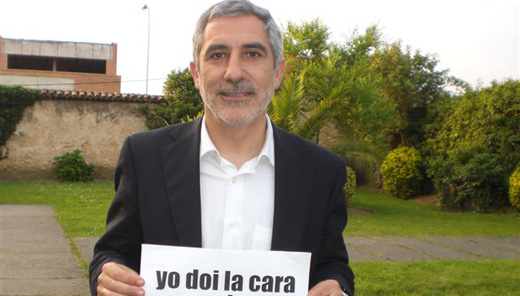 The FBI is currently the subject of world ridicule after a widely circulated image of Osama bin-Laden, digitally updated for age, was withdrawn following the revelation by the Spanish newspaper El Mundo that the actual photo was of Spanish lawmaker Gaspar Llamzares. Llamzares is a leader of Spain's United Left Party and a communist.
The Spanish politician, according to Reuters, found the whole affair quite odd. "In the last few days I have seen the security services involved in some very strange things, some major failures, but I would never have believed they could have affected me so directly," he said.
Llamzares, a peace activist and critic of U.S. foreign policy is a member of Parliament and spokesperson for the United Left.
"I am stupefied the FBI has used my photo – but it could have been anyone's – to compose a picture of a terrorist. It affects my honor, my own image and also the security of all us," Llamazares said.
The FBI had claimed the image was the result of "sophisticated digital profiling technology." The "sophisticated digital profiling technology" turned out to be an ordinary version of Photoshop, the image-processing software.
The U.S. State Department has issued an apology to the respected Spanish legislator. Llamzares has rejected the apology and demanded an investigation. "Apologies are not enough," he told a news conference at Parliament after the U.S. ambassador apologized via Spain's interior minister on Monday, the Huffington Post reported.
"I want a thorough investigation into this disgraceful case, which not only causes concern but also worry and indignation over the behavior of the FBI," Llamzares said.
Press reports indicate the FBI obtained the photo from Google images, but Llamzares is doubtful about this. "He said he doubted the FBI had found his photo by chance on the Internet," the Huffington Post article said. The communist leader wants to know if "the FBI has a habit of keeping files on leftist politicians in the U.S., Europe, Latin American or elsewhere."
Llamazares added, "I am sure that in addition to incompetence, this is the sectarian and ideological use of law-enforcement, the heat of a preventive war."
The United Left Party is coalition of communist, socialist and workers parties in Spain. It was set up in 1986, as an election coalition consisting of the Spanish Communist Party, Progressive Federation, Party of the Peoples of Spain, Socialist Action Party, Unified Socialist Party of Catalonia, Humanist Party, Carlist Party, Republican Left and a number of independents.
After the United Left suffered electoral losses in 2008, Llamazares resigned as its leader. In 2009 he led a campaign to condemn the Pope for saying using condoms caused more harm than good in the fight against AIDS.
Photo: Spanish lawmaker Gaspar Llamzares (commons.wikimedia.org/wiki/File:Gaspar_Llamaz)