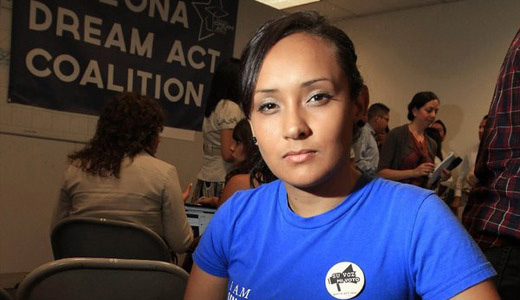 You're sitting at home one night with your family. Your loved ones, who include your mother and brother, surround you. There is a knock at the door. Outside are federal agents who ask for your mother by name. She goes to the door to see what's happening, who's looking for her. As she gets to the door, the agents reach in.
They take her.
Your mother is now in their custody. They are taking her away. You try to tell them that she needs her medicine, your mother needs her high blood pressure medication. They don't listen. The feds then ask your brother a barrage of questions. Scared, he doesn't answer.
Then they take him, a teenager.
Now you're alone. Empty house. Your mother and brother are gone, taken somewhere. You have no idea what is happening until you receive a phone call from your mother; she's on a bus heading to the border.
They're deporting your mother who, like you, is an undocumented immigrant. You have no idea if you'll ever see your mother again, because she's being transported to a country that, though your citizenship is officially there, is for all intents and purposes completely foreign to you.
This is a true story, and a relatively common one in the U.S. immigrant community, about 11 million members of which are undocumented. This story is that of Erika Andiola, an Arizona DREAM activist, as well as her mother Maria Arreola and her brother Heriberto Andiola Arreola. The federal agents were from Immigration and Customs Enforcement, or ICE.
The novelty of the Andiola story is that it has a happy ending. After the abduction, which took place Jan. 10, Erika got in touch with other immigrants' rights activists, and within hours a nationwide network was mobilized. Thousands of calls and emails poured into the offices of elected leaders, ICE, Homeland Security and elsewhere.
By Jan. 11, Erika's relatives had been released. While ICE maintains that Arreola was never on a bus to Mexico, Erika tells a different story. According to her and her family, Arreola was on the bus approaching the border. However, the driver received a phone call and the bus turned around.
According to the immigration agency's spokesperson Barbara Gonzalez, speaking to Associated Press and other news outlets, "Initial review of these cases [of Andiola's mother and brother] revealed that certain factors outlined in ICE's prosecutorial discretion policy appear to be present and merit an exercise of discretion. A fuller review of the cases is currently ongoing. ICE exercises prosecutorial discretion on a case-by-case basis, considering the totality of the circumstances in an individual case."
There are many questions why Andiola's family specifically was targeted. The immigration agency maintains that it was simply following practice, while others believe that Andiola was targeted for her activism.
Andiola, speaking at a press conference, bolstered this interpretation of the events, saying, "They told my brother, 'We know all about your sister, we know about what your sister does, and you should get away from that.'"
Andiola is a well-known activist. She founded the Arizona DREAM Act Coalition, is a former board member of United we Dream, and is the political director of Presente.org.
Marielena Hincapié, executive director of the National Immigration Law Center, said in a press release, "Not all immigrant families have the benefit of Erika to mobilize the whole country over night. The Andiola family is just another example of the cost of the broken system that continues to hurt millions of immigrants across the country."
While President Obama has issued executive orders making life a little easier for undocumented immigrants and continues to push for comprehensive immigration reform, the problem's immigrants face are far from solved. For example, United We Dream is currently trying to stop the deportation of Raúl Ortiz-Garcia. The deportation would separate Garcia from his son.
Photo: Erika Andiola spoke out Jan. 11 about the arrest in Arizona of her mother and brother by immigration agents. Ross D. Franklin/AP