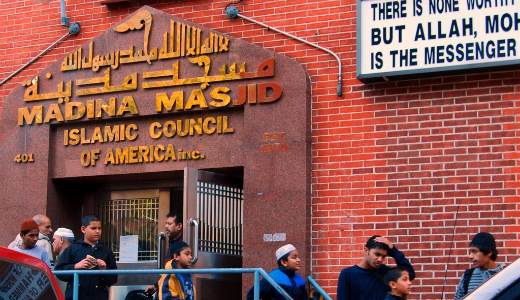 "Are you now or have you ever been … ?" is a question that many fear may come back into vogue if Rep. Peter King, R-N.Y., gets his way.
In a twist on the 1950s Red Scare, the words "a member of the Communist Party" will likely be replaced, many fear, by "a Muslim."
King, one of the few Republican members of New York State's congressional delegation wants to hold hearings in Congress on what brings about "radicalization" in Muslim communities.
The hearings would be held by the House Committee on Homeland Security, which King now chairs.
In defending the proposed hearings, King made some conciliatory remarks, saying, "The great majority of Muslims in our country are hardworking, dedicated Americans." He went on to argue, in Newsday, that he was working from evidence, pointing to a Pew poll that "showed that 15 percent of Muslim Americans between 18 and 29 say suicide bombing is justified."
American Muslims worry that in the current political environment – especially with the new, tea-party-infused Congress, a witch hunt is more likely than any serious discussion.
King argues that the hearings are necessary because, he says, Islamic organizations do not cooperate with law enforcement authorities. However, the Muslim Public Affairs Council, widely noted for its opposition to terrorism in the name of Islam, pointed out that seven of the 10 most recent terrorist plots, including one of the three plots since 9/11, have been foiled with the help of Islamic groups.
The Free Muslims Coalition, also known as Muslims Against Terrorism and Extremism, hasn't taken a position on the hearings, but it argues that the root cause of "Islamic" violence isn't religion, but unbalanced individuals.
Kamal Nawash, the group's founder, in an e-mail exchange with the People's World, asked why Islam as a religion is being targeted, even though secular groups and Christians have also been responsible for terrorism.
He added that his group has been studying the process of radicalization for the past six years.
"Whatever the answer," Nawash said, "it has nothing to do with religion." Before the rise of radical political Islam in the 1990s, he pointed out, the U.S. preoccupation regarding the Middle East was with secular radical organizations.
"Instead of Hamas and Hezbollah, the U.S. fought secular organizations such as the PLO and many more."
"One of the more 'radical' organizations, who blew up numerous American planes, was and is still majority Christian," he said.
The New York Times, in opposing King's hearings, asks why King or others in Congress didn't "investigate" Irish Catholics in the 1990s when there was Catholic versus Protestant violence going on in Northern Ireland, and it was well known that American money, particularly from New York and Boston, financed weapons used in that violence.
The Muslim Public Affairs Council argued in a Jan. 7 open letter to Rep. King that the "proposed hearings – as they are currently being framed – would do little to solve the problem of terrorism and would instead create an ugly political circus."
The council, in its letter, argues that, cooperation between American Muslims – both organizations and individuals – and federal authorities to eliminate terrorist impulses at the root is necessary.
The council proposed a meeting with King and said it hopes that he is a "serious enough" politician accept their offer.
Photo: A mosque in New York City. Paul Lowry CC 2.0