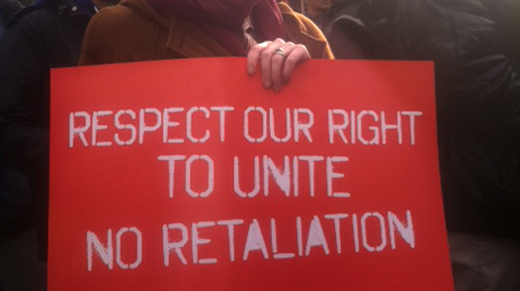 WASHINGTON – A federal district judge in D.C. has upheld the National Labor Relations Board's new union election rules, tossing out big business lobbies' challenges to them. So has another in West Texas, dismissing a complaint from anti-union contractors.
In her July 30 decision, U.S. District Judge Amy Berman Jackson dismissed and denounced the U.S. Chamber of Commerce's case against the NLRB. Chamber allies included the National Association of Manufacturers, and the National Retail Federation – whose members employ millions of the most-exploited workers in the U.S.
Judge Jackson said the Chamber and its acolytes used selective quotes for their complaint, and that it didn't add constitutionally. The Texas challenge came from the Associated Builders and Contractors, another anti-worker lobby.
AFL-CIO Counsel Lynn Rhinehart cheered the ruling. When the board issued the rules late last year, over business screams, federation President Richard Trumka applauded them, even though they do not eliminate all the delays, denials and labor law-breaking business engages in during organizing drives.
But the rules helped reduce the time available to businesses and their right wing allies and union-busting "consultants" and law firms to illegally intimidate, spy on, harass and fire workers for exercising their rights. The rules also consolidated all challenges to voters and election units into one post-election hearing, when needed.
"So far every judge to consider a challenge to the rules has rejected the challenge and found the rules are legal and within the NLRB's authority," Rhinehart e-mailed Press Associates during the AFL-CIO Executive Council meeting in nearby Silver Spring, Md.
"We think this shows the rules are reasonable, well-supported, and well within the NLRB's authority. There have been hundreds of petitions processed under the new rules. From what we hear, the process has gone smoothly and the rules have helped reduce unnecessary litigation and delay. We hope the courts will continue to reject legal challenges to the rules so they can remain in effect," she added.
The chamber and its allies "mount a broad attack on the rule as a whole, claiming it 'makes sweeping changes to the election process' and that it 'sharply curtails' employers' statutory, due process, and constitutional rights," Judge Jackson wrote.
"But these dramatic pronouncements are predicated on mischaracterizations of what the final rule actually provides and the disregard of provisions that contradict plaintiffs' (the Chamber's) narrative. And claims that the regulation contravenes" labor law "are largely based upon statutory language or legislative history that has been excerpted or paraphrased in a misleading fashion. Ultimately, the statutory and constitutional challenges do not withstand
close inspection."
Photo: People's World.