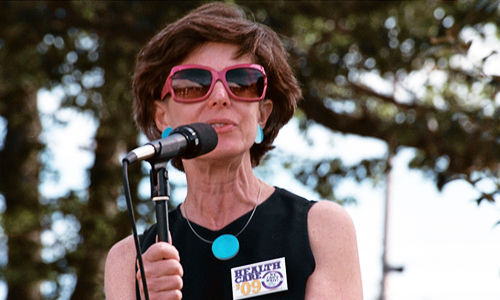 Wilma Liebman, Chairman of the NLRB
The chair of the National Labor Relations Board yesterday came closer to taking an openly pro-labor stand than has any federal regulator in history when she blasted the "political paralysis" fostered by the GOP.
NLRB Chair Wilma Liebman spoke at Washington University in St. Louis yesterday just days after a Senate filibuster killed President Obama's nomination to her board.
She also decried the fact that the National Labor Relations Act, unlike other federal regulatory laws, has not been adapted to new circumstances for decades and that, "given the bitter politics of the last months, it is hard to think hopefully about the future of labor law." Describing labor law today as a "dinosaur," she said she knew of "no other body of federal law that governs a whole domain of social life that has been insulated from significant change for so long."
With Obama's election labor expected to win passage of the Employee Free Choice Act, the first revision of that law since the 1947. The Taft-Hartley Act, approved by a GOP Congress that year, severely weakened the original National Labor Relations Act passed during the Great Depression.
Taft-Hartley, for example, allowed employers to insist on secret ballot elections when workers unionize. Under the original National Labor Relations Act unions were recognized as soon as a majority signed authorization cards. The EFCA would restore that and other protections in the original law.
The bitter politics cited by Liebman, a Democrat, have left her 5-member board with only two members, her and Republican Peter Schaumber, making decisions for the last 26 months. The legality of those rulings was challenged in court and the U.S. Supreme Court will hear the case in March.
Republican filibusters have prevented all of President Obama's attempts to the fill the vacancies.
They opposed the president's most recent nomination, that of Craig Becker, a Chicago union lawyer, claiming Becker would use his position to bypass Congress and make rulings that would, in effect, mandate the EFCA into existence.
Labor wanted Obama to use his power of "recess appointment" to fill the vacancies during the President's Day recess with the two pro-labor lawyers filibustered by the GOP. The president made a deal with the Republican Senate minority to refrain from making those appointments, which would last until the end of 2010, in exchange for approval of some 20 other non-controversial nominees. The AFL-CIO blasted the deal.
The Communications Workers of America, this week, fired the opening shot in a new push to pressure the president into making the appointments during the Easter recess.
"We are resetting our focus for the Easter recess and mounting an even larger campaign over the next six weeks to fill the NLRB vacancies," Larry Cohen, the union's president said. "Hundreds of thousands have no bargaining rights and no organizing rights," Cohen said, "as every critical case at the national level is frozen."
Unafraid to call the shots as she saw them, Liebman said, in her speech, that President Reagan's 1981 firing of air traffic controllers, who struck for safety reasons, "unleashed businesses to challenge the (labor) law and the Depression-era social compact the original act created."
She said that "compounding the challenge in this climate was a greater willingness by some employers not just to bend the law, but to break the law to defeat unions and to frustrate collective bargaining."
Liebman also criticized the NLRB itself. "It does not defend its own premise," she declared, "written into the original 1935 act, that promotion of collective bargaining is a public good and the best way to advance workers' interests."
Photo Wilma Liebman, Chairman of the NLRB http://www.flickr.com/photos/labor2008/ / CC BY 2.0