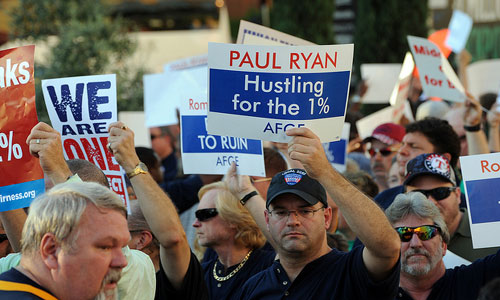 LAS VEGAS – The American Federation of Government Emloyees elected Secretary-Treasurer J. David Cox, a VA hospital worker from North Carolina, as their new president on August 15 at the union's convention in Las Vegas.
Then, 1,000 delegates descended on a GOP fundraiser nearby to protest the budget-slashing, jobs-cutting policies of its headliner, vice presidential pick Paul Ryan.
Cox succeeds John Gage, who served three three-year terms and then retired. Cox promised to work on strengthening AFGE "by embracing the union´s diverse membership and building consensus among members."
AFGE, the largest federal workers' union, is one of the few unions whose membership is plurality Republican. That makes its protest at the closed-door fundraiser featuring Ryan, the Wisconsin congressman and House Budget committee chairman, and Las Vegas multibillionaire casino owner Sheldon Adelson doubly notable.
Ryan's budget, which the GOP-run House approved earlier this year on a party-line vote – and which presumed presidential nominee Mitt Romney endorsed – "delivers more tax breaks to the wealthiest one percent, while slashing vital federal programs such as Medicare and Medicaid," the union said.
Gage led the picketing outside the Venetian Hotel-Casino, site of the Ryan-Adelson exclusive fundraiser. The AFGE members and their allies from the Nevada AFL-CIO chanted "Romney Hood, Ryan Hood, not in our neighborhood." Unionists held signs reading "Paul Ryan: Hustling for the 1%"and "Romney/Ryan Road to Ruin."
"Romney's selection of Ryan as his running mate indicates just how much contempt this ticket will have for the federal workforce and the vital programs we deliver to the American public each and every day," Gage said. Ryan's budget plan also sharply cuts the federal workforce and increases federal worker pension contributions.
Romney and Ryan have a "grand economic recovery plan to deliver more tax breaks to the millionaires and billionaires, oil companies, and Wall Street firms who continue to score record profits while the rest of the country struggles to recover," AFGE officials said.
Meanwhile food inspectors, veterans care workers and other workers – public and private sector – would lose their jobs.
"We think the choice of Ryan, with his extremely specific anti-federal employee budget proposals, makes it crystal clear that the Ryan budget will be the plan for a Romney administration," said Beth Moten, the union's legislative and political director.
"The strength of unity is the only way we are going to fight back against the anti-government and anti-union forces that want to dismantle the vital programs and services federal employees provide each and every day to millions of Americans," Cox said on taking over the presidency.
"I am honored and humbled that AFGE´s members chose me to lead this fight," he said.
Eugene Hudson Jr. was elected secretary-treasurer, succeeding Cox, and Augusta Thomas was re-elected national vice president.
Photo: AFGE members protest Paul Ryan in Nevada. AFGE website