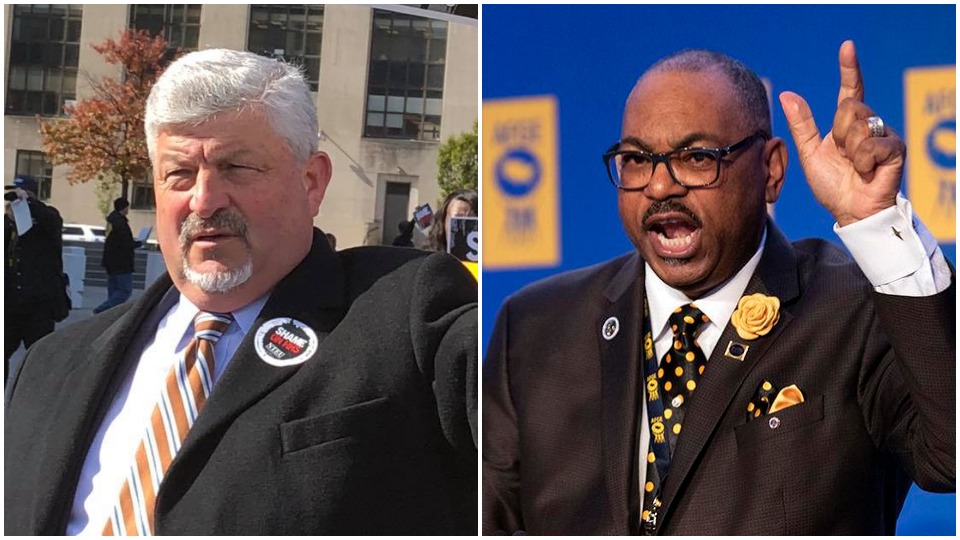 WASHINGTON (PAI)—The two largest unions for federal workers, the Government Employees (AFGE) and the Treasury Employees (NTEU) are slamming GOP Oval Office occupant Donald Trump's order dismantling government-wide diversity education programs.
NTEU President Tony Reardon and AFGE President Everett Kelley—who is Black—bluntly said Trump's ban is racist.
"Trump's order to prohibit the use of federal funds for diversity and inclusion training programs for federal and contract workers has sent a terrible message that racism and discrimination are not problems the federal government should address," Kelley said in a statement.
Trump found out about the programs in early October and, typically, blew up. Combining his hatred of federal worker unions with an appeal to the white nationalists in his electoral base, on Oct. 9, he ordered them abolished and workers disciplined for using them.
Trump's Office of Management and Budget also told agencies to seek its permission before starting new diversity programs or continuing present ones.
Kelley called the whole sequence "blatantly political." He said, in so many words, that if the government won't educate federal workers about diversity in an increasingly multi-racial society, his union will keep doing so, led by its own department covering such issues.
"That the White House has responded to recent protests on issues of racial justice by banning federal agencies' attempt to foster tolerance and mutual respect through education is extremely disappointing. But our union will continue to fill the void and carry on our efforts to make sure that the federal government adheres to the law and keeps federal workplaces free from bigotry and discrimination," he pledged.
Reardon took a similar tack in a column in Government Executive, a non-partisan publication on federal, state, and local issues—minus the union-run anti-racism training.
"Trump recently ordered a massive governmentwide investigation to root out programs in which federal employees learn about and guard against systemic racism. Just consider how preposterous that sounds," he said.
"Political appointees and senior managers are under orders to turn their agencies upside down in a frantic effort to review any training or professional education programs that mention diversity or inclusion in an effort to comply with the president's executive order."
"Employees are being threatened with disciplinary action for organizing such training that falls afoul of the president's directive to eliminate 'un-American propaganda.'"
"I wish I could just write this off as an insignificant executive order designed to make a statement but with little practical impact. I cannot," Reardon said in his statement. Trump's dictate "turns a blind eye to racism."
"This is exactly the wrong direction we, as a federal workforce and as a nation, should be going… The federal government should be a leading example for facing systemic racism by building a workforce that appropriately reflects the diversity of the United States, paying employees fairly, ensuring they are treated with respect, and establishing work environments in which employees can safely call out discriminatory actions and practices," he added.