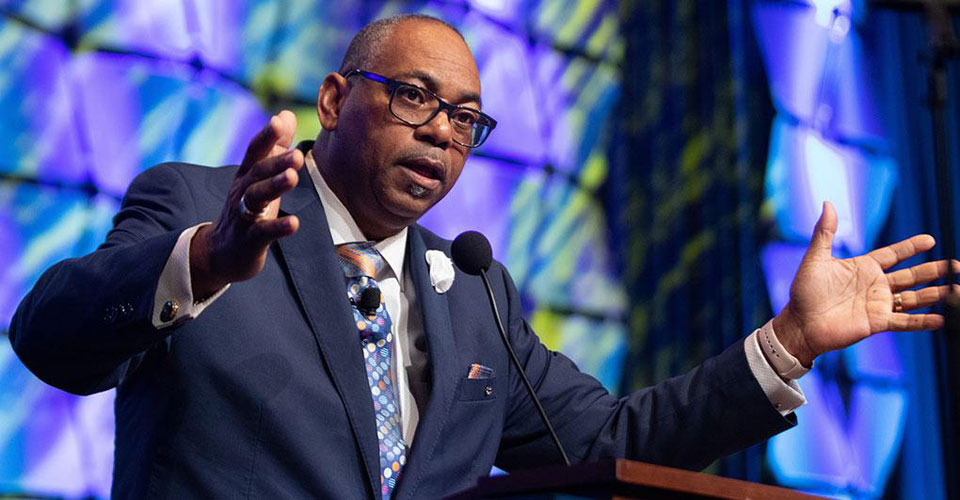 WASHINGTON—For the nation's two million federal workers and their families, the change from Republican Oval Office occupant Donald Trump to Democratic President Joe Biden is like night and day.
But that still doesn't mean everything is absolutely fine, a group of Government Employees (AFGE) local union leaders quickly add. They still have to deal with the after-effects of Trump's four years of worker hatred, and particularly his executive orders stripping workers and their unions of due process rights, collective bargaining power, and more. AFGE is the largest union of federal workers.
Trump also froze pay, increased their pension payments, and even took away their phones, computers, and fax machines as well as their small offices located in federal buildings where union stewards could talk with workers about sensitive things such as grievances. He also locked them out for 35 days, without pay, several years ago. Many never recovered.
As a matter of fact, Trump, following a standard GOP line, slammed the stewards, too. One of his orders mandated they do their jobs on their own time and on their own dime.
Carrying out campaign pledges, Biden revoked all three of Trump's executive orders. AFGE and other federal unions had fought them in court. They won in U.S. District Court in D.C., but when the federal appeals court there "dismissed AFGE's lawsuit" against Trump's dictates, "things really fell apart," said Social Security worker Ralph DeJuliis of Philadelphia.
A fourth Trump order would have unilaterally thrown tens of thousands of career workers in supposed "policy-making" positions out of their unions and made them liable to immediate discipline and firing by bosses for any reason, or none at all. But it came so late that its implementation never got off the ground, and Biden trashed that scheme, too.
The AFGE local leaders, convened by the union last month in a roundtable session a week after Biden's inauguration, all cheered Biden's advent.
And they described life under Trump, who also unilaterally moved several agencies out of metro D.C. to Colorado and Kansas on short notice. That forced workers—mostly women and workers of color—to either quickly uproot their families and move, or give up their jobs.
Trump officials also didn't help workers in fighting off the coronavirus, either, some said.
"When it hit, officials said 'We don't have to talk to you,'" about measures to battle the modern-day plague, said Felicia Sharp, a lab tech at the military's Fort Belvoir, Va., and president of AFGE Local 1410.
"We had to file complaints with the Occupational Safety and Health Administration, the federal Centers for Disease Control and go to the press" to reveal how her local of Defense Department civilian workers were left to fend for themselves.
If the DOD workers had a bad time, the Environmental Protection Agency workers had it worst of all, said Nicole Canello of Chicago, President of Local 704.
"The EPA was the agency Trump wanted to destroy the most," she said. "He was trying to stop the workers from doing their mission, protecting human health and the environment."
The result, according to various reports, was that EPA's workforce shrank by 31% in Trump's term. But that wasn't all, Canello added. Agency political appointees, all of them from regulated industries, wrote and imposed onerous provisions into the new contract they forced on her local's 1,000 members.
Trump-named honchos there added even sharper curbs on stewards and banned support of EPA's scientists and their findings. The workers are still trying to get that contract withdrawn and the old contract reinstated. "But the cost to our stewards in family time and their own health will never be recovered.
"Nevertheless, we were able to keep the agency together when the Trump administration was trying to tear it apart."
Social Security workers who handle disability claims faced all three factors–bad contracts, bad bosses, and a bad environment for battling the virus—said DeJuliis, president of Council 220, who represents those Philadelphia-based workers.
Besides "the worst labor contract ever" in 2019, Trump-named bosses "canceled telework" and jammed the workers into "a poorly ventilated, three- or four-story building" where employees toiled cheek by jowl with virtually no physical distancing. Those were prime conditions for the virus to spread, he said.
Workers caught the virus and took it home to infect their families, while bosses "failed to even explain what their return-to-work plan is. We've seen communication at all levels fall apart," DeJuliis added. "Their attitude has…sowed doubt and fear among the employees."
He wants Biden to fire both top Trump-named Social Security officials, Commissioner Andrew Saul and deputy David Black. He also wants Biden to cancel that contract.
The situation isn't much better at the Las Vegas Veterans Administration Medical Center, adds Linda Ward-Smith, an RN and president of 2,500-member Local 1244 there.
"Communications weren't there. And not only COVID [the coronavirus] was there, fear was there" among her members, virtually all of them frontline "essential" workers in the war against the COVID plague. They also haven't had a contract in three years.
"We had to take drastic measures, including a rally and public protests, just to get proper PPE (personal protective equipment)," she added.
Pay is another issue where the workers want Biden to reverse Trump. Jacqueline Simon, AFGE's Policy Director, said one of the union's "biggest fights" is over a pay system Trump imposed. "We've had to fight off proposals for complete management discretion on pay and raises," she said, adding the "discretion" hit workers of color hardest.
"And 68% of VA workers" told the union that "they personally witnessed systemic racism" on the job "against both workers and vets."
VA officials even "took away masks" workers needed to protect themselves against the virus, added Field Director David Cann. "Employees have died because of their restrictions."
The union believes conditions will improve under Biden, so federal workers can get back to their jobs, serving the public in everything from nursing veterans to judging disability claims to doing lab work to cleaning up the air and water.
"We've had no official time" under Trump to handle grievances, "no office space, no due process of law and no contracts," Cann said. Biden's overturning of Trump's executive orders "means agencies must review and revoke previous restrictions."
Biden's overturns of Trump's dictates produced "a day of hope," AFGE President Everett Kelley declared.