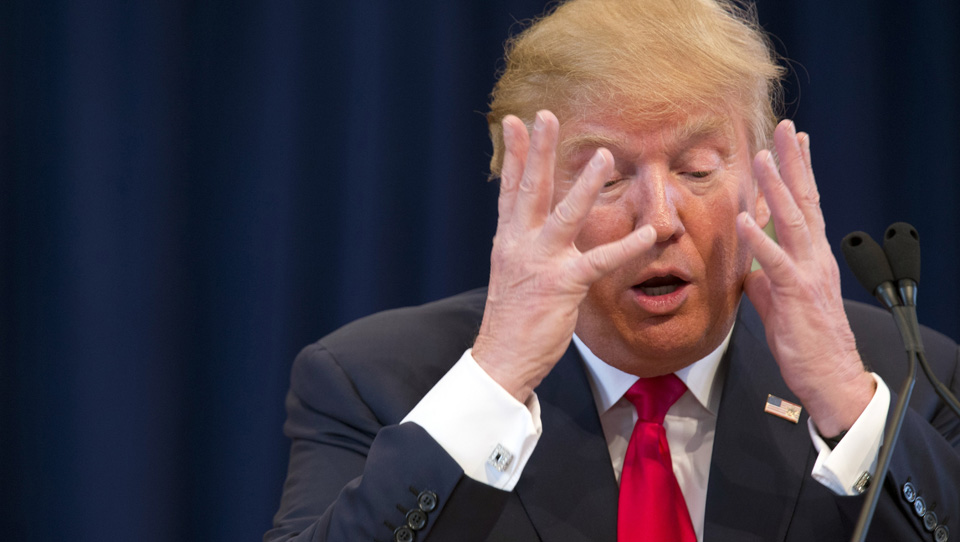 The National Labor Relations Board hit Donald Trump's Las Vegas hotel corporation with a "cease and desist" order Thursday, demanding the company run by the Republican Party's presidential candidate put an end to its illegal conduct. The order by the federal law enforcement agency finds that the corporation broke federal law in its treatment of its workforce.
The case involves 500 housekeepers and servers at Trump International Hotel Las Vegas, a 64-story tower covered with golden windows on the city's Strip. The workers at the luxury hotel, mostly women, mostly immigrants, defied intimidation and a half-million-dollar anti-union campaign to vote for union representation last December. They joined the powerful 57,000-member Culinary Local 226, an affiliate of UNITE-HERE. The NLRB certified the election results in March.
Trump charges workers rigged election
By law, the next step in the process is for the employer to sit down and bargain "in good faith" with the workers' representatives. Instead, Trump's group contested the validity of the election. "We have the experience of Trump not respecting the results of elections," said Maria Elena Durazo, general vice president of Unite Here, Culinary 226's parent union. "He's not willing as an employer to respect the laws of the country."
The three-member NLRB Board, which includes two Democrats and one Republican, unanimously rejected the Trump hotel's charge of an improper election. Instead, they found that the corporation had engaged in "unlawful failure and refusal to recognize and bargain with the Union" in violation of federal law.
Brian Baudreau, the hotel's managing director, did not return People's World phone calls seeking clarification of management's claims.
 "Operating illegally"
This is not the first time that Trump's Las Vegas partnership has been found guilty of law breaking. The NLRB has issued three separate unfair labor practice complaints against Trump's Las Vegas operation alleging conduct including firing and threatening to fire union supporters, suspending employees, interrogating and intimidating employees and maintaining illegal rules that prohibited employees from communicating with each other and the public.
"Trump Hotel has been operating illegally," declared Bethany Khan, spokesperson for the Culinary Workers, citing the unequivocal language in the NLRB finding.
Trump Corp's crime has real victims
Trump Hotel's law breaking is not a victimless crime. Every day, the hotel workers and their families are out thousands of dollars that could potentially be theirs if their boss had bargained with them instead of breaking the law.
Celia Vargas, a guest room attendant, told Peoples World she's paid $14.71 an hour, while workers at hotels with contracts earn $18.00. Trump Hotel workers also want a contract where their seniority counts, where they get respect and have a voice, Vargas says. Las Vegas housekeepers with union contracts also have full medical insurance and they're building up their pensions for a secure retirement. The latter is an important issue to workers like Vargas, 58, who wonder how long they can retire with dignity after years at the physically demanding job. Workers with union contracts earn defined-benefit pensions, says union spokesperson Khan. Trump's employees miss out on all of this, as a direct result of his law breaking.
"Who knows better than his employees?"
"He will never respect the American people if he doesn't even respect us and we are his employees," says housekeeper Lourdes Rivera, 56.
"Who better knows him than us?" adds Vargas.  "It's us who make profits for him every day."
Trump workers have been pulling out all the stops to let the American people know about their real life experience as working people with Trump as commander in chief.
On Sept. 27, Unite Here issued a national call for a boycott of Trump hotels and golf courses until the Trump Hotel Las Vegas honors its legal duty to bargain with the union.
Three weeks later, summoned by the majority immigrant union, a "wall" of taco trucks convened at the luxury hotel's entrance, dramatizing how out of step Trump's hate philosophy is with both American democratic ideals and palates.
Perhaps most effectively, the 57,000-member Culinary Workers Union has raised civic awareness and participation to a new level, in fulfillment of a vow to deliver the state of Nevada for Hillary Clinton. It's efforts promise more than symbolic results.
Through citizenship fairs earlier this year thousands of Nevada workers were guided through the complicated legal process leading to citizenship and voter eligibility.
Since July, hundreds of union stewards and other activists have taken leaves of absence from their hotel and casino jobs to participate in teams that knocked on more than 150,000 doors in Las Vegas neighborhoods.
The union even put in place its own lunch hour mass transit system on the Strip to pick up Culinary workers members during their lunch hour and shuttle them to early voting locations. Side by side with their co-workers, thousands have already early-voted this way.
For months, Trump hotel workers have been loudly proclaiming their cause. Perhaps election day 2016 will be the time their voices are finally heard and their votes counted.