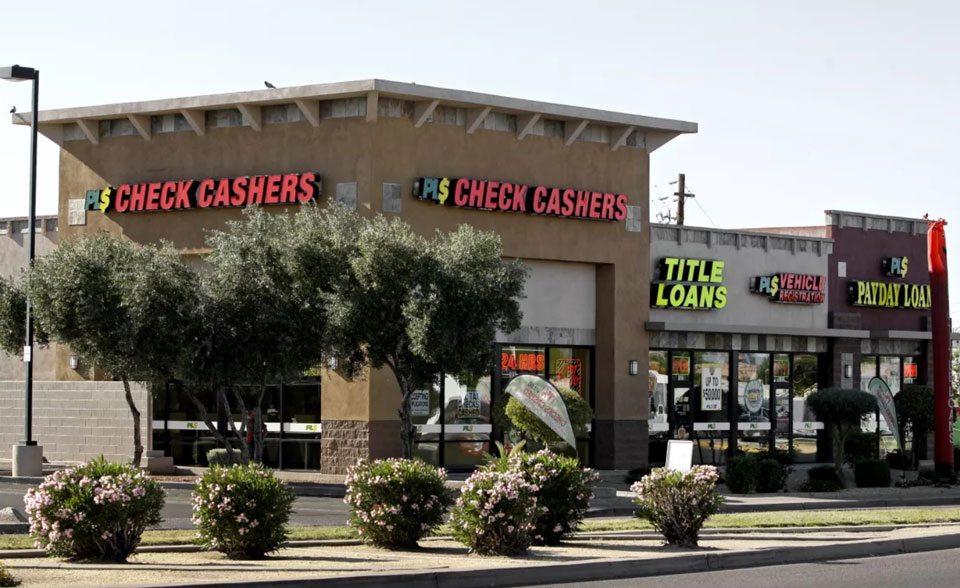 WASHINGTON—A top federal agency wants to list corporate non-bank financial bad actors such as payday lenders—with details of their law-breaking—and the National Consumers League is cheering them on. In the next Congress, or at least the Senate, there may be even more to laud.
The registry and publicity plan, announced by Consumer Financial Protection Bureau Director Rohit Chopra on Dec. 12, "will help the CFPB, the law enforcement community and the public limit the harms from repeat offenders" such as payday lenders, he said.
"The National Consumers League applauds the Consumer Financial Protection Bureau's proposal to require nonbank financial firms to register with the CFPB if they come under court orders or other regulatory action," Sally Greenberg, executive director of the labor-backed NCL, emailed to People's World.
"We think it makes sense to make public the orders and company information via an online registry. Once that information is made public, consumers can check to see if the company they are working with has had past violations and whether they are repeat violators. We believe the rule will help expose repeat offenders who routinely violate laws or regulations and act to protect families from these abuses," Greenberg elaborated.
CFPB said the non-bank financiers would be required to register with the agency when they receive "non-confidential" court orders or regulatory action against them from state, federal or local agencies. The registrations would include details of the discipline, such as texts of court orders. CFPB wants to publish the list—and the details.
And the largest violators would have to name an official to monitor compliance, CFPB said. The agency may later decide to require the same disclosures from federally insured banks and credit unions, too, Chopra's statement said.
Other financial regulators, such as the Comptroller of the Currency, have similar registries and databases, CFPB said—but only for federally insured or covered financial firms, such as regular banks, corporations and public securities brokers. But they don't cover predatory private hedge funds, for example.
"A public registry of agency and court orders issued or obtained in connection with violations of law would help the Bureau and the broader public monitor trends concerning corporate recidivism relating to consumer protection law, including areas where prior violations of law are indicia of risk to consumers," CFPB said in its proposed rule, which is open for public comment for 60 days in the Federal Register.
"More generally, entities subject to such public orders relating to the offering or provision of consumer financial products and services may pose ongoing risks to consumers in a federal agency plan to publicly list corporate non-bank financial bad actors and disclose what they did would shed light on how laws are being enforced across consumer protection laws, jurisdictions, and markets, and help identify trends and potential gaps in enforcement," a polite way of saying some states and cities are tougher on law-breakers than others.
The CFPB did not single out any potential targets, with two exceptions: Payday lenders in general—who are known for their astronomical interest rates charged to consumers—and student loan servicers. The CFPB lauded New York's new law regulating them.
"Both heightened enforcement and the absence of enforcement could possibly provide information regarding risks to consumers…as evidence that government agencies with various jurisdictions identified the need to enforce consumer protection laws, and…as potential evidence of less risk to consumers, or perhaps of inattention by regulatory agencies."
Next year's Democratic-run Senate may give consumers even more to cheer about, though the Republican-run House will be a different matter.
That's because Senate Majority Whip Dick Durbin, D-Ill., and Sen. Richard Blumenthal, D-Conn., introduced legislation late in this session of Congress, the Corporate Crime Disclosure Act, "to require the Department of Justice to collect, analyze, aggregate and publish comprehensive data on federal corporate criminal enforcement actions," the Will County Labor Record reported.
That would include not just the federal court orders included in CFPB's announcement, but also other white-collar crimes federal law defines, they said. And their proposed law would establish a database of violators, too.
DOJ now collects and publishes data on street-level crime and it should do the same for white-collar corporate crime, said Rep. Mary Gay Scanlon, D-Pa., who introduced the companion bill in the House late this year. She said the last comprehensive DOJ report on corporate crime was in 1979.
The lawmakers also wrote Biden administration Attorney General Merrick Garland, urging him to move ahead with such a Justice Department project without waiting for Congress to act.
"Comprehensive national collection and a searchable database of the results of federal enforcement actions against corporations and individual actors engaging in corporate misconduct would provide better oversight," give data to prosecutors and "demonstrate the effectiveness of sanctions," Durbin said in a statement.