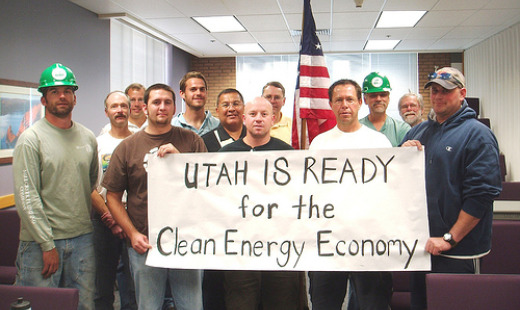 After a storm of protest from the nation's biggest manufacturing union, a U.S.-China energy partnership that is building a Texas wind farm said this week it would also build a turbine factory in the U.S. that would create 1,000 manufacturing jobs.
It is seen as a small start in harnessing clean energy initiatives to rebuild manufacturing in this country and bring back good union jobs. But, labor leaders say, it also "shows how far we have to go."
The consortium of U.S. and Chinese companies last month asked for $450 million in economic stimulus money to build the $1.5 billion wind farm in West Texas. But it turned out the consortium plans to import 240 turbines from China for the project. The wind farm would create only 30 permanent U.S. jobs, but would create about 2,000 manufacturing jobs in China.
That got Steelworkers President Leo Gerard riled up. The Steelworkers union represents 1.2 million members in a range of manufacturing and other industries Their jobs have taken a big hit in recent years as companies have moved production out of the country seeking ever bigger profits.
"It's bad enough that we've off-shored our factories and technology and jobs over the past 20 years," Gerard wrote on the USW blog earlier this month. "We're not off-shoring our stimulus cash too. In fact, we're tired of serving as the schoolyard wimp of the world. We need our own industrial policy so we can stand up and compete in the world market manufacturing the likes of wind turbines. And we need it now."
After word got out about the Texas windmill plan, Gerard wrote to New York Sen. Chuck Schumer, a Democratic leader who sits on several powerful committees, and asked him for "bold action to support U.S. clean energy manufacturing." Gerard copied the letter to all members of Congress.
The Campaign for America's Future launched an online petition to Energy Secretary Steven Chu, urging him to "reject any request for stimulus money unless the high‐value components, including the wind turbines, are manufactured in the United States."
Schumer evidently got the message. He announced that he had asked the Obama administration to block any stimulus money from financing the Texas wind farm because it would rely entirely on turbines built in China.
"I'm all for investing in clean energy, but we should be investing in the United States, not China," Schumer said. "The goal of the stimulus was to spur job creation here, not overseas. This project should not receive a dime of stimulus funds unless it relies on U.S.-manufactured products."
This week's announcement by the U.S.-China consortium that it will build a turbine manufacturing plant in the U.S. is obviously a response to the political heat. It shows, one steelworker activist said, that a new green manufacturing base can be won with a fight, and jobs created.
Bob Baugh, executive director of the AFL-CIO Industrial Union Council, called it "a start," but, he added, "it just shows how far we have to go."
In fact, the director of the Chinese firm, A-Power, said the proposed U.S. turbine plant would not make the turbines for the Texas wind farm. Those turbines will still be manufactured in China and shipped here (probably burning plenty of fossil fuel in the shipping process).
And that's the project for which the partnership is seeking $450 million in stimulus funds.
"So, in the end, it still means nearly half a billion in U.S. tax dollars would create 2,000 turbine-building jobs in China," Gerard commented today on his union's blog.
"There's no reason except a desire to shoot itself in the foot for the U.S. not to protect and promote its own renewable energy industries," the Steelworker leader said.
In a report titled "Building the Clean Energy Assembly Line," the labor-environmental Blue Green Alliance gives several steps Congress should take to cultivate American renewable energy industries and thereby create thousands of jobs. These include long-term investment tax credits, adopting a national standard requiring a minimum percentage of electricity be generated through renewable energy, passing cap and trade legislation, and providing low-interest financing.
The "Clean Energy Assembly Line" report estimates that U.S. manufacturers could create 850,000 jobs if Congress required 25 percent of electricity to be generated with renewable sources by 2025.
Photo: http://www.flickr.com/photos/green4all/ / CC BY 2.0