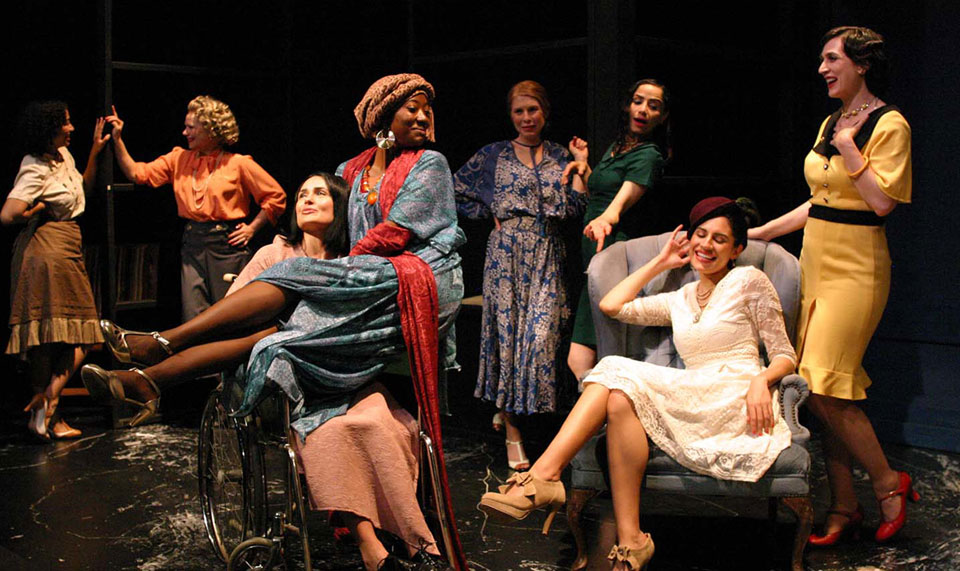 LOS ANGELES—Originality is among those attributes I admire and cherish most in the arts, and Maria Irene Fornés's (1930-2018) Fefu and Her Friends is singular on several fronts. First of all, the Cuban-born, Obie Award-winning playwright's characters are eight females. This is far less common than mixed-gender or all-male casts, such as in Jason Miller's That Championship Season, first produced in the 1970s, as was Fefu. This casting, and the fact that the bard is a woman, indelibly stamps Fefu with a distinctly feminist point of view, written as it was in 1977 at the height of the "women's consciousness" movement, when women were encouraged to join "consciousness raising" groups and "come out" as women! As such, Fefu deals with gender issues, sexual politics, as well as with same-sex relationships. Mary McCarthy's 1963 novel The Group might be an apt comparison, also dealing with eight young women; it has been adapted as a radio play but not so far as I know into a stage play.
But what really sets Fefu apart from most other stage productions is that members of the audience are, through color-coded tickets, divided into four groups who at some point in Act I must leave their assigned seats and embark on an onstage odyssey in the Odyssey Theatre's three-stage complex. Guided by actresses and/or stagehands, we trek as if through an underworld maze of the mind to various other spaces where different smaller, intimate scenes of Fornés's offbeat drama are presented. The action simultaneously unfolds with different combinations of the eight actors for the four different audience groups in one of the Odyssey's other theatrical venues, as well as in dressing rooms especially converted for Fefu. In the different areas, one could sometimes overhear the action transpiring in the space next door, as one might hear voices and sounds from adjacent rooms or the garden of a house. I felt I was "Evesdropping" (yes, pun intended) on private scenes between women not meant to be seen and heard by strangers; the garden scene features a basket of apples and Fefu herself eating one, so perhaps "Evesdropping" is not so much of a pun after all.
One of these chambers featured Julia (Sandy Duarte), who is wounded, disabled (hmm, or is she?) and out of her wheelchair, alternately lunging at onlookers perched on benches, and writhing, possessed and hallucinating, on a bed in her undergarments. Julia was turned into a paraplegic by a gunshot that also killed a deer (a reference to Christ-like innocence?) in a mysterious freak accident a year or so before. Julia's lesions and handicaps may be metaphors for the plight and circumstances of women in patriarchal, sexist society. Call it psychic paralysis, perhaps, but certainly a holdover from the influential Symbolist movement that characterized early 20th-century poetry and high art.
Some may find the elaborate stagecraft and peregrinations to be pretentious contrivances but I rather enjoyed them—perhaps because I'm a contrived person full of pretense? The only time I recall experiencing something similar to this theatrical wayfaring was in The Manor: Murder and Madness at Greystone, which takes place in the actual Tudor Revival mansion of the Doheny family above Beverly Hills where a real-life homicide occurred in 1929. (Manor is periodically revived and will return in late 2020.) But of course, Fefu does not have the documentary pedigree of Manor, even if both involve shootings. In any case, the playhouse's pilgrimages are only in the first act: In Act II, after intermission, ticket buyers return to their original seats as in any traditional thee-a-tuh with proscenium arch and fourth wall intact.
From time to time Fefu (Tiffany Cole, who previously played Electra and appears in the Sharknado flick) takes aim at her husband Phillip with a rifle, claiming not to know whether or not it's loaded, and fires a shot at the offstage presence. Fefu also has a penchant for making outrageous remarks, like a liberated "New Woman" who in the post-World War I years posed almost as much of a perceived threat to the patriarchy as Women's Liberation presented in the 1970s. In that spirit, much is made in the play of her adroitly fixing a toilet in the house. Toward the top of this two-acter Fefu declares: "Women are loathsome!"—one of her endless against-the-grain pronouncements intended to shock her seven friends, who are guests at her home somewhere in New England, 1935.
There was absolutely nothing whatsoever in this production that indicated this story was supposed to be happening in New England—I thought they might have been in Europe. And while I am on the subject, the soundscape of "period" songs employs considerable artistic license; for example, the much later Victrola in one scene playing 78 rpm's of Porgy and Bess which debuted on Broadway only in the fall of 1935, after the presumed summertime—no pun intended—setting of the play. The era is recalled successfully, however, by radio broadcasts in the kitchen giving news about Jews being rounded up in Germany, and by a cleverly designed Anglo-Indian plantation chair in the study.
Some may consider Fefu to be an exceedingly bold woman, but this character came across to me like one of these individuals who strike an outré pose and develop a shocking persona mainly to get attention in a deliberate effort to impress others. Often, Fefu doesn't speak as we mere mortals do: She pronounces, as if from on high.
We in the audience, with our Freudian antennae tuned, see that Fefu is masking her inner conflicts and insecurities which have to do with gender roles and rules in a sexist society dominated by the male of the species. (No wonder she wants to shoot her hubby.) But Fefu's outlandish behavior seems like she's acting out a part (the character, that is, not Ms. Cole, who is indeed acting) and as such wears out her welcome quickly and becomes tiresome. Christina (the winsome, charming Dominique Corona) spends much of the play trying to figure out whether or not she likes her hostess, and I suspect viewers will suffer a similar conundrum.
As extreme and inscrutable as some of these characters are, it turns out that in the end, they have gathered for a pleasant social afternoon to raise funds for some worthy civic project, which somewhat redeems them from their relative plotlessness.
Fefu and Her Friends is the second in a series of plays celebrating the Odyssey Theatre Ensemble's 50th anniversary, by presenting the "Circa '69" season, with rare revivals by founding and still artistic director Ron Sossi "of significant and adventurous plays that premiered around the time of the Odyssey's 1969 inception."
Denise Blasor (who plays Doña Rosa in the great FX TV series Snowfall) skillfully directs her ensemble, and pulling double duty as their costume designer (with Josh LaCour) similarly garbs her gifted cast in stylish Deco-era togs, in particular the colorful raiment of Sydney A. Mason as Emma, whose comically overblown pedantry references feminist anarchist Voltairine de Cleyre. Mason was also in Odyssey's noteworthy 2018 production of Lysistrata Unbound. Frederica Nascimento does artisanal work as the scenic designer, presumably working her magic on this complicated production's multiple sets in multiple spaces (though we did note, curiously, a loose piece of upholstery cloth hanging from the bottom of a wing chair).
With its cast of eight, Fefu is well acted and not without humor—although it is more of the ironic, sardonic sort than the laugh-out-loud brand found in most comedies. The play definitely has a nonlinear, dreamlike surrealist timbre, sort of like a Luis Buñuel movie set on the stage—that is, if Buñuel were female. This is theater for thinkers, for more adventurous theatergoers with a taste for originality and the absurd, concerned with subjects such as feminist theory, sexism, lesbianism, patriarchy—and trekking. Bring your thinking caps—and your New Balance walking shoes.
Fefu and Her Friends plays on Fri. and Sat. at 8:00 pm and Sun. at 2:00 pm, plus two Weds., Sept. 11 and 25, plus one Thurs., Sept. 19, all at 8:00 pm, through Sept. 29 at the Odyssey Theatre, 2055 S. Sepulveda Blvd., Los Angeles 90025. For more info call (310) 477-2055, ext. 2, or visit www.OdysseyTheatre.com.
The Odyssey Theatre is presenting a special screening of Michelle Memran's documentary The Rest I Make Up about playwright Maria Irene Fornés at 7:00 pm on Sept. 18.
Eric A. Gordon contributed to this review.
Ed Rampell is co-presenting the 400th Anniversary Anti-Slavery Cinema Commemoration 12:00 – 10:00 p.m., Sun., Aug. 25 at the L.A. Workers Center.