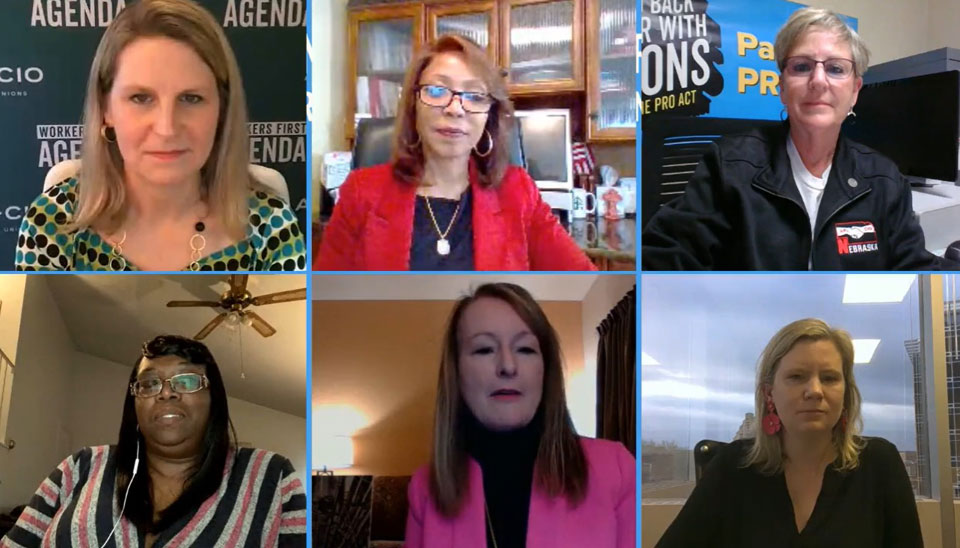 WASHINGTON—From better pay to paid sick leave, from due process on the job to wider opportunities, working women, union or not, stand to reap huge benefits if Congress passes the Protect The Right To Organize (Pro) Act, a panel of woman union leaders says.
And that prompted AFL-CIO Secretary-Treasurer Liz Shuler, an Electrical Worker and the labor movement's highest-ranking female leader, to urge union women to get out in the field using face-to-face contacts and social media to spread that message.
"What frustrates me is a lot of people think, 'Oh, it's just a bill for unions. It's not," Shuler said. "They don't' realize it's a civil rights act, a pillar of our democracy. How do we communicate that?"
Shuler convened the five union leaders for "A Woman's Place Is In Her Union," a roundtable discussion of the ProAct and why to push it through a balky 50-50 U.S. Senate. The Democratic-run House passed it in March.
Organized labor in general and the federation, in particular, are waging a nationwide campaign for the ProAct, labor's top legislative priority. It held a mass "National Day of (Virtual) Action," organizing remotely, on the day of the roundtable, April 8. Events and campaigning will continue through the month and beyond, including mass marches on May Day.
If enacted and signed by President Joe Biden, who strongly and vocally has already supported it, the ProAct would be the most pro-worker rewrite of the nation's basic labor laws since the original 1935 National Labor Relations Act.
It would make union organizing easier, mandate card-check recognition when the union turns in election authorization cards from more than 50% of a workforce, impose real penalties on firms, execs, and board members for consistent labor law-breaking, make it easier to reach first contracts, and force union busters and their spending out into the open.
It would ban captive audience meetings and bosses' other often-illegal anti-worker tactics, intimidation, firings, and threats. The National Labor Relations Board could get court orders more easily against law-breakers and force firms to take back illegally fired workers immediately. If it didn't enforce the law against errant firms, workers and unions could sue.
All of that translates into benefits for workers in general, union and non-union, and woman workers in particular said Shuler and her fellow panelists.
"Women are half the workforce" in the U.S., Shuler declared. "They should be getting half of the money"—the whole sum of wages paid to all workers.
They aren't. Statistics show the median wage of all woman workers in the U.S. ranges from 80 cents-82 cents per dollar as much as all white working men earn, the benchmark for all groups. The median for all working union women, however, is 87 cents-90 cents per white working union man's dollar.
And among unionists, both sexes earn far more than the benchmark white male average for all workers, union and non-union, combined. For union women, it's $1.08 per dollar–$82 per week–over the overall white male median. For union men, the advantage is $1.24, or $200.
The other panelists spoke of other advantages unions in general, and the ProAct, in particular, would give working women. Joining Shuler were Chelsie Glaubitz Gabiou, President of the Minneapolis Regional Labor Federation, Nebraska AFL-CIO President/Secretary-Treasurer Sue Martin, Wisconsin AFL-CIO President Stephanie Bloomingdale, Davida Coleman, President of the Ohio Coalition of Labor Union Women (CLUW), and Thelma Clements, president of the Philadelphia A. Philip Randolph Institute chapter.
"Working women need protection going up against corporate employers who are not empathetic" to women and families, declared Clements. It went without saying that the overwhelming majority of corporate honchos are male. And when those women organize with unions, 20% of them, like their male worker colleagues, are fired, Shuler added.
"No working woman should have to risk her job and risk her body and risk her family to join a union. Call your senators" and tell them that, Shuler responded, pounding a theme she repeated the whole session. "Without force coming from the ground up, nothing can be done."
Martin linked union protections to the coronavirus pandemic. "Nurses without a (union) contract have had to fight to get PPE (protective personal equipment)," to let them treat virus victims. "And there's no time off" via paid sick and medical leave "to take care of their families."
The situation is even worse in the state's meat-packing plants, with discrimination against woman workers, Latinos and Latinas, she added. In addition, "There's still a male mindset, and many women are passed up for promotions" even when overqualified. A contract would assure fairer treatment, Martin added.
But without the ProAct, which would force firms to bargain or face first-contract arbitration, pacts are difficult to achieve, the panelists said.
"Having a union gives us the power to talk about wages, health care, or time off to take care of your children or of your mother if she's sick," said Coleman, an AFSCME member. Without that contract protection, said Glaubitz Gabiou, the frequent dialogue between a woman worker and a male boss, is "I have to go home to take care of my kids." "You're fired."
The alternative, pre-pandemic, when she wasn't covered by a union contract, was "you have to give your 2-year-old a Tylenol for a sniffle and cross your fingers" as you leave for work. "And it's even more difficult for Black workers and woman 'essential' workers now, without a contract" in the midst of the modern-day coronavirus plague.  The entire session is on  Facebook, Twitter, YouTube, and AFLCIO.tv on the federation's website.