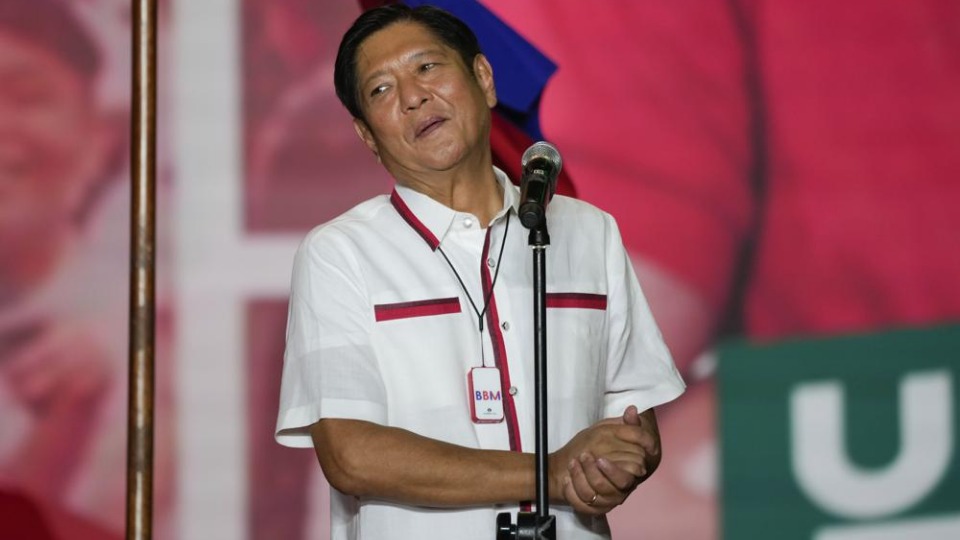 The namesake son of the late far-right dictator Ferdinand Marcos has won the presidential election in the Philippines, succeeding Rodrigo Duterte, who became known for thousands of extrajudicial police killings under cover of a supposed war on drugs.
Vote totals Monday night indicated that Ferdinand Marcos, Jr., was the top choice for president against Vice President Leni Robredo more than three decades after largely peaceful "people power" protests overthrew the regime of his father and mother.
Marcos, Jr., popularly known as "Bongbong," was up more than 30 percentage points in the polls after he consistently led every poll this year. His running mate was Duterte's daughter, Sara Duterte-Carpio, who will now become the next vice president.
Marcos, Jr., has presented no real policy platform despite the Philippines having a battered economy due to the coronavirus pandemic, rising poverty and unemployment levels, hyperinflation caused by rocketing oil and gas prices, and inflamed political divisions.
Turnout appeared to be high, according to election officials, favoring Marcos, Jr. Police are investigating the killing of three people near a polling station, however.
Marcos, Jr.'s win is seen as a huge hit to democracy in the country and risks the reversal of human rights gains made since Marcos, Sr., was kicked out in 1986. Under his father and mother's dictatorship, Marcos, Jr., was a provincial governor but lost his position during the revolution. The entire family fled to the United States and remained there for several years.
Marcos, Jr., became active in Philippines politics again in 1992, and throughout his career, he has defended his father's legacy and steadfastly refused to apologize for and acknowledge the atrocities under the dictatorship.
The former provincial governor, congressman, and senator has been accused of financing years of social media campaigns to harness online trolls to smear opponents and whitewash the Marcos family's history, including tax evasion.
His opponent in the election, Leni Robredo, was a participant in the massive protests that ousted the original Marcos and previously defeated Marcos, Jr., in the 2016 vice-presidential race by a narrow margin.
This article originally appeared in Morning Star. It has been supplemented with further material.