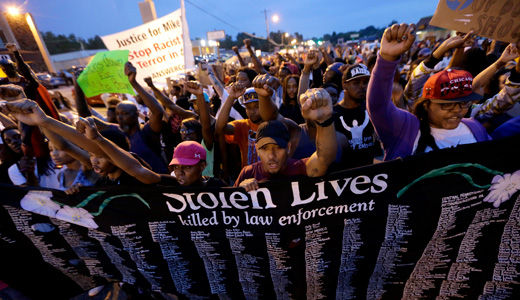 A many-year resident from the Ferguson area told Peoplesworld.org that, despite images appearing on national television, residents here continue to peacefully demonstrate daily for justice after the police killing last week of unarmed 18-year-old-Michael Brown.
Describing how, due to huge turnout, it took her hours to travel the two miles from her home to the site of a rally in a packed church Sunday, she said, "for the majority it was a day of healing, a day of looking for answers."
"This is my neighborhood. You are my family. You are my friends. And I am you," Missouri Highway Patrol Captain Ron Johnson told the 1,300 people at the rally. "When this is over – I'm gonna go to my son's room, my black son, who wears his pants sagging, who wears his hat cocked to one side, who's got tattoos on his arms…But that's my baby."
The long-time area resident who spoke with Peoplesworld.org today said that what people wanted inside that rally, which was organized by the National Action Network, was due process, rigorous investigations into the death of Brown, and the arrest and filing of charges against the officer responsible. "Above all they want transparency," she said.
It is the preliminary autopsy, according to reports, that has convinced the Brown family that the police officer who shot him should be arrested. The autopsy showed that Brown could have been shot from as far away as 30 feet. Six bullets entered his body and at least two ricocheted and travelled back through his body. Bullet wounds to his arms could have been sustained by putting his arms up. "Hands up! Don't shoot" has become a rallying cry for protesters.
Skepticism and lack of trust by the community has led to President Obama ordering a full-scale investigation by the Justice Department and the FBI and an order from Attorney General Eric Holder for a federal medical examiner to perform a second autopsy.
Referring to the release of tapes that allege Brown's involvement in a robbery of candy at a local store, Benjamin Crump, the attorney representing the family of Michael Brown, condemned the police for what he called a "smear" campaign against the murdered teen's character.
"There is nothing that can justify the execution-style murder in broad daylight by this police officer," he said
Rev. Al Sharpton added political context when he spoke. "Where are the leading candidates for president?" he asked. "Jeb Bush, Hillary Clinton, don't get laryngitis on this issue. You can't get to the White House without stopping by our house and talk about policing."
The area resident, who spoke with People's World, said people are angry too, about the almost complete absence of the mayor, James Knowles III, since events began last week. "There is a problem when you have a 67 percent black town with only three out of 53 officers who are black and a mayor who is white," she said. People had set up a voter registration table near the store that is "ground zero" in the protests and it is expected that the current crisis in Ferguson will be reflected in a change in voter turnout in future elections.
Already there are calls for the establishment of civilian review boards chosen by the people in a number of Missouri towns, including Ferguson.
Back at the rally, Sharpton also condemned the few who have carried out violence in and around the protest sites. "Don't loot in Michael Brown's name," he said. "We're not looters, we're liberators."
The positive feelings during the day Sunday yielded to a different type of situation after nightfall with protesters being doused with tear gas again. Local residents, including the person who spoke with Peoplesworld.org, said that they did not see anyone throwing Molotov cocktails or firing guns, as police had reported.
"All we were doing was marching," Lisha Williams, a local protester who was tear gassed told MSNBC.
Chris Hayes, who was reporting from the scene for that cable channel, said cops threatened him with mace if he tried to get any closer to report on the protests.
Photo: Saturday, Aug. 16, protesting the police shooting death of Michael Brown a week ago in Ferguson, Missouri. Despite heavy rainfall and lightning, hundreds of protesters gathered. Charlie Riedel/AP.