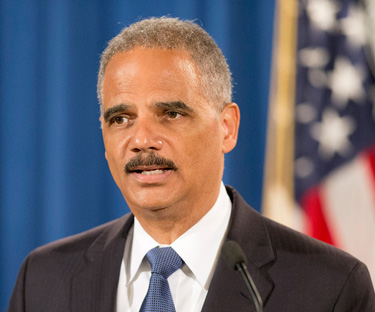 FERGUSON, Mo. – Among early indications that things might change here in the wake of the killing of Michael Brown, the Ferguson City Council announced Monday that it will set up a civilian review board to oversee the Police Department.
The announcement, an effort to repair relations with residents, came in a little over a month since the brutal killing of Michael Brown at the hands of Ferguson Police Officer Darren Wilson, and as his family continues to wait for what they hope will be a grand jury indictment of their son's killer.
The city council, the governing body of this small suburb of St. Louis, said the review board will be made up of citizens who are not part of either local government or the police department.
The council also announced major changes in how fines for minor legal infractions are imposed.
Since fines are a major source of income for Ferguson, the town has had a financial incentive to issue them to the city's mostly black residents and then place upon residents additional fines when they are unable to pay the original ones.
This has allowed warrants for arrest to be issued for an unusually high percentage of the population with black youth in particular ending up in jail or on lists that make them ineligible for public and other jobs.
The New York Times reported yesterday that Ferguson, with a population of 21,135, issued 24,532 warrants for 12,000 cases last year, amounting to three warrants per Ferguson household.
During the uprising after the killing of Brown last month, the issue of fines and warrants, it was clear, had caused major resentment of law enforcement authorities here.
The City Council indicated yesterday that it will also introduce an ordinance that ensures revenues from court fines remain at or below 15 percent of the city's total revenue.
The idea behind the measure is that it would encourage judges to hand out other forms of punishment such as community service, for example, rather than fines.
The council also said it would introduce another ordinance to repeal what is called a "failure to appear" offense in the city's court. This would remove yet another add-on fine that is imposed for that offense.
Also, ordinances that would abolish certain fees that impact low-income residents will be introduced under the City Council's plan.
The changes announced included some of the demands that community activists have been making since the killing of Brown.
Although residents here see this as a step in the right direction for the city, they say that only time will tell to what extent the measures are actually implemented.
An important consideration, for example, is that surrounding towns will have to take similar actions if the reforms are to work. Many of the towns surrounding Ferguson, civil rights activists note, have similar unfair laws on their books. Residents here cannot avoid passing through those towns, often more than several times daily.
John Wojcik contributed to this story.
Photo: U.S. Attorney General Eric Holder speaks during a news conference at the Justice Department in Washington, Sept. 4, to announce the Justice Department's civil rights division will launch a broad civil rights investigation in the Ferguson, Mo., Police Department. City officials in Ferguson, Missouri, are pledging their full cooperation with a federal civil-rights investigation into their police department following the death of 18-year-old Michael Brown. Pablo Martinez Monsivais/AP