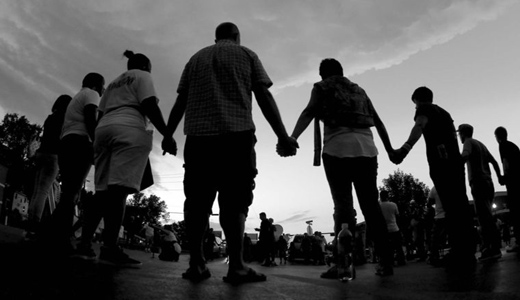 Organizers of protests planned in Ferguson are determined to see that it's peaceful. They will train people to ensure it stays that way, especially as they plan to close in on and "shut down" the town of Clayton on the first business day after the grand jury announcement on the Michael Brown case.
"We, as a community of people, we aren't going to use violent power," remarked organizer Michael McPhearson in a hall meeting of about 100 in St. Louis on Nov. 13. McPhearson is the co-chair of the Don't Shoot Coalition, and addressed the crowd together with Julia Ho, a community organizer with Missourians Organizing for Reform and Empowerment. Meanwhile in Ferguson, a similar meeting was held simultaneously, at Greater St. Mark Missionary Baptist Church. Additional meetings at the same locations occurred from noon to three o'clock on Nov. 15.
More than half of the diverse St. Louis crowd was present during the initial protests that took place when Brown was shot Aug. 9 by police officer Darren Wilson, according to the St. Louis Post-Dispatch. They agreed that four areas would likely emerge as hotspots for protest going forward: the Ferguson police station; the area near the QuikTrip that was burned the day after the shooting; the Clayton business district; and Shaw, the neighborhood where VonDerrit Myers Jr. was killed by a St. Louis police officer in October. It was suggested goggles and gasmasks be used to protect activists from mace and teargas.
Underscoring what he felt was the importance behind the continuing actions, McPhearson said, "We're in a struggle that takes a long time to make things happen. In order for it to be a movement, we have to stay in it."
"The number one weapon of the police is fear," said a female instructor who withheld her name, and suggested they use the acronym HALTS to help themselves – 'H' to remember to feed their hunger, 'A' to remind them to keep their anger in check, 'L' to remember to connect with others if they feel lonely, 'T' for going home to rest if tired, and 'S' to remember not to take things too seriously.
It was refreshing, said 24 year-old attendee Lauren Ratcliff, to walk into a room filled with people who had similar ideas to hers. Hailing from St. Louis, Ratcliff said she was on the streets of Ferguson demonstrating in the days following the shooting and planned on doing so again after the grand jury announcement. "This is legitimately the start of a larger movement," she said, "and everyone feels that. And the world is watching."
Photo: Peaceful protest in Ferguson. AP