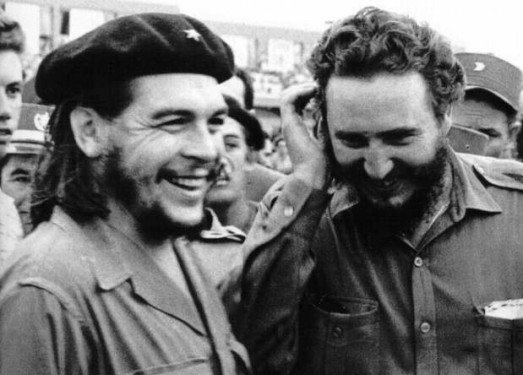 "Fidel and Che: A Revolutionary Friendship"
By Simon Reid-Henry
Walker & Company, 2009, 480 pp.
Also available in paperback from Sceptre.
It lasted a mere 12 years, but the relationship between Fidel Castro and Ernesto "Che" Guevara changed the course of Cuba's history and continues to intrigue us today.
This partnership is the subject of a new double biography entitled "Fidel & Che: A Revolutionary Friendship" by the British academic Simon Reid-Henry. This "scholarly, deeply impressive work," in the words of The Independent, "is rigorously sourced," and has been very favorably reviewed in many other newspapers.
Reid-Henry traveled the world, from Havana to Moscow, examining archival documents and conducting interviews for this outstanding book. It also incorporates illuminating and only recently available material, such as declassified CIA documents and reports from the former East Germany's embassy in Cuba.
The main thesis of the book is that Fidel and Che were deeply loyal friends who, despite very different personalities, complimented each other in many, often misunderstood, ways. Reid-Henry compares their friendship to better known ones like the "intellectual camaraderie of Engels and Marx" but in the book's introduction argues "their relationship differs from many other political double-acts, however, in that it was a full-blooded friendship first and foremost, and it was lived out during just a few short, intense years."
While there have been many individual biographies written about Fidel and Che, this is the first book to focus on the development and dynamics of their friendship, from their first meeting as exiles in Mexico City 1955 to Che's death by a CIA assassin in Bolivia in 1967.
In an email interview with People's World, Reid-Henry explains: "Since they were such an important influence on each other, and focusing for the majority of the book on just the 12 years they knew each other, I sought to convey both their relationship, and the tumultuous period in which it unfolded, in more detail. Both elements were important and under-explored: their actions were prompted at times, constrained at others, by the circumstances in which they found themselves."
And, most significantly, Reid-Henry rejects the popular notion that there was some kind of falling out between the two revolutionary leaders.
In our interview, he elaborates, "I was intrigued by this at the start of the project, but I can find no basis in fact to support it." While he says there may be relevant archival material on the topic he did not see, "it seems clear that, while their political partnership came to an end in 1965 – and Guevara was, as explicitly acknowledged by both of them, 'on his own' from that point – there was no lasting falling out and Fidel did not betray Che in Bolivia."
Of course, in a way, their relationship has continued over the years, and Fidel on occasion has reflected on the "sad and luminous days" of their friendship, as he termed it on the 40th anniversary of Che's murder.
Besides adding to our understanding of this historic partnership, Fidel & Che simply is a great read. I finished the book in one sitting on a trans-Atlantic flight! In the words of UK's The Times, Reid-Henry's book is "as exciting and readable as a Cold War thriller."
Fidel & Che, already translated into 10 languages, was merely a side project for Reid-Henry, a geographer whose academic research focuses on health care in Cuba. His next book, entitled "The Cuban Cure? Reason and Resistance in Global Science," examines Cuban biotechnology science.
"Is there a 'Cuban Cure' for producing certain sorts of drugs?" Reid-Henry explains. "That is the question the book gradually unravels as it peels back the layers of history behind Cuba's biotechnology endeavors."
"In short," he continues, "it tries to establish what, if anything, is different about Cuban biotechnology science and whether there are things we might learn from that."
As an expert on Cuba – besides Fidel & Che and his upcoming work on biotechnology science – Reid-Henry has written about the history of Guantanamo Bay among other topics – People's World asked for his thoughts on the state of the Cuban Revolution today.
"Cuba is entering a challenging time," he maintains. "Everyone knows the basic issues and difficulties." But, more optimistically, he continues: "Those who have been to Cuba know firsthand the resourcefulness of Cubans in the way they respond to those challenges."