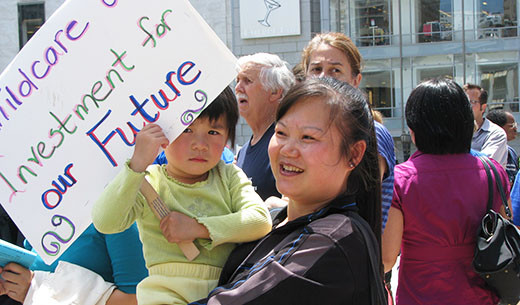 OAKLAND, Calif. – Parents, child care providers and Democratic state legislators are waging a dramatic battle to reverse one of Republican Governor Arnold Schwarzenegger's most controversial line item vetoes to the state budget enacted last month after a 100-day standoff.
Parents have won a temporary extension of funds for a program aiding former welfare recipients with child care costs, and legislators plan more far-reaching moves to restore full funding to the program.
Before Schwarzenegger signed a grossly delayed 2010-2011 state budget, he used line-item vetoes to cut nearly $1 billion in funding the legislature had approved. Among his cuts: $256 million in "Stage 3" child care funding for families where parents have moved from the state welfare-to-work program into jobs, but still need help with child care so they can continue to work.
Funds providing child care for some 81,000 children in 60,000 families were to be cut off Nov. 1.
Oakland Parent Voices, a local chapter of a statewide organization fighting for accessible, affordable child care, and four parents affected by the line-item veto sued over the veto. Last week Alameda Superior Court Judge Wynne Carvill ordered the cut delayed pending a court hearing Nov. 4.
Meanwhile, parents and child care providers rallied Oct. 26 at a Women's Conference in Long Beach, hosted by the governor's wife, Maria Shriver. They were joined by United Farm Workers co-founder Dolores Huerta as they greeted conference participants with information on child care needs and stickers reading "Save Child Care Now!"
Other rallies were slated for San Francisco, San Rafael, Martinez and Fresno, and a child care vigil is set for Sacramento on Nov. 4.
State Assembly Speaker John Perez, D-Los Angeles, said at a press conference last month that the legislature would put up $6 million from its operating budget, as a first step toward restoring full funding to the child care program.
Perez pledged to work with concerned organizations and individuals to find funds for the program through the end of the year. He and state Senate President Pro Tem Darrell Steinberg, D-Sacramento, have vowed to implement a majority vote process in the legislature to restore full funding to the program, when the legislature reconvenes.
Though the state Department of Education was named in the Oakland parents' lawsuit, State Superintendent of Education Jack O'Connell, a Democrat, issued a scathing criticism of Schwarzenegger's veto.
With unemployment in the state exceeding 12 percent, O'Connell said, "it is unconscionable that this administration would deliberately eliminate the child care service necessary for working parents to maintain their jobs, and put them at risk of returning to the welfare rolls."
In a moving letter to the Chico, Calif. Enterprise Record, a former recipient wrote that the child care program enabled her to finish college and work her way off welfare and child care aid. "I would never have made it through my first few years of working" without it, she said.
"Surely we can all see that it is better to fund subsidized child care for working families while they continue to work, pay taxes, use child care businesses, and spend their earned dollars in our local communities, than to send these parents and child care providers to unemployment or welfare," she wrote.
The issue arose in the first place because California, alone among states, requires a two-thirds legislative majority to pass a budget and to raise revenue. The Democrats' majority falls short of that level, and virtually all Republican legislators have signed a no-new-taxes pledge.
A Nov. 2 ballot measure to approve state budgets by a simple majority is ahead in recent polls of likely voters.