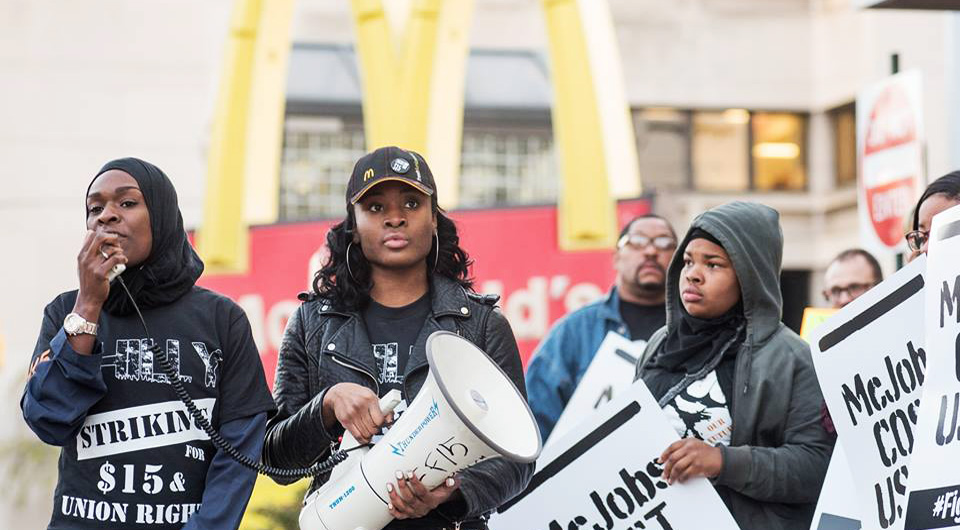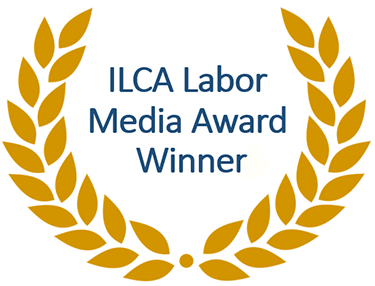 ILCA, Honorable Mention, Best News Story
HARTFORD, Conn. — "Put Some Respect in My Check" was the message at a noontime rally outside McDonald's on Washington Avenue here Oct. 6, one of 35 actions across the country to protest rampant sexual harassment of women working in the fast food industry.
Organized by the SEIU-backed Fight for $15, the demonstrations were timed to happen alongside the filing of 15 federal sexual harassment complaints against McDonald's at the Equal Employment Opportunities Commission (EEOC). In addition, the actions coincide with the release of a survey by Hart Research Associates revealing that two in five women report having been subjected to sexual harassment on the job in the fast food industry.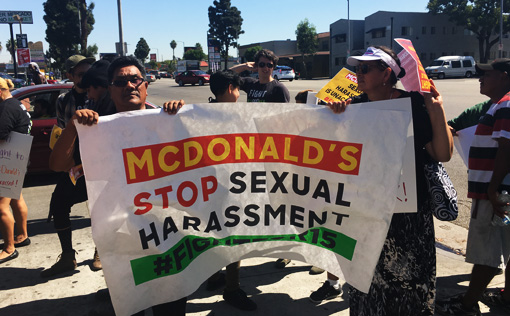 Although McDonald's Operations and Training Policies for Franchisees includes a zero-tolerance policy against sexual harassment, those who have filed complaints said despite reporting horrific violations, no action was taken.  In some cases, the women workers faced retaliation, including having their hours cut and firing.
Many women said that they did not report the harassment they endured for fear of losing their job and not being able to pay rent and take care of their families. The Hart survey showed that African American and Latino women are disproportionately subjected to harassment.
"Scraping by on minimum wage is hard enough without having to deal with groping, requests for sex, or lewd comments about our bodies while on the job and that is why I am standing in solidarity with other fast food workers who have endured sexual harassment in the workplace," said Richard Grimes, a Hartford McDonald's worker. "McDonald's needs to take responsibility for the unacceptable sexual harassment taking place in its stores and it needs to start now."
Citing everything from jokes to groping, assault and even rape, the workers filed complaints in eight states: California, Michigan, Wisconsin, North Carolina, Illinois, Missouri, Florida and New York.
Fight for $15 organizers emphasize that the inability to get managers or corporate headquarters to enforce its own policy underscores the need for a union and grievance procedure to achieve a safe and respectful working environment.
Many of the courageous workers have told the stories of the outrages they faced and are asking supporters to  share the video on Facebook and sign a petition calling on McDonald's to end rampant sexual harassment at its stores.
In one complaint, Folsom, Calif., McDonald's worker Kristi Maisenbach said her supervisor groped her and sent her a text message offering $1,000 for oral sex.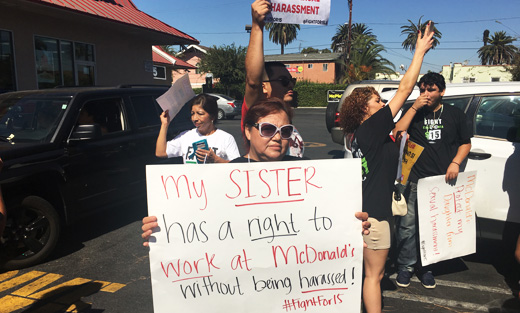 After she complained to her general manager, her hours were reduced so much that she was forced to quit.
"The lesson was clear: speak out, and you'll face the punishment," Maisenbach said.
In another complaint, Flint, Mich., McDonald's worker Cycei Monae  said her supervisor verbally and  physically harassed her on a daily  basis. Monae reported the behavior to her store manager and to a McDonald's corporate official, but nothing was done.
"McDonald's monitors everything we, its employees, do. Yet when I filed a complaint against my shift manager for regularly sexually harassing me, McDonald's had no response," said Monae, who eventually quit because of the harassment. "I really needed that job and the money, and I considered remaining silent. But I believed McDonald's had my back and would be horrified by the way I was treated. I was wrong."
The survey of women fast food workers was commissioned by the National Partnership for Women and Families, Ms. Foundation, and Futures Without Violence.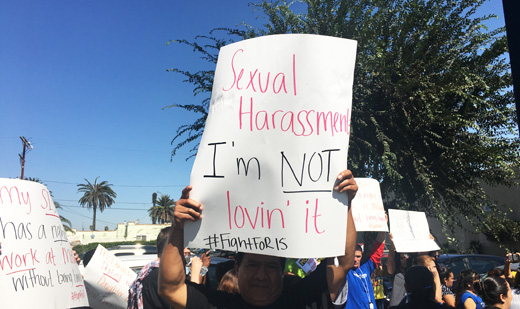 "Women risk more than their jobs in speaking out about sexual harassment at work. With job stability impacting their access to child care and other supports — and women, particularly women of color, facing negative consequences from reporting abuse — it is no surprise that more than two in five women feel they must accept such treatment," said Teresa C. Younger, president and CEO at the Ms. Foundation for Women. "No woman should be forced to work in a setting that compromises her safety. Employers in the fast-food industry must do better."
The survey showed that 45 percent of women fast food workers experience health problems resulting from harassment faced on the job, including stress, anxiety, depression, changes in sleep patterns and changes in appetite.
"We stand by women in the fast-food industry in calling for safer workplaces where harassment is not tolerated, allegations are taken seriously, and workers' rights are respected," said Debra L. Ness, president of the National Partnership for Women and Families. "Every worker in this country deserves a fair and family friendly workplace, and stopping abuse and harassment on the job is critically important."
Kendall Fells, organizing director of the Fight for $15, emphasizes that "cooks and cashiers are going to keep on joining together, speaking out and taking every step possible to make sure McDonald's follows its own policies and gets sexual harassment off of the menu."