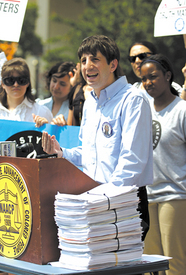 The NAACP has initiated an "I am Troy Campaign" as part of worldwide effort to prevent the execution of Troy Davis, a 40-year-old man on death row in Georgia. Davis, who is African American, was convicted 20 years ago for the death of a white off-duty police officer, Mark MacPhail.
Davis, a former coach, is viewed to be innocent by a broad coalition of including former President Jimmy Carter, the Vatican, Amnesty International, former FBI head William Sessions and conservative Bob Barr. Seven of nine witnesses in the case have recanted their testimony.
The Davis case has been twice appealed to the Supreme Court, which recently delayed deciding whether it will take it up until its fall session in September.
NAACP leader Benjamin Jealous, in a July 2 Nation article, called for both the Supreme Court and local District Attorney Larry Chisholm to do all within their power to insure that justice is served. According to Jealous, the high court agreed to consider a writ of habeas corpus in September, but noted that the last time such an appeal was granted was in 1925.
However, Davis attorney, Jason Ewart, appears hopeful, according to AP. "It's definitely good news," he said, interpreting the court's inaction as a sign it wants to take a closer look at the case. "It's not just a move buying more time."
The Chatham County district attorney however has the power to reopen the case. Over 60,000 petitions were presented to its Savannah office demanding justice.
Jealous joined a delegation of several member of Congress, including Rep. John Lewis to visit Davis in May. Lewis is considering asking for a presidential pardon.
The NAACP head cites several reasons for reopening the case, among them, the recanting of eyewitnesses, the appearance of new evidence (not allowed consideration under current legal rules) and a history of discriminatory practices in Chatham County which is home to 40 percent of all death row exonerations in Georgia.
"This case stands out," Jealous said during a May 29 news conference after he met with Mr. Davis. "Something's wrong in Chatham County."
Information on the Troy Davis case can be found at www.iamtroy.com.