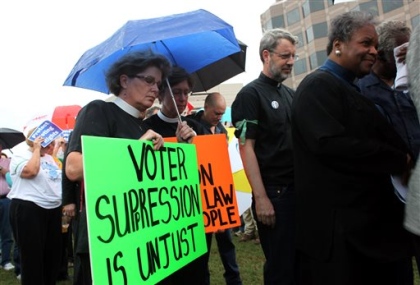 DURHAM, NC – As part of their comprehensive efforts to combat right-wing efforts to suppress minority and other voters' rights, the North Carolina NAACP and Advancement Project will be back in court on Friday, pressing North Carolina House Speaker Thom Tillis, Senate Leader Phil Berger, Gov. Pat McCrory, and their colleagues to release pertinent emails and other documents that will help the Court decide the motivations behind the sweeping voter suppression law the General Assembly passed last summer.
Two months ago, U.S. Magistrate Joi Elizabeth Peake ruled the General Assembly's leadership could not hide their actions during the 2013 legislative session behind blanket claims of legislative immunity. She held that they and their associates would have to make a case for not turning over any documents that might be relevant to the critical issue in the case-the actual motives behind the voter suppression bill. Tillis, Berger, and others challenged the Magistrate's ruling, so now the issue will be heard by Judge Thomas Schroeder of the U.S. District Court in Winston-Salem this Friday.
The hearing comes three days after North Carolinians went to the polls under some of the new voting restrictions during the May 6 primaries. The NC NAACP and its coalition partners have heard several accounts of confusion, and outright disenfranchisement, in polling stations across the state.
The NC NAACP is represented by Advancement Project; Kirkland Ellis, LLP; NCCU Law professor Irving Joyner and attorney Adam Stein of Chapel Hill.
Since filing its suit last fall, the NC NAACP, Advancement Project and co-counsel have attempted to secure crucial documents from state lawmakers, including Tillis, Berger and other supporters of the voter suppression bill. These documents would unearth the rationale and intent behind this avalanche of restrictive voting changes that threatens to disenfranchise thousands of North Carolinians – a disproportionate number of whom are people of color, poor, seniors, students and women.
"The North Carolina legislature passed the most sweeping and discriminatory voter suppression bill in the country, then sought to hide their hands and skirt the scrutiny of the law," said Rev. Dr. William J. Barber, II, President of the NC NAACP. "You cannot engage in passing laws that undermine the rights of people and then claim immunity from revealing your true reasons for the unconstitutional action. Their motives must be examined in the day light. We believe our lawyers will zealously fight for full discovery of evidence from which the Court can determine the real motivations for making voting harder for minorities, the elderly and young people."
"The General Assembly rammed through the nation's most extreme voting law, and they must now answer the hard questions about why they pursued this attack on democracy and exactly how it came to pass," said Penda D. Hair, Co-director of Advancement Project. "This is a standard process for every legal proceeding, and it has been stalled for months. But understand this: the state's repeated attempts to evade full disclosure of their actions will not deter us from fighting back against a measure that stands to prevent hundreds of thousands of North Carolinians from casting a ballot. We are well prepared to hold them accountable in court, and to ensure that our legal team can proceed with the work of defeating this terrible law."
Last week in Wisconsin, Advancement Project lawyers – representing plaintiffs who had their voting rights abridged by a similar photo ID law – persuaded a federal judge to throw out the law because it violated Section 2 of the Voting Rights Act by disproportionately limiting people of color from accessing the ballot box.
Also this month, in Advancement Project's successful legal challenge to Pennsylvania's voter ID law, a federal court last week rejected the Commonwealth's attempt to reconsider the permanent injunction against the statute. In Arkansas, the newly passed photo ID measure has been ruled unconstitutional in two separate cases this year.
The NC NAACP and Advancement Project lawyers are preparing to argue for a preliminary injunction to stop the voter suppression law this summer. Otherwise, even if it is eventually ruled unconstitutional, it could cause widespread voter intimidation, confusion and disenfranchisement in this November's critical elections.
Photo: Travis Long/AP