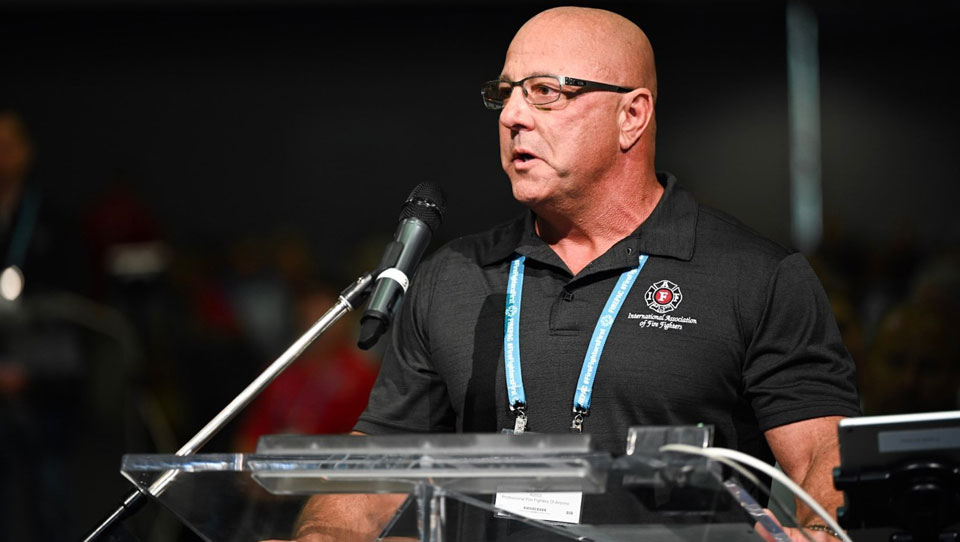 OTTAWA, Ont.—Committing more money to fight occupational cancer, including raising dues to fund research on the fatal disease, was a top topic at the Fire Fighters convention in Ottawa, Ont., August 8-12.
But cancer wasn't the only tough issue delegates tackled. Following the lead of the union's board, headed by relatively new President Edward Kelly, delegates passed resolutions to increase transparency and accountability for various union funds, the IAFF website reported.
Kelly and the delegates concentrated most heavily, however, on the anti-cancer battle.
"Take a look at those f—ing walls," Kelly said, citing the large screens listing the IAFF members who have died in the line of duty since the last convention. "70%…died of cancer.
"I have 28 years in this business, so whatever I have been exposed to is a done deal," he added. "But one day my 12-year-old kid–who has already beat cancer once–is gonna come on one day and do this job. This war against cancer is never going to end."
To put its money where its mouth is to fight the disease—which comes from toxic fumes Fire Fighters inhale as they enter, traverse and work through burning buildings—delegates raised dues for that purpose by 9.5 cents per capita. They dedicated the estimated $500,000 from that hike to funding cancer research.
Overall dues rose, via seven resolutions, to $16.73. Much of the new money will go to organizing in the South and battling for better benefits, wages, and job safety and health, Secretary-Treasurer Frank Lima said.
One resolution dedicates 7.5 cents of new per capita dues to IAFF's Emergency Disputes Fund, "used to help local affiliates defend against unwarranted attacks from employers," the union said in a statement.
A chunk will go to the cancer fight. Bryan Jeffries, Professional Fire Fighters of Arizona president, found out from his doctor that occupational cancer caused his chronic hip pain.
"My doctor said: 'I am going to have to just about kill you with chemo to save your life.' Standing here now I see my name could have been on that wall," Jeffries said, according to the website. "Our commitment today must be for a Manhattan Project-level effort to protect fire fighters from cancer," Kelly responded by outlining the union's advancing steps on the issue.
"We are building a team where we have people who can speak the language of the scientific and medical community," he said of IAFF's new alliance with the American Cancer Society to fund occupational research. "They speak our language, and also know what it's like to bury a friend on the job."
Kelly introduced IAFF's first-ever Chief Medical Officer, Dr. Danny Whu, M.D., MPH, who will "spearhead all facets of the Health, Safety and Medicine Division." Last year, Dr, Derek Irwin, an IAFF Local 1014 member from Los Angeles, also became the union's Chief Science Advisor.
"Gone are the days of showing up at the firehouse with blood on your gear. We know now that if you smell like smoke three days after a fire that is cancer you are smelling," Whu told the delegates.