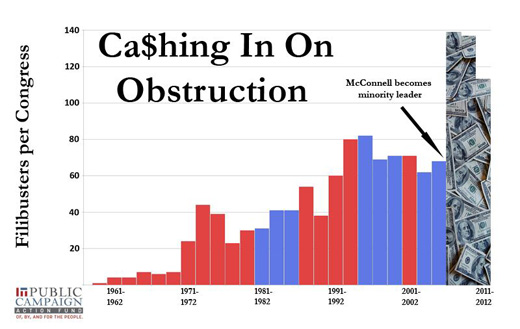 LOUISVILLE, Ky. — While he was raking in campaign cash during the last Congress from at least eight different donors, Senate GOP Minority Leader Mitch McConnell of Kentucky was busy launching successful filibusters against measures opposed by those same financial backers.
The findings were announced Jan. 4 here by the state's AFL-CIO and a host of allied groups. They were uncovered in a study by the non-profit Public Campaign Action Fund.
While he was launching a successful filibuster against jobs legislation, for example, McConnell was simultaneously accepting funds from corporations anxious to kill that legislation, including ExxonMobil, Hewlett Packard and Koch Industries.
"Let me put it clearly, said Steve Wimsatt of IUE-CWA Local 761, another union participating in the release of the report. "Kentucky needs jobs and McConnell and his allies blocked legislation to create jobs here and around the country.
"Legislation opposed by his corporate funders would have ended the tax breaks they get by shipping jobs overseas. He pockets the campaign money from out-of-state donors and Washington lobbyists, and we're left wondering whether we have anyone representing our interests in the Senate. "
Local 761 represents IUE-CWA workers at General Electric, the top contributor on McConnell's list, among the firms that opposed the jobs bill.
McConnell has had no detailed reaction to the release of the report, other than having told the Associated Press at the time of its release that it was a "hack job" and that its sponsors were "out of touch."
"Congress isn't working for Kentuckians but is working for lobbyists and corporate interests," said Kentucky AFL-CIO President Bill Londrigan. "McConnell has always put his donors' interests before the needs of middle class families, but now he's helped to grind Washington to a halt when we need someone on our side."
The release of the report here occurs as debate over filibuster rules changes heated up in the U.S. Senate. On Jan. 4, just before a two-week recess, Sen. Jeff Merkley, D – Ore., discussed a bill that would, essentially, restore majority rule in the Senate. McConnell opposes the measure.
Merkley's measure is backed by the www.FixTheSenateNow.org coalition. The group, which encompasses 51 organizations, was actually launched by a union, the Communications Workers of America and some of its community allies.
"McConnell has been at the helm of a scorched-earth policy of blocking nearly every bill and nominee that comes before the Senate," says the report by the Public Campaign Action Fund. The document, entitled Cashing in on Obstruction, says McConnell's filibusters "impose an anti-democratic super-majority requirement to advance any legislation or appointment.
Little or nothing getting done
"This has meant little to no work on a wide range of lingering problems from anemic job growth to unwarranted giveaways of tax dollars to oil companies to the highest rates of inequality since the Gilded Age."
The report released by the Kentucky AFL-CIO and its allies this week says the findings "link the big trends and donors in McConnell's enthusiastic fundraising career with his willingness to foment legislative dysfunction, which serves to increase his power and enrich his corporate donors while leaving American families to struggle.
At times the connection between money coming into McConnell campaign coffers and his payback to the donor with a filibuster were incredibly clear. Some of the most obvious cases were when Senate Democrats tried to bring up jobs creation packages in 2009-10 and 2012.
The Creating American Jobs and Ending Offshoring Act (S3816) would have granted a two-year payroll tax holiday for every job a company brought back to the U.S. The bill also ended corporate tax deductions for job creation overseas. The bill, in addition, sought to end the ability of companies to defer U.S. taxes on overseas profits, a scheme by many firms enabling them to avoid paying taxes entirely.
"But these provisions were stripped as this Senate bill failed cloture vote after cloture vote," the report says, referring to the 60-vote hurdle needed to stop Senate filibusters. With a minority of 47 Republicans in the last Congress, McConnell had six more votes than he needed in the 100-member Senate to win cloture votes and continue the filibusters.
Eventually that bill, S3816, passed but with only the section that extended jobless benefits remaining intact. Provisions encouraging the bringing back of jobs into the U.S. and discouraging the export of jobs were stripped out due to McConnell's obstructionism. He had succeeded in repaying his campaign donors.
"McConnell helped block all these recent efforts to bring back jobs to the U.S., looking out repeatedly for his large corporate donors and opponents of these measures, including the National Association of Manufacturers and the U.S. Chamber of Commerce," the report reads.
"Taking the companies that lobbied on S3816 as a sample, McConnell raised close to $1 million from executives and PACs (political action committees functioning as campaign finance committees) associated with 37 of the companies that reported lobbying against the bill in at least two of their filings with the government."
McConnell gets 84 percent of his campaign cash from PACs and large donors and gets only 16 percent from individuals in Kentucky, according to the report. He has raised more than $45 million for his elections during his political career and that doesn't count money he already has in reserve for his 2014 race.
"The largest donor in this group of 37 is General Electric, giving at least $174,812 to McConnell over the years," the report says. That figure is followed by Microsoft ($100,750), Koch Industries ($85,4560), and Exxon-Mobil ($74,300).
"These 37 companies have collectively stashed $445 billion in untaxed profits overseas instead of using those funds to create jobs in America. GE, Microsoft and Exxon Mobil stand out, with offshore profits of $102 billion, $61 billion, and $74 billion respectively."
Other firms that lobbied against the jobs bill, gave to McConnell and are now sitting on overseas profits include Johnson & Johnson ($42 billion), IBM ($38 billion), and Hewlett-Packard ($29 billion), the report says.
Photo: Graph from Public Action Campaign Fund Facebook page.