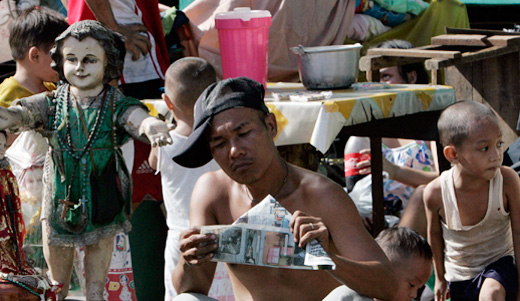 CHICAGO – "Their story of enslavement and their escape started in the slums of Manila. Sleazy 'recruiters' scoured the streets and lured the workers here with assurances of plenty of money, a status job and U.S. citizenship, but when they got here they became indentured servants to a big profit-hungry corporation."
That description of how 17 workers who recently escaped modern-day slavery in Louisiana came to the U.S. in the first place, came today from the Rev. Primo Racimo, the priest-in-charge at St. Margaret of Scotland's Episcopal Church on this city's South Side. Fr. Racimo, himself an immigrant from the Philippines, said that "people of good will everywhere should be supporting demonstrations taking place in New Orleans from Feb. 22 to 24. We must show that America will not stand for indentured servitude," he said.
The priest, activists and community groups from around the country and the labor movement are part of a growing coalition of protesters forming to fight for the rights of the Filipino workers brought to this country under false pretenses. The scandal around Grand Isle Shipyard is particularly relevant, activists say, as the nation debates the big question of immigration reform.
The 17 who recently escaped were locked into crammed quarters, six to a room, in company dormitories surrounded by barbed wire fences. "When we got there the company took away our passports, trapping us. If anyone dared protest he was sent back to the Philippines immediately. People spent a lot of their hard-earned money to get here and wanted to send back help to families waiting in the Philippines," said Rodelio Maligo, one of the escapees.
Maligo and two other escapees, Adrian Fayagan and Joel Franco, have been going around the country telling their story to groups in Los Angeles, New York and Chicago. Last week, on Feb. 12, they spoke to the Washington D.C. chapter of the Asian-Pacific American Labor Alliance, an AFL-CIO constituency group, seeking APALA and AFL-CIO backing for their struggle and the upcoming protests is New Orleans. Members of the Filipino community here in Chicago are planning to participate, and busloads of supporters will go to New Orleans this weekend from New York and Los Angeles.
It all stated back in 2005 when Grand Isle Shipyard, a Louisiana-based U.S. company supplying labor to oil companies in the Gulf of Mexico, started recruiting Filipino welders, pipefitters, and scaffolders to work on projects in the Gulf.
Last November an explosion at the Black Elk facility in Louisiana, in which three Filipino workers were killed on a poorly-built oil platform, helped trigger a lawsuit by workers against Grand Isle. The lawsuit charged slavery, trafficking, discrimination, fraud and theft of millions of dollars in wages from Filipino workers who were forced to labor six to seven days a week, 12 to 14 hours a day with no overtime pay. They were paid only $5.00 an hour and forced to work four months offshore with no rest. American workers have two weeks offshore and then return to shore for rest. Fifty other workers have joined the original 17 in the lawsuit.
One worker, Saxon Gannod, was temporarily blinded due to long hours of welding without rest. The company tried to force him to work while he was still receiving medical treatment for his eye.
Company managers regularly further misuse the workers by forcing them to do cleaning and other jobs at their homes.
The workers were charged $1,000 to $3,000 per month for a bunk bed in a 10 by 10 foot room in which six workers were forced to live. They were never allowed to leave the bunkhouses and were watched by camera.
They were prohibited from talking to American workers and they were not allowed to ride in the cars of American co-workers.
The only trip off the premises allowed was a one-hour per week escorted trip to a local Walmart.
Catholics were not allowed to attend mass even on Christmas Day.
The company took $1,000 a month out of the workers' paychecks for "taxes," but these taxes do not appear to have been paid by the company to the IRS or the State of Louisiana. "We ended up making only one dollar or two an hour," said Maligo.
This weekend the solidarity actions will involve visits by community, religious and labor leaders to the homes of victims in the New Orleans area. There will be public forums in which the workers themselves speak out and delegations will visit elected officials. Their will be a march on the shipyard too, winding its way through a New Orleans Filipino community founded in the eighteenth century. For information contact http://nafconusa.org/contact
APALA members in Washington learned last week that there is a rash of Filipino workers being brought into the U.S. for a variety of reasons, In addition to the Grand isle workers sent out to slave away on Gulf oil platforms, workers are being brought in now to do shrimp harvesting on the Gulf Coast.
Photo: A scene in the Manila slums which are scoured by unscrupulous "recruiters" who ship people from the Philippines to Louisiana. AP