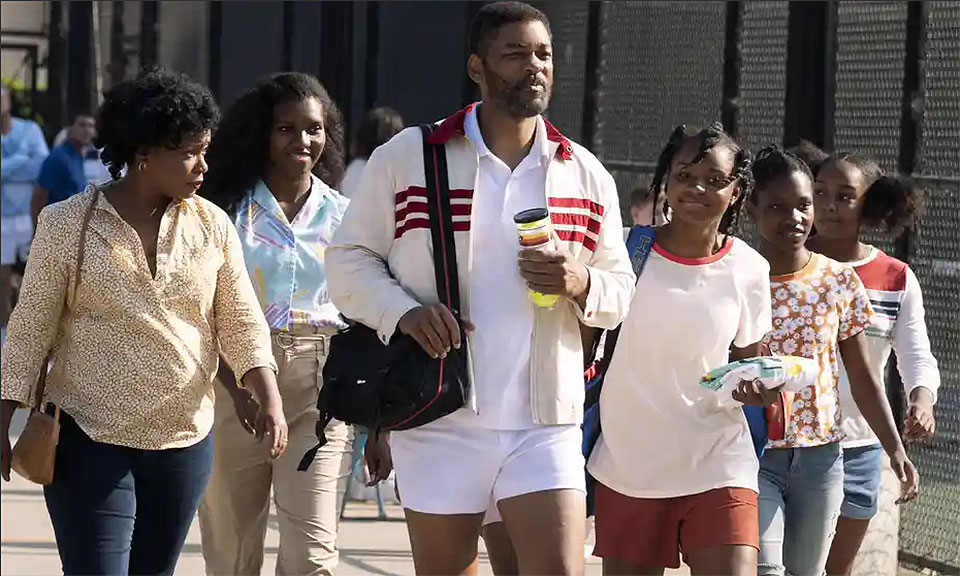 Bop, bop, bop, across the net. Each strike sends the tennis ball over the net, while their father lobs it gently, one of the sisters must run with all her strength, and get it back over the net. This goes on for a long time, just like the Williams sisters' tennis careers go on and on.
"I have a plan," said Richard Williams, played by Will Smith in the movie King Richard. The film treats the great tennis champions, Venus Williams (Saniyya Sidney) and Serena (Demi Singleton), with born in the early 1980s. Venus was the highlight in this movie, but she and Serena worked so well together that there were no jealousies or envious behavior between the two of them. Their father's plan was for his girls to be the best tennis champions in history.
Richard also expected his two girls to be high achievers in all areas of their lives—in school as well. Their mother Oracene or Brandy (Aunjanue Ellis) plays a very natural acting role as Richard's wife. Her expressions of her love for her daughters showed not only how affectionate she was toward them, but how she would patiently help them whenever they needed correcting for any mischievousness that one could expect from young girls.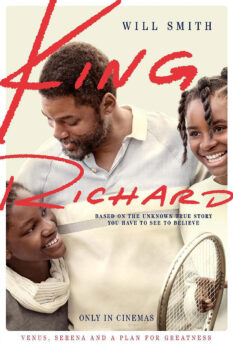 This 144-minute movie was filmed in the girls' birthplace, Compton, Calif., and it takes place during the late 1980s and beyond. The girls were constantly confronted with neighborhood gang catcalls, Richard was hassled and beat up by the same gangsters, a nosy neighbor who lived across the street called social services on the family, complaining that the girls were constantly being overworked. Their physical environment was somewhat blighted. Their mother (who was also an athlete in her younger years) was adamant about getting them to a place where the cement wasn't chipped and coming up off the ground. She wanted them to play on a surface similar to what they would play on for matches—but the original court was still home.
It had all the characteristics of family living, neighbors interacting with one another, sisters playing tennis in the most serious way, and how the family was finally able to move to an environment that was able to provide the necessities for the girls to hone their skills.
The film takes a viewer through the full circle of family life in Compton. Although it's about the Williams sisters' daily endeavors, Richard had become increasingly controlling over which direction his daughters would take as far as which tournaments they were to play in. He did not want them playing in the Juniors tournament, much to the objection of Rick Macci, their coach (Jon Bernthal). He did not want his daughters to suffer the emotional and psychological damages that some of the other players were dealing with in the Juniors. However, Serena did want to play there, and her mother supported her. Richard was forced to come to grips with his feelings and loosen his grip on their tennis playing future.
Throughout this movie, Richard Williams is at the forefront of his daughters' career. He loves them, and they dearly love him. But as children grow older, a time comes when they want to branch out and try new things. They want to make their own decisions, sometimes to the dismay of their parents. In other words, they will defy mom or dad and do what they want to do. Framed as a film about a family's sports career, it is also about family growth. Coach Macci worked hard and dutifully with the sisters. He was instrumental in helping them with their stances, getting them involved in tournaments throughout the world, all the while trying to deal with King Richard himself, which was not always easy.
The very large cast brings in any and everybody that had any relations with the Williams family and the world of tennis. When one thinks of how athletically powerful these sisters were, it would only be natural that a large entourage of coaches, crowd members, and the general public would be featured in this film. It includes Layla Crawford playing the girls' stepsister Lyndrea Price, to Judith Chapman as Nancy Reagan. Will Smith did an amazing job in producing this movie, being cognizant of every character's personality and the ability of his actors to reach their highest goals in convincingly playing each of their roles.
King Richard is a very positive family movie, showing not only the good times with the girls winning practically every event but the down moments too. His wife Brandy, as a former athlete herself, supported Serena's desire to expand her reach, and she and Richard got embroiled in a serious argument over this. She let him know, in no uncertain terms, that she was as much a part of their daughters' careers as he was. If he thought he was going to take all the credit for their success, she let him know, Oh no, he wasn't. From that point on, she helped her daughters prepare for the Junior tournaments.
Venus and Serena, along with their stepsisters, appeared to be one happy family. But the racism that continues to be so rampant in society could not be ignored, nor how that affected young Black people. The sisters were booed at, and sneaky tricks were played on them by a prior Wimbledon champion. The crowd, however, belonged to the Williams sisters, giving them every type of support any crowd could give. Young Black people, and their community, came to see these girls play. They couldn't ask for more!
The film ends nicely with several cameo clips of the original Williams sisters and their father. Will Smith has definitely gone full circle in his acting capabilities. His role as Richard shows facets of tenderness, encouragement, discipline, and simply a father's pride at having some great daughters. He displays these emotions with loving eye contact, he conveys emotion with a slight curl to his lips, and one could almost feel the angry fire in his eyes.
Will Smith continues to make tremendous growth in his producing and directing skills. His use of lighting makes any scenery look comforting and inviting. Camera angles are effective, for example, when going from the ground at the tennis players' shoes, up to their faces to depict feelings of defeat or exhilaration of victory after a match well-played.
On a scale of 1-10, I give it a 9.5.