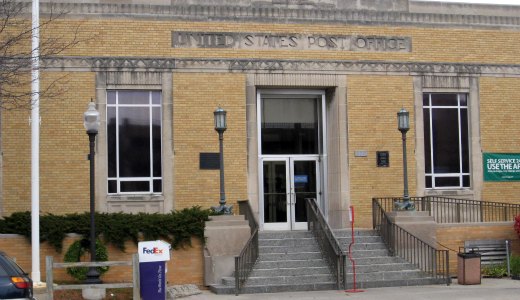 Movie Review
"Murder by Proxy: How America went Postal"
Directed By Emil Chiaberi
2010, 75 mins., unrated

ROYAL OAK, Mich. – Nineteen years ago on November 14th one of the country's more shocking examples of workplace violence took place at the Royal Oak Post Office. "Murder by Proxy," a documentary film examining workplace conditions that drive people to do extreme things, premiered last Monday, right around the corner from the post office where the murders and suicide took place.
As Director Emil Chiaberi said before the showing, the shooting of ten people (five, including the shooter died) "didn't have to happen."
"Sadly," he warns, "we haven't learned to prevent these killings. The very same conditions are coming back. This film is to remind us that it can happen again and not to ignore other people's pain. I hope it makes a difference."
In the 80's, the term "going postal" was mockingly used to describe workplace violence. It put emphasis on "malcontent workers," not the boiler cooker pressure people labor under, or the bullying led by a profit at all costs management.
The film puts the Royal Oak killings and other similar ones in the context of workplace changes that began in the 80's.
Early in his presidency, Ronald Reagan fired the Air Traffic Controllers, which ushered in a new and more serious attack on workers' rights on the job.
In addition, new technology was coming into manufacturing and offices, forcing people to work faster and faster. As one person in the film commented, "the body can't keep up with the machines." Companies wanted a lean and mean workplace. Workers were being squeezed to increase profits and CEO pay.
The "Proxy" in the movie's title reflects this "squeeze." Workplace killings are often driven by injustices and forces much larger than those who become a shooter's victims.
Problems quickly mounted for all postal workers in Royal Oak when the management group from the Indianapolis Post Office came north. This management group had previously been investigated by the General Accounting Office for abuses toward workers.
In Royal Oak, they zeroed in on the letter carrier, Tom McIlvane.
Charlie Withers is a letter carrier who since 1988 has been his union's steward. In the movie Withers said McIlvane "was a real good worker who loved his job," but the new management was used to getting their own way. They didn't like McIlvane because "he stuck up for himself and other workers."
They began to harass him. He was written up for "driving two miles over the speed limit" for his shorts being an inch too short; that he "gassed up his truck too early." Petty things that made his file thicker and thicker, said Withers.
Withers said these were rules any employee could have been accused of and were impossible not to break.
McIlvane was fired and not able to collect unemployment insurance. After 15 and one-half months without work and still waiting the outcome of his grievance, which was in arbitration, he returned to settle the score. Management received most of his fire.
After the movie Withers told this reporter that management should never have been "left off the hook" for their previous actions in Indianapolis.
Following the shooting, the remaining management was allowed to retire and receive Workmen's Compensation. No one from the union was allowed to retire or receive any compensation, said Withers.
Unbelievably, Withers said paid visits for therapy were limited to a maximum of six for union members.
He says there are still "ongoing problems." To force the Postal Service to address those problems and to take responsibility for what occurred in 1991, Withers started a campaign for "Accountability Day."
Since 1993, on every November 14th, the union lays a wreath outside the post office to both remember the victims and to call for the Postal Service to accept its share of responsibility.
Chiaberi sees workplace killings as an American phenomenon. The film strongly makes the point they are preventable.
It's featured in several film festivals and hopefully it will be coming to a screen near you.
Image: Royal Oak Post Office, John Rummel/PW.