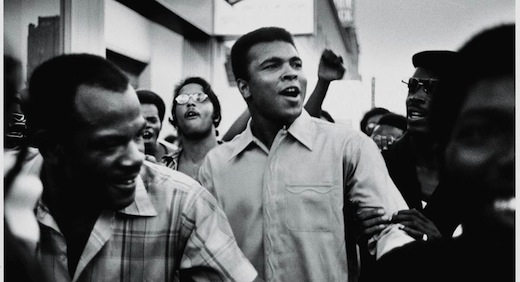 Most Americans, and particularly African Americans, are unable to address American history or race relations without thinking about the tragic legacy of slavery and the ensuing centuries of racism and hatred directed at Black people in America. African Americans' responses to this painful reality has taken many approaches over the centuries: some chose nonviolent civil disobedience (Martin Luther King), some chose a more confrontational approach (Malcolm X at some points in his life), or a back-to-Africa movement (Marcus Garvey), some formed what they considered a revolutionary organization (MOVE), engaged in militant self-defense (Black Panthers), pursued multiracial political and social struggle (communists, socialists), or racial separation and Black nationalism (Nation of Islam), to name a few.
Films at the 2013 Tribeca Film Festival last month that highlighted prominent African Americans and their eventful lives were infused with this dilemma of choosing the right course of struggle against racism and injustice.
In The Trials of Muhammad Ali we learn about the people and events that shaped Ali's courageous struggle for justice and the right to practice his Muslim beliefs. The bright and charismatic young Cassius Clay was nurtured in his desire to become a boxer by a consortium of white Louisville investors who remained friends through his entire career. His Christian parents were loving and supportive. But when he turned to the Nation of Islam in his late teens, he chose a route that he thought would be independent from the white power structure. Of course history has proven otherwise, and Ali discovered that being Black in America was tough enough, but being a Muslim, and especially one who refused to serve in the military, would shape the course of his life.
This new documentary is a brilliant tribute to the ultimate champion, a ­fighter in and out of the ring to this very day. Every major development in his career is examined using vivid photographs, archival footage and revealing interviews with many people who touched his life. The film digs deep into the history of the Nation of Islam, with rare footage of Elijah Muhammad, Malcolm X and Louis Farrakhan, who in the movie lavishes praise on his Muslim brother. It includes the many people who have stood strong at Ali's side through all his trials, including the unflinching love of his devoted brother, and the young woman he met at his first mosque visit, who eventually became his wife and responsible for many of the decisions in his struggle for justice.
The well-edited fast-moving documentary covers Ali's long span of life starting when he was 12 years old, his training to become world champion, his notorious Supreme Court case sentencing him to five years in prison for refusing to fight in Vietnam, and the eventual reversal of the ruling; the years when his title was taken from him and he had to make a living lecturing on the college circuit; his poignant Olympic torch lighting with him shaking with Parkinson's disease; amazing fight footage and scenes of him visiting places and admirers all around the world. Ali is probably the most recognized athlete in world history, but what's most amazing is that he never flinched in his struggle for peace and justice.
Famed actor and comedian Richard Pryor is the subject of a probing documentary that reveals his turbulent youth and the psychological scars that eventually shaped his unique and hilarious comic persona. Richard Pryor: Omit the Logic starts from the beginning of Pryor's life and grabs the viewer into a story as powerful as his comic genius. Although many remember the tragic result of his uncontrollable drug use, as he was discovered on fire with burns on 60% of his body, the movie rather focuses on his amazing life and what led up to that fateful accident. Never before shown scenes from some of his concerts, his early days in Greenwich Village, his first gig in Las Vegas where he let loose one evening with extreme profanity and was fired, his early TV stints, and blockbuster film roles that led to million-dollar contracts, are all covered in this highly entertaining study of the real Richard Pryor. He was close friends with Huey Newton, supported the Panthers and most of his material was infused with a deep understanding and disdain for racist America.
An altogether different style of documentary about a unique woman in a mostly man's world of Black entertainment is I Got Somethin' For You. Whoopi Goldberg presents a loving study of Moms Mabley, one of the most popular comics in entertainment history. Mabley grew up with her parents while they worked in vaudeville, and went on to shape a style that was fresh and, though slightly naughty, was filled with such realistic humor that audiences at the Apollo Theater in New York would slide out of their seats in laughter. At the time little was known of her personal life, as a lesbian who dressed in men's clothes in public and worked with the top names in the industry. The way she dressed and her informality created the feeling of a loving mom on stage, but she was well aware of racism, sexism and anti-gay sentiment in America. She found a way to deal with them all, using her talents and determination to win over the enemy.
Some of the people at the Tribeca Festival screenings, including some judges who gave Let the Fire Burn an award for Best Editing in a Feature Documentary, knew nothing about the astonishing events that took place in 1985 in Philadelphia. A large four-storey house in an established downtown Black community, occupied by members of the African American MOVE organization, was assaulted by the police and, by orders of the mayor, bombed from a helicopter hovering over the structure, taking the lives of 11 women and children. It burned to the ground on orders from the police chief who was quoted as saying, "Let the fire burn," and the fire eventually destroyed 60 other adjoining homes in the neighborhood. It was the only bomb ever dropped on civilians in American history.
This spellbinding and emotionally gripping documentary is structured around two historic video pieces. One is the lone surviving video of the deposition hearing of the sole child survivor of the attack, Birdie Africa, as he described, just weeks after the event, the horror of the attack and resultant fire that only he and Ramona Africa survived. The other is a video of a thrilling and unabashed exchange of ideas that took place at a mock hearing set up to defuse tensions in the community a couple years after the tragic events. It included members of MOVE who were not in the house during the bombing, local civil rights leaders, the police chief, psychologists and others who tried to explain MOVE, what led up to the attack and what went wrong. It found the city administration responsible.
Philadelphia is a city long known for its sordid history of racism, especially during the reign of former racist Police Commissioner Frank Rizzo when he was elected mayor. The police officer who saved Birdy Africa from the fire was praised as a "cop with a heart" and commended for his heroism. After his actions were revealed to fellow officers, his locker was spray painted with racist epithets and he eventually was driven from the police force.
The Tribeca jury made a statement upon awarding the film: "Let the Fire Burn tells a story we were stunned to realize we didn't know. It offers a time capsule, taking us to a horrific moment in our nation's history with a masterfully structured edit that vividly mines a trove of blistering period archive images without voiceover narration. The film ensures that a criminal and senseless destruction that cost eleven deaths – five children, six adults – shakes us to our core and is remembered with utter visceral power."
Photo: From In The Trials of Muhammad Ali.