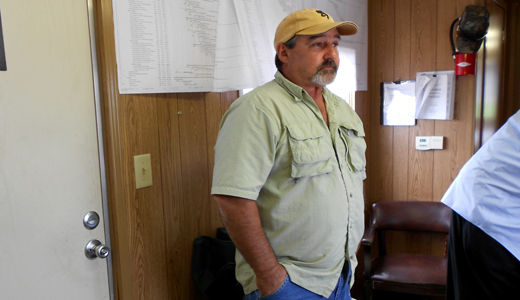 ARABI, La. – For six years now people in St. Bernard Parish and New Orleans East have had to drive many miles, often taking an hour or more, to get to an emergency room.
Hurricane Katrina destroyed area hospitals . The slowness to rebuild the health care system served the interests of those seeking to permanently remove poor people and many working families from the area, union leaders and others here say.
"You can't come back and rebuild a life for you and your family when you can't even get basic health care services," said Chad Lauga, political action director for Local 130 of the International Brotherhood of Electrical Workers, who grew up in the area.
"For that reason," said Lauga, "unions have taken up the fight for restoring health care facilities and building new ones where they are needed. Here in St. Bernard we've had a small victory in this regard."
Lauga was referring to the St. Bernard Medical Center, a small public hospital under construction here. "Besides meeting urgent health care needs, the project is providing jobs for union workers at union wages," he said.
The new 40-bed hospital, being built with federal funds, will have an emergency room, three operating rooms, medical offices, diagnostic labs, a cardiology department and staff positions for doctors and nurses.
It will mean that people in Arabi and nearby Chalmette and New Orleans East will be able to get emergency room and other health care services in a modern facility rather than in FEMA trailers. The new hospital is rising in back of the parking lot where the trailers now sit.
Gary Skumata, 50, is one of 18 IBEW members on the hospital construction site. "People with children were afraid to come back. Now, for many of them, it will be easier to come back," he said, as he looked out at the rising frame of the new hospital from his window in the construction trailer.
"Right now, if you were seriously injured the best you could hope for in this area is some professional help in about 40 minutes," he said. "That's too long if things are really serious."
"If you have elderly family members you can't bring them back yet, not until this hospital is built."
Skumata says projections are to complete the project in a year but that there is still an urgent need for additional funds.
"Things get held up for lack of money. There are problems getting the money to bring equipment in for the MRI room and the CAT scan equipment is also on hold."
Skumata was clearly proud of the work being done so far by him and his fellow union members.
"You can push out that whole first floor," he said, pointing to the steel frame already constructed, "and the hospital will be able to function. Emergency generators and everything of critical importance will be above that level."
During Katrina rising floodwaters wiped out back up generators and other critical operations on the lower floors of hospitals, quickly turning entire facilities into death traps. "What we are building here," Skumata said, "hopefully won't allow that to happen again in the future."
He described how flood damage to emergency generators quickly killed the animals in the New Orleans Aquarium, even though most of the facility itself remained above water. "Of course, with widespread flooding, you still have to plan how to get fuel to those generators," he said. "The idea here will be to store what's needed and to make sure operating rooms, generators and everything else that is critical is on the upper floors."
Skumata was asked why he thought it has taken so long after Katrina for work to begin on a new hospital.
"There's a lot of needless spending going on in this country," he said. "Unfortunately, it's not easy to get them to stop that and put the money to more important things. Why do we have to spend all that money in Iraq? Shift that budget to more important things – like hospitals for the people."
Photo: Gary Skumata, IBEW member, in the construction trailer. Blake Deppe/PW