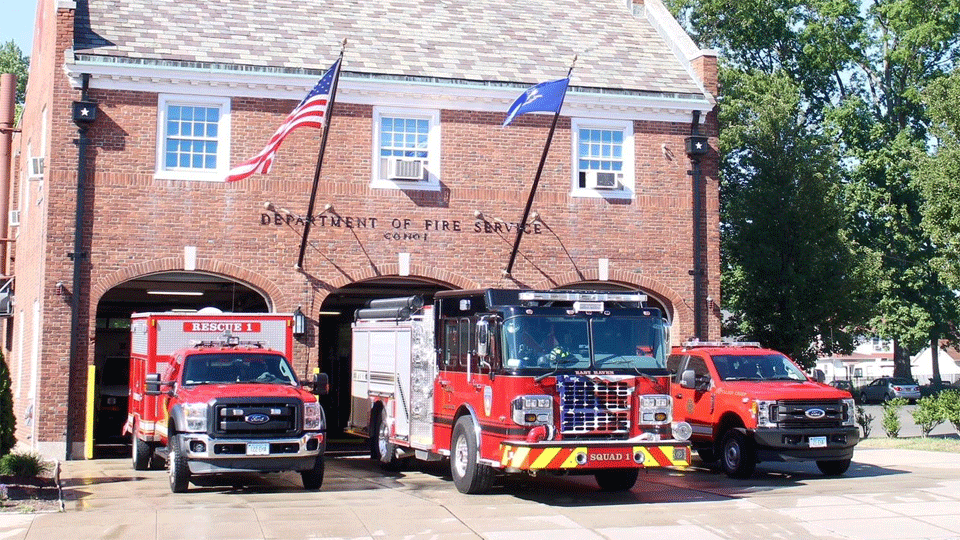 WASHINGTON – Donald Trump's Federal Emergency Management Agency (FEMA), which is supposed to coordinate the federal response to the coronavirus pandemic, is instead shorting cities and first responders on supplies of N95 masks and other protective gear, a new survey of cities shows.
And FEMA's also pushing first responders far down on its personal protective equipment (PPE) distribution list – something a top FEMA official admitted – the Fire Fighters, who publicized the survey, added.
To counteract that degradation, the union has decided to blow the whistle on FEMA, publicly. It's asking its Fire Fighter locals to coordinate with local public safety agencies over PPE, or lack of it, and report shortages to IAFF's D.C. headquarters.
The lack of priority for first responders comes as complaints continue over the Trump regime's handling of the response to the pandemic, which has sickened 800,262 people in the U.S. – one-third of the world total — and killed 42,946 –one-fourth of the global total — as of the morning of April 21.
Indeed, National Nurses United is so upset over lack of PPE that off-duty nurses, marshaled by the union and wearing protective masks, marched in front of the White House – keeping social distance all the way – that morning.
The National League of Cities survey which the Fire Fighters (IAFF) cited shows that "despite their best efforts, most cities do not have and cannot obtain adequate equipment and supplies needed to protect their residents," NLC Executive Director Tom Cochran said.
"This is a life-threatening crisis that will continue unless the federal government does everything in its power to help us safeguard our first responders and health care workers – our first line of defense – and the millions of other public servants in our cities whose work today puts them at risk," Cochran continued.
Some 213 mayors and city managers told his organization's survey that 91.5% (192) don't have enough face masks for first responders, 88.2% don't have adequate other PPE, such as gloves and hazmat suits, 92.1% (186) don't have enough testing kits, 85% (164) don't have enough ventilators and 62.4% (131) have gotten nothing from their state governments. Of those that did, 84.6% called it inadequate.
The cities also made the point that it wasn't just regular first responders who lack the goods. So did other essential workers, such as delivery drivers, grocery stockers, and nurses.
Typically, Dayton, Ohio, sent a long list to NLC of what it needs: 200,000 N-95 masks; 150,000 pairs gloves; 150,000 eye protectors; 15,000 P-100 PAPR filters; 15,000 coveralls; 100,000 digital thermometers; 175 hand sanitizers; 10,000 8-ounce, 5000 16-ounce disinfectant spray/cleaner; 15,000 tubs disinfectant wipes; 15,000 Tyvek suits; 150,000 face shields; 15,000 packages anti-bacterial soap; 1,200 gallon-jugs viral swabs; 60,000 pairs shoe covers; 40,000 head covers; 20,000 disposable aprons; 1,000 gallons of bleach.
Trump's FEMA is hurting, not helping, that effort, IAFF said.
"There is more than $95 billion in disaster relief available to FEMA to fight this pandemic, but instead of sending supplies to hot spots across the country or other municipalities in low or short supply, FEMA is delivering supplies to medical distributors for resale, and those distributors are marking up supplies to unaffordable price levels for jurisdictions," the union explained.
FEMA and Trump's Health and Human Services Department told the union in March that fire and emergency medical services would "be at the same level of priority" for personal protective gear for their workers as hospitals and health care facilities are for their workers.
But FEMA backtracked the next month – and the gear is so short for the others that National Nurses United staged the demonstration, complete with nurses wearing masks and standing six feet or more apart.
FEMA's head of its Supply Chain Task Force, Rear Adm. John Polowczyk, told an April 4 White House coronavirus task force meeting  that "We're geographically aligning the supply chain … down to the county level … and then aligning it by priorities of point of care: Public hospitals first, VA hospitals, private hospitals, nursing homes, first responders, acute care."
"Clearly not the same priority," IAFF commented dryly.
Like free stuff? So do we. Here at People's World, we believe strongly in the mission of keeping the labor and democratic movements informed so they are prepared for the struggle. But we need your help. While our content is free for readers (something we are proud of) it takes money — a lot of it — to produce and cover the stories you see in our pages. Only you, our readers and supporters, can keep us going. Only you can make sure we keep the news that matters free of paywalls and advertisements. If you enjoy reading People's World and the stories we bring you, support our work by becoming a $5 monthly sustainer today.