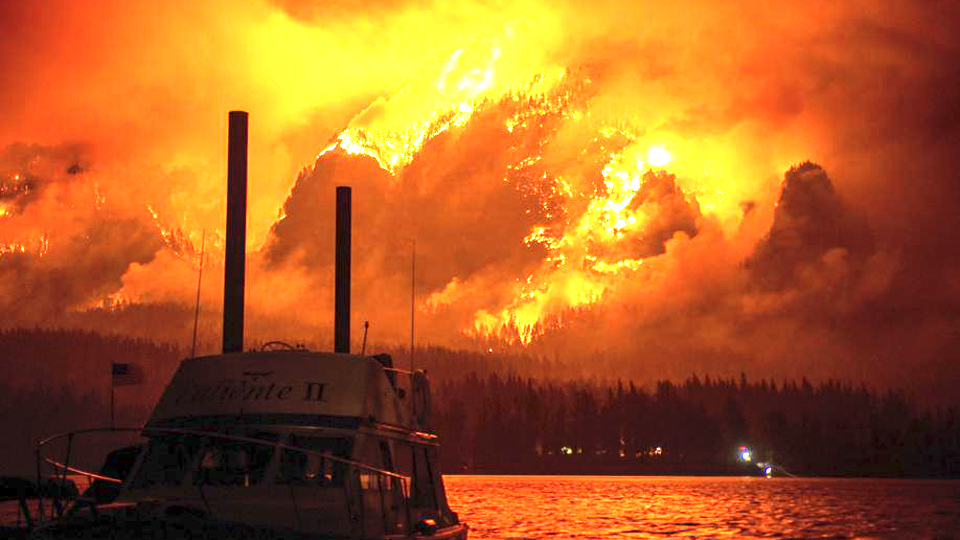 TROUTDALE, Ore. (AP) — People in Oregon covered their faces with scarves to keep wildfire ash from filling their lungs and wiped the soot from windshields, similar to what longtime residents said they had to do in 1980 during the volcanic eruption of Mount St. Helens.
The growing blaze east of Portland in the scenic Columbia River Gorge was one of dozens of wildfires in the U.S. West that sent smoke into cities from Seattle to Denver – prompting health warnings and cancellations of outdoor activities by many school districts.
The 16-square-mile fire forced hundreds of home evacuations. And embers from the fire drifted across the Columbia River, sparking blazes in neighboring Washington state. People shielded their faces, and authorities in the Pacific Northwest urged drivers to use headlights during the day to increase visibility.
"I haven't seen ash fall like this in the Portland metro area in my 18 years as a firefighter," said Damon Simmons of the fire incident management team for the Oregon State Fire Marshal.
Joanna Fisher walked to work Tuesday at a naturopathic clinic in the city of Troutdale with Calla Wanser, who was wearing a red bandanna around her mouth.
"You can't really stand outside without getting rained on" by ash, Fisher said.
The only comparison people could come up with was the eruption of Mount St. Helens in nearby southwest Washington more than 35 years ago.
"In 1980, we had a couple of significant ash falls here in the Portland area, and this is very reminiscent of what we saw in the ash fall in those days," said Don Hamilton, a spokesman for the Oregon Department of Transportation. "The particulate matter that shows up on the cars, it gets in your hair, it gets in your eyes, it's all over the place like it was in those days."
Thick smoke and falling ash closed a 30-mile section of Interstate 84 east of Portland, while the U.S. Coast Guard closed about 20 miles of the Columbia River in the same area.
The National Interagency Fire Center in Boise, Idaho, a federal agency that coordinates wildfire-fighting, said 80 large fires were burning on 2,200 square miles in nine Western states.
A fast-moving wildfire in northern Utah swept down a canyon Tuesday, burning at least five homes, forcing more than 1,000 people to evacuate and closing highways.
High winds fed the flames north of Salt Lake City and thick black smoke closed parts of two highways as firefighters struggled to fight the blaze fueled by winds gusting up to 40 mph.
In Washington state, the U.S. Department of Defense agreed to assign 200 soldiers to help fight a wildfire.
Civilian firefighting commanders said the soldiers from Joint Base Lewis McChord, Washington, would undergo four days of training and then be sent to a complex of 14 wildfires in southern Oregon's Umpqua National Forest that have burned 47 square miles.
And a blaze near Mount Rainier National Park in Washington state grew to more than 29 square miles, closing a portion of the park and blanketing many cities in heavy smoke.
Authorities ordered evacuations near Mount Rainier, including the Crystal Mountain ski resort, which closed Monday because of smoke.
The air quality in Spokane, Washington, was rated as hazardous Tuesday. The National Weather Service said it was likely to get worse as shifting wind brings in smoke from fires in Canada, Montana and Oregon.
Air quality alerts also were issued for parts of Idaho.
In Oregon, people living in about 700 homes in and around the Columbia River Gorge had to flee. Others were warned to get ready as flames burn trees and brush in one of the state's biggest tourist attractions, famous for its hiking and spectacular vistas.
Authorities say they believe the blaze, which started Saturday, was caused by a 15-year-old boy and friends using fireworks. They have identified a suspect but have made no arrests.
Gov. Kate Brown visited the fire Tuesday, saying it spread 13 miles in 16 hours, pushed by winds overnight in tinder-dry conditions.
"It looks like there has been a devastating impact on the gorge," she said.
A total of 600 Oregon National Guard troops were called to fight more than a dozen blazes across Oregon, including a much larger blaze in a rural area along the California border.
Gillian Flaccus reported from Portland, Oregon; Nicholas K. Geranios reported from Spokane, Washington; Phuong Le in Seattle, Matt Volz in Helena, Montana, and Sudhin Thanawala in San Francisco also contributed to this report