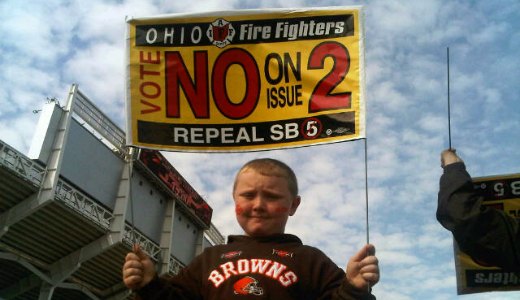 Firefighters rallied tens of thousands of fans at last Sunday's football game between the Cleveland Browns and Seattle Seahawks. They gave a powerful boost to the growing movement to repeal Senate Bill 5, the union-busting bill that ends collective bargaining for public employees but faces a referendum as Issue 2 on the Nov. 8 ballot.
Starting early in the morning, the firefighters wearing helmets and IAFF Local 93 shirts, fanned out through tailgate parties that filled municipal parking lots near Cleveland Stadium. They gave out campaign literature and football-shaped stickers with orange letters reading Vote No on Issue 2.
Groups of bagpipers from the Cleveland Firefighters Memorial Pipes and Drums worked their way through the parties drawing large crowds who cheered the music and joined in chanting: "No on 2, No on 2!"
The firefighters' action galvanized the carnival-like atmosphere with thousands wearing Browns shirts, outlandish headgear, dancing, playing cornhole, guzzling brew and munching hotdogs, the air heavy with mouthwatering smells of outdoor grills.
At noon, the firefighters gathered in front of the Cleveland Firefighters Memorial located directly across from one of the main entrances to the stadium to hold a press conference. The memorial, portraying firefighters confronting arching red and yellow tongues of flame, was bedecked with a banner reading Vote No On Two.
Children of firefighters held "Vote NO On Issue 2" yard signs atop a fire truck parked next to the memorial and carrying a banner with the same message.
Greeting the fans streaming into the stadium was Johnny "Big Dawg" Thompson, the beloved unofficial team mascot wearing his bright orange cap, bejowled Dawg mask and Browns shirt and holding an oversized bone. For 26 years Big Dawg has rallied fans in the low price section of the stadium, leading mass barks to support the team.
But now he held a bullhorn and led the fans in chanting "No On 2!"
"I proud to help out," he said. "Today's a great day. This is a tribute to the people," he added, referring to the overwhelming opposition to Issue 2, by fans many covered with the "No on Two" stickers.
"This is so important to Ohio families, to our children's education and medical care and, most important of all, to our safety," Thompson said. "We need to have the right to bargain. There is no reason to take it away. People see how wrong that is."
Thompson, a dispatcher in the Cleveland Justice Center and a member of SEIU Local 1199, said the fight in Ohio has national importance.
"If they do it here, they will do it everywhere. It's sick."
"The issue is safety," Tom Lally, President of Local 93, said. "It's about our ability to negotiate staffing and safety equipment."
Steve Loomis, President of the Cleveland Police Patrolmen's Association, agreed. "With this law, we won't be able to negotiate manning levels. That will be determined by politicians. It's important for the whole state to vote No. It's unfair and unsafe."
Growing numbers of voters seem to agree. A Quinnipiac poll released Oct. 25, exactly two weeks before the election, showed voters rejecting Issue 2 by a margin of 57-32, the largest since the campaign began. Buoyed by their enthusiastic fans, the Browns by the same margin coincidentally defeated the Seahawks, 6-3, in a tough defensive battle.
Despite massive TV propaganda for Issue 2 funded by the Koch Brothers and other right-wing groups, momentum for repeal has grown as thousands of volunteers canvas voters door-to-door and from phone banks. Since the beginning of October over one million calls have been made and over half a million doors knocked, according to We Are Ohio, the labor-community coalition leading the effort.
This weekend, rallies and mobilizations by labor and its allies are planned throughout the state. Randi Weingarten, national president of the American Federation of Teachers, and Ohio AFL-CIO president Tim Burga are scheduled to join the door-to-door canvas in Cleveland after speaking to a mass rally at the Laborers' Local 310 hall.
Photo: Salandra Benton/PW