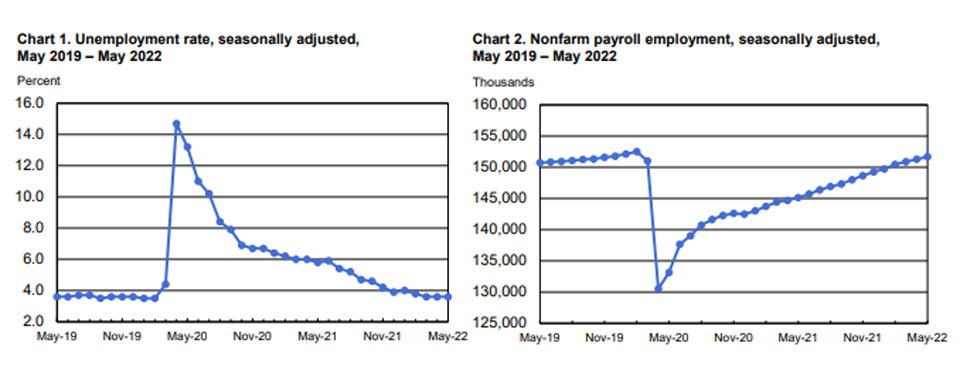 WASHINGTON—Private-sector businesses claimed to create a net of 333,000 new jobs in May as the jobless rate that month stayed at 3.6 percent, the Bureau of Labor Statistics said. Governments created another 57,000, with 51,700 of them in state and local schools.
Job gains occurred in every sector except for retail trade (-60,700 jobs). But the biggest increases were again in the lowest-paying occupations: Bars and restaurants (+46,100 jobs), health care (+28,300), and accommodations (+21,400) BLS's survey of corporate claims says.
The number of unemployed slightly increased (+9,000) in May, to 5.95 million. There also was a 0.1 percent rise, to 7.1 percent, in the share of people who, combined, were jobless, working part-time when they really wanted full-time jobs, or who have become so discouraged they stopped seeking work.
Economic Policy Institute President Heidi Shierholz and senior analyst Elise Gould both noted private sector employment is only 0.2 percent below its numbers of February 2020. That was the last full month before the coronavirus plague shut down half the economy and threw it—and jobs—into a depression.
The public sector is another matter. It's down 3.2 percent from pre-pandemic employment levels, Gould said.
An EPI chart also made the point the 2021 American Recovery Act—which organized labor strongly backed and which Democratic President Joe Biden pushed through Congress on party-line votes—is responsible for the fast recovery from the depression.
The "bounce back remains very strong, strikingly stronger—four years faster than the recovery from the Great Recession," Gould said.
Though Gould did not say so, financier finagling or worse, aided by Republican-caused deregulation and lack of enforcement, produced that 2008 crash. And the Republican Trump regime's initial denial of the coronavirus threat created the 2020 collapse. It threw millions out of work and sent joblessness above 16 percent officially, and above 20 percent, counting all the checks.
Factories claimed to add 18,000 jobs in May, rising to 12.788 million. The big gains were in fabricated metal product jobs (+7,100) and food plants (+6,100). Car and part plants shed 3,500 jobs, down to 993,300. Some 422,000 (2.8 percent) of factory workers were jobless.
Construction firms claimed to add 36,000 jobs, rising to 7.664 million. Almost half the new jobs (+17,400) were at specialty trade contractors. There were 392,000 (3.8 percent) jobless construction workers in May.
On Twitter, people replying to Gould had some skepticism about the job gains. One said the last recovery, though longer, occurred in middle-class jobs, while this one is in "nil-paying" jobs. Andy Olsen said in a Tweet that he worried that Biden, in the face of increased inflation, may be in "a pivot to" deficit-fighting, as his former boss, Barack Obama, did after an initial recovery.