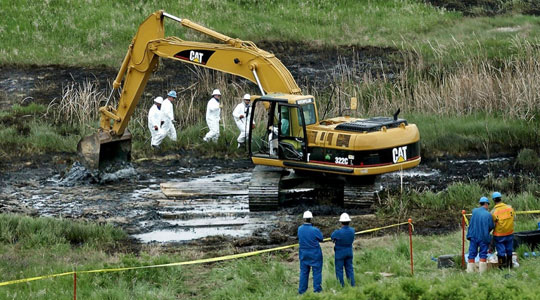 A pipeline was found to have spilled 20,600 barrels of oil onto a wheat field, Sept. 29, near Tioga, North Dakota. The pipeline has now, finally, been shut down, and the cleanup begins as crude seeps into the environment, causing the first big disaster in the state since its oil boom began in 2006.
This latest incident happened in the Bakken formation, a rock unit in North Dakota from which large amounts of oil are extracted. That formation is the centerpiece of the current oil boom there. A pipeline carrying oil from that location to a facility outside Columbus was the one that burst. It spewed crude and ruined parts of a nearby 1,800-acre farm, which belonged to farmer Steven Jensen.
Jensen, 56, noted the oil was at least six inches high on his land where he harvested durum wheat. The pipeline had likely been leaking before he noticed.
"It had been leaking for a while," he said. "I found a perfectly round, quarter-inch hole with about 100 lbs. pressure in the pipeline where the oil was coming from. It was pretty ugly. Nearby crops had disintegrated; you wouldn't have known they were wheat plants."
The pipeline was first built by BP, but is now owned by the Tesoro Corporation, which purchased it in 2001. Tesoro sent in a response team a day after Jensen reported the leak, digging containment ditches and scooping up as much crude as possible. But they did not report it to the public until October 10.
The company has now plugged the leak. What they will not be able to do is avert the ecological consequences that will surely follow this incident. The company noted that no lakes or rivers were nearby, and therefore not exposed, and also argued that no wildlife was affected. Environmentalists remain skeptical.
"North Dakota and Bakken have become coveted areas for oil executives bent on getting the most extreme and remote fossil fuels out of the ground now that the 'easy reserves' are on the decline," said Greenpeace executive director Phil Radford. "As we saw in Mayflower, Arkansas earlier this year, pipelines spill, and as long as we let oil companies keep us locked into these forms of extreme fossil fuels, we'll continue to see spills like these."
"The spill has got to be pretty detrimental to any living organism that's in the ground," Jensen admitted. But for him, there's also a much larger problem. "I'm not going to be able to farm this land for a few years. We're looking at a two- to three-year cleanup."
Though this was the first major pipeline-related disaster the state had seen in some time, it was not the first recent incident altogether. Records obtained by the Associated Press showed that North Dakota recorded 139 pipeline leaks this year, which together spilled a total of 735 barrels of oil. In 2012, there were 153 leaks, spilling a total of 495 barrels. None of these were reported to the public.
"The public really should know about these," said Don Morrison, director of the Dakota Resource Council, a landowner group that engages in environmental activism. "If there is a spill, sometimes a landowner may not even know about it. And if they do, people think it's an isolated incident that's only happening to them." The way things are now, he said, with the exception of large-scale disasters, "You don't know if there's a spill somewhere in North Dakota unless you find it yourself."
Some experts say that, as with so many oil-related disasters this year, the incident in Tioga can partly be attributed to lack of oversight and continued usage of outdated pipelines. "As the U.S. produces more oil and gas, we have to remain vigilant," said Brigham McCown, former head of the U.S. Pipeline and Hazardous Materials Safety Administrators. "If production is going to go up, inspections will have to go up as well."
Photo: Cleanup of the wheat field oil. Tom Stromme/AP