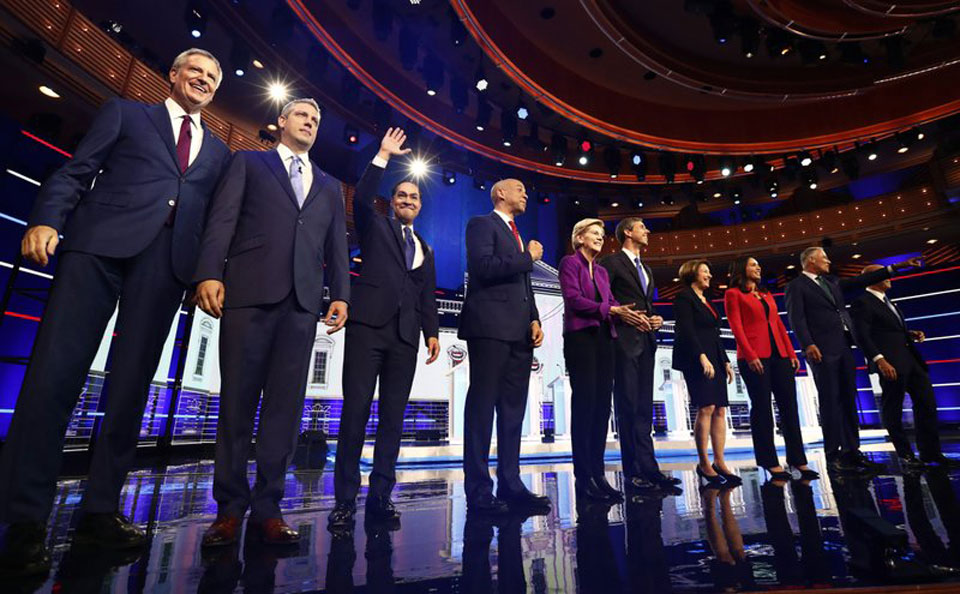 Ten of the Democratic presidential hopefuls, in the first debate of the 2020 election season last night, condemned what they said is a U.S. economy geared to favor the rich. Their message was that the Trump administration has embraced inequality as its main economic policy and that, for the sake of the country, it must be replaced in 2020.
Massachusetts Sen. Elizabeth Warren's call for a fundamental overhaul of the economy and how the government regulates it took center stage last night as she doubled and tripled down on her progressive populist messages. Most of the other candidates identified themselves with her approach of backing bold government moves to close the wealth gap.
New York Mayor Bill de Blasio made one of the most specific proposals, calling for a 70% corporate tax rate to close that wealth gap.
Most of the candidates avoided talking about the role unions and the labor movement can play in closing the wealth gap, however. The weakened labor movement in this country, of course, is a major cause of the economic disparity that most of the candidates who debated last night say is of concern to them. Only Gov. Jay Inslee of Washington said that revival of the labor movement was key to ending economic injustice in the country.
"I think of it this way," Warren said on the economy, "Who is this economy really working for? It's doing great for a thinner and thinner slice at the top."
The candidates focused heavily on health care because they saw it as the issue that helped deliver Democrats the House majority last year. All supported the concept of providing universal health care, but they differed on how they would reach that goal.
Warren was among the boldest. "Health care is a basic human right, and I will fight for basic human rights," she declared. She and de Blasio raised their hands as the only Democrats on stage willing to abolish their own private health insurance in favor of a government-run plan.
The Medicare for All plan introduced into the Senate by Vermont Independent Sen. Bernie Sanders would eliminate private health insurance after four years in favor of a public system. Former Texas Rep. Beto O'Rourke and Sen. Amy Klobuchar of Minnesota favored preserving the private insurance market, at least for now.
None of the candidates mentioned Joe Biden, the front runner in the polls, who will debate nine other candidates tonight.
All the candidates are, of course, aiming to unseat Trump, but he was barely mentioned last night. When at the end they were asked to define the worst threat to the United States, only Inslee said that threat was Donald Trump.
Immigration was a major part of the debates, with candidates mentioning the photos of a drowned Salvadoran father and his 23-month-old-daughter at the Rio Grande and blaming Trump and his policies concerning asylum seekers applying to come to the United States.
"Watching that image of Oscar and his daughter Valeria was heartbreaking," said former Obama administration housing chief Julián Castro. "It should also piss us all off."
He also assailed O'Rourke for not calling for the full decriminalization of crossing the U.S.-Mexico border illegally. O'Rourke said he doesn't support decriminalizing all border crossings because drug smugglers and criminals can get in that way.
The debate showed an array of candidates much more diverse and profoundly more decent than what the Trump administration and Republicans have had to offer.
For one thing, there were three strong women candidates: Warren, Amy Klobuchar of Minnesota, and Tulsi Gabbard of Hawaii.
Gabbard was the only person on stage to come out for massive cuts in the military budget, for an end to the U.S. practice of regime change, and for a policy of no war on Iran. She, as a veteran of the Afghan war, was well positioned to do this and described the horrific effects of war on soldiers and civilians alike.
She warned that an attack on Iran would grow into a regional war. She condemned the neoconservative military strategy of National Security Advisor John Bolton and Secretary of State Mike Pompeo, war hawks that Trump has brought into his administration. She underlined the fact that the progressive programs Democrats are talking about could not be implemented without massive cuts in the military budget.
Klobuchar took issue with several of the male candidates who acted as if they alone were leading the fight for reproductive rights. "I just want to say there's three women up here who have fought pretty hard for a woman's right to choose."
Also adding to the diversity of the Democratic slate last night was Sen. Cory Booker, an African-American Senator who hails from Newark, New Jersey. He spoke sharply and emotionally about the gun violence in his own neighborhood that resulted in seven deaths in the past week alone.
Booker deepened the health care discussion by pointing out how the lack of such care has led to a lower life expectancy for African Americans and reiterated that he, too, supported Medicare for All. He said, however, that immediate action had to be taken to stop the profiteering of insurance companies and pharmaceutical companies who were benefitting "off the pain suffered by people."
Julián Castro, who has Mexican family heritage, also helps make the Democratic field the most diverse in history. In addition to his specific proposals on immigration rights, he called for "not just reproductive rights but reproductive justice that should be extended to everyone, including people in the trans community." Also for the first time in history at a presidential debate, three candidates and one of the moderators spoke in Spanish.
One candidate notably did not fit into the "progressive" mold so much on display last night. Former Maryland Rep. John Delaney, on health care and other issues, urged moderation. The centrist asked, "Why do we have to stand for taking away something from people?" as he defended maintaining the private health care insurance industry.
Like free stuff? So do we. Here at People's World, we believe strongly in the mission of keeping the labor and democratic movements informed so they are prepared for the struggle. But we need your help. While our content is free for readers (something we are proud of) it takes money — a lot of it — to produce and cover the stories you see in our pages. Only you, our readers and supporters, can keep us going. Only you can make sure we keep the news that matters free of paywalls and advertisements. If you enjoy reading People's World and the stories we bring you, support our work by becoming a $5 monthly sustainer today.