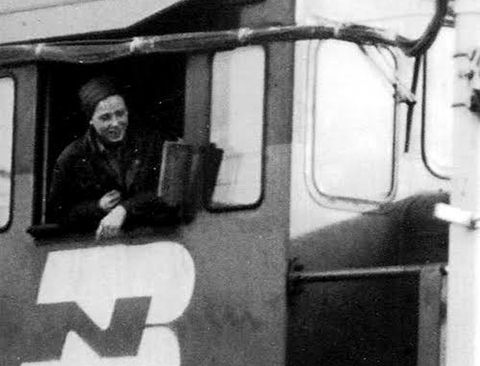 MANDAN, N.D. (PAI) – Ramona Dockter, the first U.S. woman to become a freight train engineer, 39 years ago, is now the first U.S. woman freight train engineer in a state railroad hall of fame at the N.D. State Railroad Museum.
Ed Michael, of the rank-and-file Railroad Workers United, reported the induction of Ramona Dockter into the Mandan, N.D., hall August 16.
Dockter, a member of the United Transportation Union – now a division of SMART – served as a brakeman for six months until she became the first female engineer, employed by what was then the Burlington Northern, in 1976. She was an engineer for eight more years before retiring to raise her family, as the juggling between family and job got to be too much.
Dockter grew up in railroading, according to the Bismarck News-Tribune story about her induction that Michael posted. Her father, a railroader, too, was very supportive, as was her whole family. So were male co-workers, who encouraged her to step up to the locomotive cab.
But the schedule's strange hours were another matter. It's also what eventually led her to retire. But not before she took classes in and on-the-job training about such things as locomotive mechanics and boilers.
"There's a tremendous amount of people who helped me along the way," Dockter said. "My babysitter, who watched my kids when I got called until my husband came home helped me a lot. The woman in Jamestown I lived with while I was working was so helpful. And the roadmaster, as well as the people I worked with, side by side, would teach me and make sure I knew what I needed to know."
While Dockter mostly drove freight trains, she told the paper she loved driving Amtrak trains. Amtrak runs through North Dakota on its way from Chicago and the Twin Cities to Seattle. Those trains, with seven coaches, not 100 freight cars, could go 70 mph, she said.
Photo: Ramona Dockter operating Burlington Northern engine. | Facebook