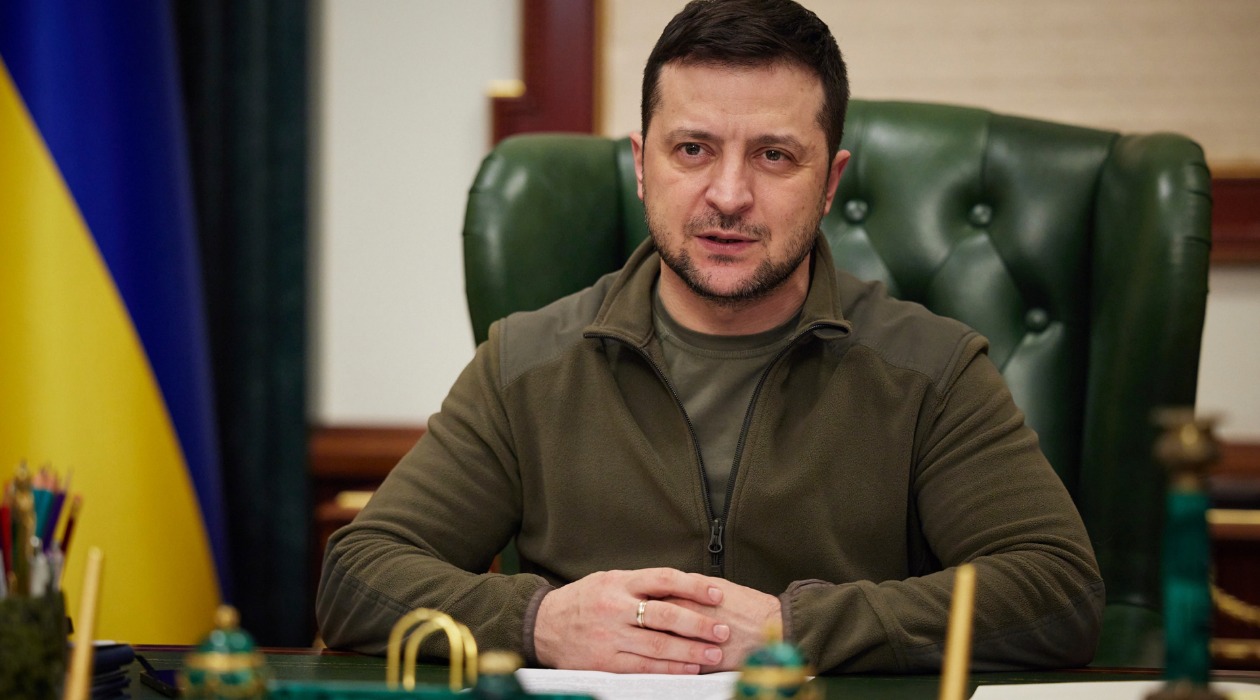 President Volodymyr Zelensky has said he is no longer pressing for NATO membership for Ukraine, a major reason given by Russia for launching its invasion of the country.
Also aiming to cool the deadly and hot war raging in his country, Zelensky said he is open to "compromise" on the status of the two eastern territories of Donetsk and Lugansk, recognized as independent by Russian President Vladimir Putin just before he began the invasion of Ukraine.
"I have cooled down regarding this question a long time ago after we understood that … NATO is not prepared to accept Ukraine," Zelensky said in an interview with ABC News Tuesday. "The alliance is afraid of controversial things, and confrontation with Russia," he said.
Although Putin has been condemned around the world, including at the UN, for his invasion in violation of international law, NATO is seen by many as bearing responsibility for the current crisis. With the support of the U.S., the alliance has, since the demise of the Soviet Union, moved further and further east up to the borders of Russia. It has also given military support to wars outside of Europe altogether, expanding its reach to Africa and Asia.
Discussing NATO membership, Zelensky said he does not want to be president of a "country which is begging something on its knees." He has been saying that Ukraine deserves membership because it is on what he has described as the "frontline" of NATO's battle for "freedom."
Russia wants to maintain the status quo, whereby Ukraine remains outside of NATO and, in addition, becomes a neutral country. Russia sees NATO enlargement as a threat, as it does the military posture of new Western allies like Lithuania, Estonia, and Latvia on its borders.
The two republics of Donetsk and Lugansk have been at war with Ukraine since 2014. Putin now wants Ukraine, too, to recognize them as sovereign and independent—not just as autonomous regions of Ukraine.
When ABC asked him about this, Zelensky said he was open to dialogue.
He said these two regions "have not been recognized by anyone but Russia, these pseudo republics. But we can discuss and find the compromise on how these territories will live on."
"What is important to me is how the people in those territories are going to live who want to be part of Ukraine, who in Ukraine will say that they want to have them in," Zelensky said. "So the question is more difficult than simply acknowledging them," he added.
One of Zelensky's problems in hammering out a compromise is the role of the neo-fascist right in his country. Members of the Azov Battalion training civilians on how to use rifles warned publicly, just days before the invasion, that if the Zelensky government made any compromises with Russia, the government would "cease to be the government of Ukraine."
Zelensky actually campaigned for the office of president saying he would negotiate peace with Russia, a popular plank that helped him get elected. Once in office, however, he reneged on the promise and refused to support the Minsk Protocols on autonomy for the eastern republics, accords to which Ukraine had agreed. Pressure from the extreme right, as well as from U.S. and European militarists, may have been at least partially behind his change of mind.
Even as he showed flexibility on the question, Zelensky still expressed anger, however, about the Russian demand that he recognize the independence of the breakaway republics. "This is another ultimatum, and we are not prepared for ultimatums. What needs to be done is for President Putin to start talking, start the dialogue instead of living in the informational bubble without oxygen."
President Joe Biden yesterday banned imports of Russian oil, gas, and coal and called the invasion a "vicious war of choice." He warned that "the need to inflict economic pain on Russia" will mean higher gas prices here in the U.S.
Reports that the administration was exploring ways to hike oil production that include talking to the government of Venezuela about lifting the embargo on that country's oil drew protests from right-wing U.S. lawmakers who have worked overtime to overthrow the left-wing government in that country.
There were no objections to Biden talking to Saudi Arabia, however, to get that country to ramp up its oil production. Saudi Arabia, using U.S.-supplied weaponry, has been mounting a genocidal war against South Yemen for years now, resulting in tens of thousands of deaths. There has been markedly less concern by the U.S. for democracy and freedom in South Yemen than in Ukraine.
Though he voiced willingness to compromise in one interview yesterday, Zelensky also vowed publicly to "never give up to Russian tanks, troops, or artillery shells." He quoted Winston Churchill when he spoke by live video to the UK's Parliament.
Meanwhile, Russian bombardments and shelling have caused more than 2 million refugees, half of them children, to flee Ukraine. A major hospital serving Kiev is treating increasing numbers of Ukrainian soldiers and civilians injured in the shelling as Russian troops slowly advance toward the capital.
The Ukrainian government issues TV reports every morning that show Russian troops surrendering and Ukraine winning the war. Even MSNBC reporters in Lvov have described the reports as "government propaganda." At some point, the reports may not ring true to people who find it difficult to reconcile claims of victory with more and more of their cities being reduced to rubble.