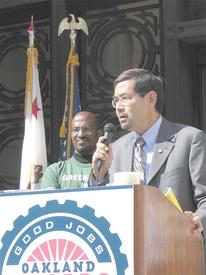 OAKLAND, Calif. — In an action with far-reaching implications for improving air quality, curbing global warming, growing the "green economy" and developing well-paying jobs for urban workers, Oakland's City Council voted Oct. 17 to develop a plan to make the city oil independent by 2020. It is the first such measure by a U.S. city.
The resolution calls for a broad-based expert task force to draft a binding action plan within six months to significantly reduce the city's dependence on fossil fuels. The plan will then go before the council for adoption.
Addressing a rally on the steps of City Hall the previous week, the resolution's author, Councilmember Nancy Nadel, called it "another step in making Oakland a sustainable city."
In the spirit of the "three E's" of sustainable development — economic prosperity, environmental enhancement and social equity, she added, "We are challenging experts in the city to devise the most creative ways to transform our oil usage and, at the same time, stimulate our economy and provide jobs and entrepreneur opportunities especially to those in our community who need employment."
Nadel credited the city's Apollo Alliance with helping to develop a policy "that really meets the needs of the people in our city."
In recent years Oakland's City Council has adopted other environmental measures, including a sustainable community development initiative and a civic green building ordinance.
At the Oct. 10 rally, Apollo Alliance co-convenors Van Jones, executive director of the Ella Baker Center for Human Rights, and Victor Uno, business manager of IBEW Local 595, both emphasized the green economy's potential to create good jobs for working-class Oaklanders, especially young people of color.
Oakland was "at the back of the bus" in the last big shift in the economy, the Internet boom, Jones said. Now, "we want the green wave to lift all boats," he said. "We believe that when we bring labor unions, business leaders, community groups and youth together on that basis, we are inaugurating a new politics of hope."
"We want not just minimum wage jobs, or livable wage jobs — we want good union jobs with good wages and benefits for all of Oakland's residents," said Uno. "We think the green economy is part of the solution."
The task force is to consist of 11 appointees — three by the mayor and eight by the City Council. Ideas already in the mix include use of alternative fuel buses, retrofitting buildings and collaborating with neighboring cities Emeryville and Berkeley on use of alternative energy sources such as solar and wind power.
Proponents point out that by using more resource-efficient technology, converting to renewable fuels, improving public transit and attracting "green energy" firms, Oakland can also begin to address issues of environmental racism affecting poor working-class communities located near industrial facilities, diesel truck routes and major freeways.
A related measure initiated by the Ella Baker Center and expected to reach the City Council soon is a proposal to create the nation's first "Green Jobs Corps" to provide job training and placement for Oakland residents in green building construction and new environmentally sustainable businesses.
mbechtel@pww.org