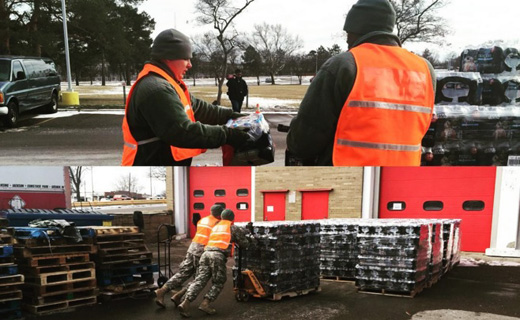 FLINT, Mich. – President Obama said on national television last night that if he were a parent in Flint he would be "beside" himself with anger.
As he spoke members of the National Guard deployed a week ago by Gov. Snyder were working at a water distribution center set up at a Flint fire station. They unloaded pallets of water from the backs of massive semis.
Up a block and over, in the parking lot of First Trinity Baptist, a humbler scene unfolded. Volunteers, some of them the parents the president talked about, were  unloading a pick up truck loaded down with 80 cases of water. The water was driven from Southfield, a little less than an hour away. Darius Jones and Marcus Johnson were compelled to put a call out for water in their community utilizing the connections they've made as promoters.
"I've got so much water I couldn't even bring it in on one run, truck was dragging," said Jones "but like I said, it's for the kids, and I would want somebody to help me if I was in need like this."
This isn't the first water delivery of the day, nor is it going to be the last.
The "first lady" of the church, Catrina Tillman, showed me around the church hall which has been converted into a warehouse. Five-foot tall stacks of 24 and 32 packs of water bottles lined the walls. Tillman is the wife of the pastor of the church, Ezra Tillman.
"We're open twice a week, Tuesdays and Fridays and this whole stage," maybe 16-feet wide by 8 feet deep, "was filled with water," she said. When I asked her how many people she has served so far, Catrina said, "I don't know if we can put a number on that."
The operation carried out by the National Guard requires would-be water recipients to show photo IDs and limits families to a pack of water per day, First Trinity's operation, however, is informal and has no such restrictions.. Tillman said, however, that she has gone down to the fire station to supplement the church rations.
"I talked with the National Guard, I talked with the state police…..They are only giving out one case per day and they are giving out 24-packs. Well if you're a family of three or four, I mean, the two of us can go through a case of water just drinking it but we're talking drinking, brushing teeth, washing, cooking; that's just not enough water." (story continues after video)
Video by Earchiel Johnson with Patrick J. Foote.
Aside from serving individuals and families in the community, First Trinity has been a hub for other churches in the area who go there to receive water that they then distribute to their own congregations.
Using social media, the church has made connections throughout the country with other congregations who have held water rallies for them. They've even managed to come into contact with some big names in the faith community like Pastor Jamal Bryant.
"We contacted him, he's going to do a large rally here on February," she said.
Bryant is a well known figure in the African Methodist Episcopal Church in Baltimore and is also well known on national television and radio.
Individuals have also been donating after hearing about the water station on the Rickey Smiley Morning Show, Tillman added.
Not over when the cameras turn off
Pastor Ezra Tillman spoke to the People's World in his office just down the hallway as another small (comparatively) donation of water was being loaded into the hall. He said he knew something was very wrong with the water system months ago when his church's annex was getting bills for $400 to $500 for an average of eight days of water use a month.
"It's very pricey and taxing to our community and members because we have a high percentage of retirees and seniors on a set income. It's like you're a prisoner to the situation: you pay your bills, but you don't get your water… It's awful."
The church has purchased several freestanding purified water dispensers that sit next to the old water fountains, now draped with black trash bags.
Joseph Hampton, a volunteer at the church, showed us his water bill for a property he owns in the city of Flint. The upstairs flat, which is occupied, was charged $377.26. The downstairs flat, whose water was only turned on for a few days, so that the pipes could be inspected, was charged $206.76.
Hampton said he told his tenants, "You pay whatever you can, I'll pay the rest," adding "They can't afford it… you eat it because the city of Flint does what they want to do."
Folks who own property in Flint can't sell it even if they wanted to, at least not until the water crisis is solved and their taps are safe. "We feel like we're refugees, but you can't be refugees because you can't escape," said Pastor Tillman, referring to the plight of some members of his congregation.
The goal right now, he said, is to get the word out across the world and "to give a platform to the victims who have hair missing, and skin pigmentation issues, and those who have given birth to children suffering from autism. We have great concerns about what the future is going to look like since its been reported that 10 people have died from side effects attached to [the water crisis]. Not everyone has picked up on it."
On the issue of who is accountable, the pastor couldn't be clearer.
"The governor, solely, is responsible. It is a travesty for anyone to blame the president, or to go to city council to blame them for it because whatever goes on in the state goes through him." He added: "The emergency manager law concentrated power in the state's hands in such a way that there is no way for the governor to not be held liable."
When asked if there's one thing he wants the world to understand, the pastor was quick with the reply:
"It does not stop after the cameras stop rolling. This is going to be a long, continual fight. Make sure to keep your eyes on Flint to see what our government will do about it while we send funds across seas to fight and to guard oil."
He said that other people in other countries and other parts of the U.S. get to enjoy "Pure Michigan", invoking the now ironic state tourism slogan, while citizens in Flint suffer.
"It will not be resolved until there is digging, until there is an infrastructure system put into the ground and into the homes to make sure people are getting quality water."
To arrange a donation of water to the Flint community through First Trinity Baptist Church, you can call 810-234-2653 or contact them on Facebook.
Photo: National Guard unloading water at a distribution center a block away from First Trinity Baptist Church. The National Guard center requires a potential water recipient to show photo ID before they can get even one case of bottled water. At First Trinity Baptist Church, no such requirement exists. |   Earchiel Johnson/PW   |  Follow @peoplesworld_action on Instagram for our on-the-ground coverage. And check out our Facebook page.