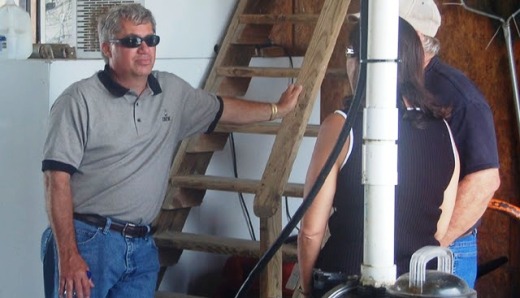 NEW ORLEANS – Chet Held, 48, has been fishing the waters here off the Gulf Coast since he was a little boy. He's worked in the oil industry. He's done off-shore navigation. He's been a commercial fishermen and a deck hand.
Held comes from a union family. He is an assistant business manager for IBEW (International Brotherhood of Electrical Workers) Local 130 and his brother is a pipefitter. Additionally, his sons and nephew are part-time fishermen and part-time union apprentices.
With the ups-and-downs of the skilled trades, "we've always had fishing to fall back on," Held told the World as we drove through a small neighborhood in St. Bernard Parish. "People got to work," he added. "You got to make a living."
For Held and his family it has been a hard few years. "First, we took an ass-whooping with Katrina," he said. "We lost our boats, our house and our belongings – a lifetime of memories. We lost everything in Katrina."
As we drove through St. Bernard Parish, Held pointed out where his house used to be. His voice a little shaky, he said, "I'm sorry, this is where my babies grew up and it was all washed away!"
"And over there," he added, "my car was on top of that house."
Held continued, "It's hard living out here. During the worst of it, we had to pool everything. We had to survive together." After evacuating, Held and his family – 25 in all – showed up at his cousin's door steps in Florida. "We were in shock. We didn't know what was going to happen," he added.
Held, like many people in the bayou, hold family, friends and community very close. They see the Katrina tragedy as a community tragedy.
As we drove past the marsh with broken boat hulls still visibly protruding from the water, Held added, "The names of the boats are like people. They're like the family I grew up with. There is a lot of hurt here."
Unfortunately, however, it wasn't just the breaking of the levee that almost destroyed this quiet little neighborhood about 30 miles outside of New Orleans. Just east of where Held's house once stood is a Murphy Oil, Inc. refinery, one of the largest employers in the area. As the 25-foot wave crushed everything in its path, it also ruptured a nearby oil tanker spilling thousands of barrels of oil into the surrounding community.
According to Held, Murphy Oil, Inc. provided a "small settlement."
"We jumped on it. We had to get something in our pockets. We were devastated. Everything was so expensive, and there were thousands of other people in the same boat. We didn't know what else to do."
Now with the Deepwater Horizon explosion, the loss of 11 lives, and the 200,000 gallons of oil pouring into the Gulf Coast every day, he said, "everything has been totally shut down. Our livelihoods are gone."
"Fishermen all over," Held continued, "have used up every dollar, every last penny, to get their boats ready."
"We've got house notes and boat notes, just like everybody else," he added. "We live off of these waters. And now we can't fish."
While St. Bernard Parish is about 70 miles from the coast, fishing is its life's blood. Everybody from the local mom-and-pop restaurants, to the grocery stores, to the bait shops, schools and churches is tied to the industry.
"It's a damn shame," Held said outside an empty bait shop, boats docked with crab nets standing ready like statues, just waiting. "We should be out there making money. All those boats tied up, it's a sin."
Things are tense here. Nobody is quite sure what's going to happen, when it's going to happen or how it's going to get done. Furthermore, nobody can work. In fact, the only work to be had is putting out booms.
Additionally, with congressional investigators raising questions about BP's decision to continue work even though highly combustible gas had seeped into the Deepwater Horizon well, it is becoming ever more apparent that this whole crisis could have been avoided – if standard precautionary measures had been taken.
To a community already reeling from the Hurricane Katrina disaster, this seems like another slap in the face. Only about 50 percent of the population of St. Bernard Parish have returned since Katrina. Furthermore, there are currently only about 3,000 registered fishermen in the area; there were 15,000 registered fishermen in the early 1980s.
However, Held isn't just angry about the current crisis and its impact on his community; he blames the oil companies for coastal erosion as well.
"We are losing our barrier islands" Held said. "When you suck the bottom out, the land sinks."
"Not only have the oil companies taken our jobs and polluted our waters, they've caused coastal erosion. Mile and miles of land, it's just not there anymore," he added.
As we stood looking out at the water – idle boats on one side and "STOP: Hazmat Area Authorized Personal Only" signs on the other – Held asked, "How much of this will be covered with oil?"
Photo: IBEW's Chet Held discusses the implications of the oil spill with his fellow fishermen and bayou residents. (Blake Deppe/PW)