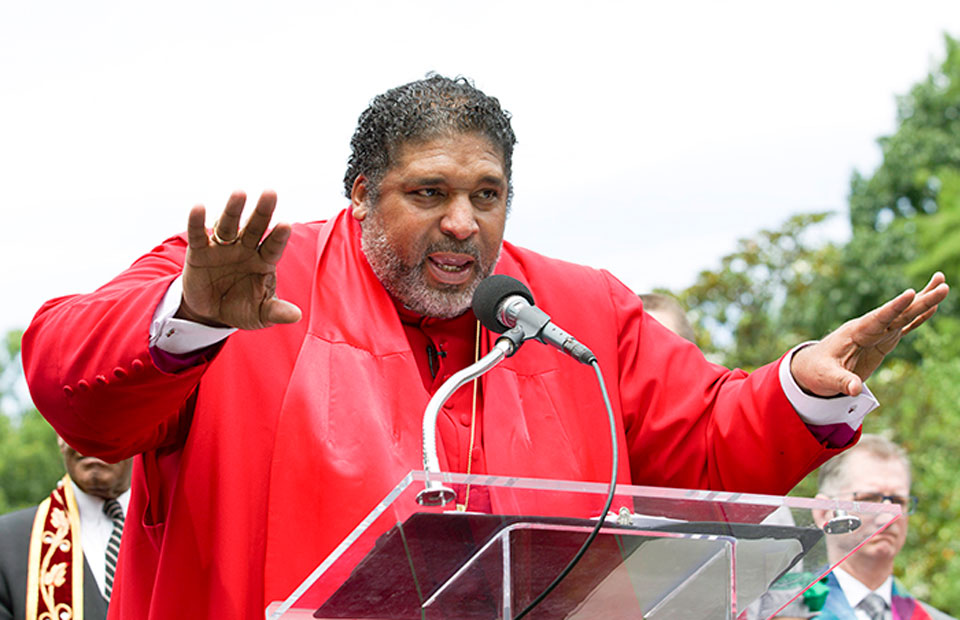 In a massive pre-election push the Poor People's campaign has contacted 5.5 million low-wealth and poor registered voters who could deliver the GOP a massive defeat on Election Day. The organization headed into the final weekend before Election Day intent on ensuring they get to the polls and that their votes are counted, too, despite voter repression in various states.
The theme of this last drive: "If you ever needed to vote for democracy, the time to vote is right now."
The campaign set a goal of five million voter contacts in states with chapters, but particularly in 15 targeted states, including North Carolina, Georgia, Florida, Illinois, Arizona, Kentucky, Kansas, Nevada, Wisconsin and Pennsylvania. Overall, it's operating in 30 states and more than 140 cities, Barber said.
It raced past that mark four days before the rally, hitting 5,504,713 contacts by the time the event began. Contacts included 700,000 Floridians, 209,440 in Arizona and 731,785 in Georgia, a key purple "swing" state.  In 2020, the campaign contacted 2.1 million people total.
"Vote for democracy, vote for health care, vote for freedom. It's all in the balloting," urged Malik Gray of Tallahassee, Fla., one of dozens of PPC volunteers who spoke on the organization's nationwide zoom mobilization call/rally on the evening of Nov. 2.
But the point is to get people the volunteer PPC canvassers contact to vote. Many are registered but not voted in years, if ever, "because no one contacted them" or listened to their concerns, said campaign co-chairs the Revs. William Barber and Liz Theoharis.
"The power to transform the entire political landscape is in the hands and in the votes of poor and low-income people," Theoharis explained. "All over the country, people are hurting."
Can make the difference
So turning them out on Nov. 8 can make a difference in the close races in target states, Barber and the others said. He used his home state, North Carolina, as an example.
"There were 1 million poor and low-wealth people there who didn't vote" in 2020 even though they were registered, he explained. "If we had had 20% of them, the outcome would have been quite different" from Democratic nominee Joe Biden's narrow loss to Republican Donald Trump in the Tar Heel State.
That's what happened in Pennsylvania in 2020, Barber added. The campaign contacted tens of thousands of people there, helping Biden win by 110,000 votes.
This time, it's contacted 614,991 voters, urging those who support its agenda of diverting federal funds from the military to domestic programs, raising the minimum wage, enacting strong worker rights, improving housing and public schools and providing health care for all. Two of the volunteers speaking via zoom specifically endorsed government-run single-payer health care, too.
Pennsylvania is particularly important because it has an open Republican-held U.S. Senate seat and open Democratic-held governorship. The Senate race between pro-worker Democratic Lieut. Gov. John Fetterman and Trumpite Republican Dr. Mehmet Oz could break that chamber's 50-50 tie.
And Pennsylvania's governor controls the election machinery in the Keystone State.  Attorney General Josh Shapiro (D) faces a Trumpite Republican state senator who has led the former Oval Office occupant's campaign to erase not just Biden's margin, but the votes of poor and low-wealth people in Philadelphia.
Other volunteers highlighted other problems poor and low-wealth people face—problems they're using on the campaign trail to attract people to vote on Nov. 8.
"There are millions of paid caregivers who are earning less than $15 an hour," the minimum wage floor the campaign is lobbying for, said caregiver Teresa Muldrow of Philadelphia. "And there are millions more who are unpaid." They're family members.
"The expanded child care tax credit lifted 30 million people out of poverty in 2021" when lawmakers used it to aid poor- and low-wealth people left with little or no income due to the coronavirus pandemic. "But Congress refused to extend it" though the modern-day plague still afflicts the U.S. Restoring the tax credit and making it permanent is is a Poor People's Campaign goal.
"Our public schools aren't funded enough," said Anam El-Jabali, a Palestinian refugee and mother of five from Chicago's southwest suburbs. "This is why we demand quality, equitable and diverse schooling."
"I want folks to understand this is serious," Barber said. "We march, we organize, we vote. But the one thing we don't do is quit," signaling the campaign will continue after Election Day, to hold politicians' feet to the fire.
"Voting is the guaranteed way to shift public policy—if the masses get together" to elect officeholders who will work to end the plight of the nation's 140 million-plus poor and low-wealth people, Barber added.
"If the extremists" who oppress the poor "didn't know this, they wouldn't be fighting us so hard. They want the lobbyists and the greedy to use the vote," but not the rest of us.