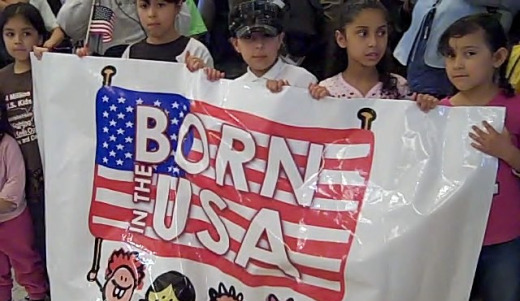 CHICAGO – "We're human beings. Everyone has a right to be with his or her families," a tearful Olivia Segura said of the threat to deport her husband Alberto. "Let me keep my family together."
The Seguras joined 1,200 immigrants, their supporters, labor, small business owners, religious leaders and elected officials April 10 at a Rally for America here, demanding comprehensive immigration reform and an end to deportations and separation of families.
Segura is a U.S. citizen. In 2007 her daughter Ashley, also a citizen, was killed in Kuwait while serving in the U.S. Army. In their grief, Segura's husband became depressed, and began taking sleeping pills and drinking. He was arrested on a drunken driving charge and as a non-citizen seeking residency status, he was jailed for a year and now faces deportation. The family's life is in turmoil and its home is in foreclosure.
Another rally participant, Susana Ramirez, is a single mother. She is an immigrant but her daughter is a U.S. citizen. Two weeks ago she was pulled over by police because they said her car had crossed over the yellow line. She was arrested and spent a week in jail. She also faces deportation.
"I'm afraid to go back to Mexico. I fear being kidnapped, which happened to me before. I hope the deportations stop, not just for me. Too many families face this," she said.
The stories of Segura and Ramirez are being repeated daily. Last year over 400,000 immigrants and their families were deported, often as a result of similar minor, unrelated incidents.
The threat of deportation is also forcing workers to endure super-exploitation and discrimination in silence. Ron Powell of United Food and Commercial Workers Local 880 spoke about the workers at Pete's Fresh Market who want a union to stop discrimination and sexual harassment.
"Pete's management is trying to scare them with ICE raids and E-verify," said Powell. "Work is part of their lives. They are being called dogs. But they are not dogs. They want decency and respect."
A group of undocumented immigrant students were present and pleaded that "we shouldn't have to choose between our parents and a better life for ourselves." The students formed the Immigrant Youth Justice League and "came out of the shadows" on March 10, declaring they were no longer afraid.
Police Chief Pat O'Connor, president of the Illinois Association of Chiefs of Police, said he spoke for law enforcement across the state that wanted a change in the law because it is an obstacle to serving immigrant communities.
"People are afraid to speak to us and we are not able to give them the protection they deserve," said O'Connor.
Many rally participants had attended the giant immigration reform demonstration in Washington, March 21. Organizers see this as part of an effort to get legislation introduced into the U.S. Senate by April 30. Joshua Hoyt, executive director of the Illinois Coalition for Immigrant and Refugee Rights, said immigrants and their families could no longer wait.
Among the elected officials present at the rally here were Sen. Richard Durbin, D-Ill., and Rep. Jan Schakowsky, D-Ill., both champions of immigration reform.
"We stand together as the American family. It's time to say to the government – stop dividing our families," Durbin told the crowd. "To the voices of hate, stop dividing America."
Durbin said there is a chance to pass immigration reform this year because President Obama strongly backs it. To cheers, he said Obama had proven his leadership in the health care reform fight and the same determination and commitment would be needed to pass immigration reform.
Durbin warned, however, that passage isn't up to the Democrats alone. He noted that Arizona Sen. John Kyl, the Republican whip, announced that if Democrats bring immigration reform to the floor, the Republicans will filibuster.
"Our challenge is to bring together Democrats and good-thinking Republicans" to make passage of reform legislation possible, said Durbin.
The immigration reform movement is planning a massive May 1 march in Chicago and other cities to continue to press for action in Congress.
Photo: PW/John Bachtell