WASHINGTON (PAI)—It's safe to fly now, despite the coronavirus pandemic, as long as you keep your masks on the entire flight, says Association of Flight Attendants-CWA President Sara Nelson. And the lobby for the nation's airlines agrees. Keep them on through September, too.
But the federal mask mandate ends May 11, and the two told the Senate Aviation Subcommittee hearing on the state of the airline industry that's too soon. The plague isn't over.
"The coronavirus really shows that 'An injury to one is an injury to all,'" Nelson said, using organized labor's longtime mantra—but applying it to people who refuse to take basic anti-virus precautions, including wearing masks.
While Nelson and Airlines For America CEO Nick Calio agreed on extending the mask mandate, they split on whether airlines should offer food and beverage service aboard planes again—a once-free passenger perk that became a money-making source for the carriers.
Citing the continued need for anti-virus measures, including measures protecting safety for her 50,000 members, Nelson said "no" to food and beverages. Calio said "yes."
Masks aren't the only reason it's safe to fly, Nelson and other witnesses told senators at the April 21 session. Hospital-like extensive air exchange systems installed on planes, plastic gloves for the flight attendants, sanitizers everywhere, physical distancing in terminals and restrictions on how many people can board—or get off—at one time also help.
And when the AFA identified jetways and terminals as major threats to public health, due to lack of air circulation and no-mask rules in some states, the carriers and the airports, all in a cooperative spirit to battle the plague, attacked those problems, too. In red states whose public officials banned or curbed safety measures, airport authorities enforced the mask mandates, witnesses said.
But forget taking temperatures says another witness, an M.D. specializing in disease transmission. The thermometer skips people who are asymptomatic and gives false positives.
Nelson said there's another move the government could take, besides putting its weight behind the mask mandate: Set up vaccination stations at airports to inoculate airport workers and airline employees against the virus, too. They're front-line in the fight, witnesses stated.
All this is designed to make it safe to fly again, a year after mass shutdowns to battle community spread of the virus led to a 97% drop in air passengers. The shutdowns also led to two government multibillion-dollar rescue packages, one from last March through just before Labor Day and the other after the winter holidays.
Those rescues were conditioned on carriers keeping workers on their payrolls, a requirement AFA-CWA's Nelson and her team successfully convinced House Transportation Committee Chairman Peter DeFazio, D-Ore., to insert in the past rescue plans. That's vital for workers in an industry that is 80% unionized, according to Nelson.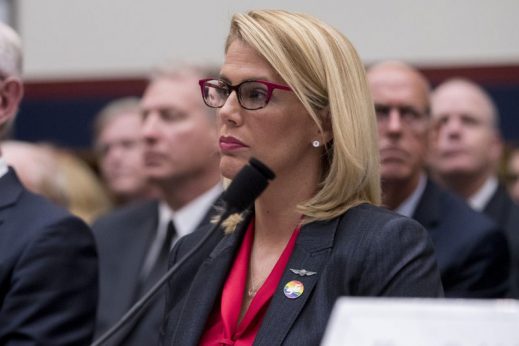 The requirement preserved both pay and pensions, she said. In the gap between August and December, tens of thousands of airline workers, including most AFA members, lost their jobs and incomes. And 4,000 Flight Attendants are still grounded because they couldn't, in those months, go through required retraining and recertification before flying again.
But without that Payroll Support Program that kept planes flying and workers on their jobs, she added, "We would have some bankruptcies"—which push workers' pay to the back of the creditors' line—"some mergers and a complete collapse….This was worse than 9/11 and it's continuing to be so. We're still in the middle of a crisis."
And there's still a lack of passengers and flights for many of them, witnesses testified. Domestic passenger volume is down 40% from pre-pandemic levels and flights are down 30%. Due to different standards abroad for battling the virus, international travel collapsed.
The Executive Director of Phoenix's Sky Harbor International Airport, Charlene Reynolds, told subcommittee chair Sen. Kyrsten Sinema, D-Ariz., that her airport is running at an average of 50% capacity. Reynolds, like Nelson and the others, testified via Zoom before a subcommittee loaded with lawmakers whose states have large and busy international airports, including Atlanta, Las Vegas, and Houston.
Even when the pandemic ends, airports may not be as busy. Analysts forecast rising work-from-home trends, especially video conferencing via Zoom, Skype, and similar services, will lead to a permanent drop in business travel, compared to pre-pandemic levels.
And Reynolds said financial analysts told her, when she discussed backing bonds for expansion and repair projects—including anti-virus protections—that the overall airline industry won't return to pre-pandemic traffic levels until 2024.
Meanwhile, even with vaccinations of adults rapidly spreading nationwide, the virus is still a threat, due to mutating strains. Since the official proclamation of the pandemic last March 13, 569,828 U.S. residents have died. The death toll averages more than 10,000 per week. The total exceeds the population of Albuquerque, N.M., by 8,915.
And through 3 pm Eastern Time on April 22, 31.896 million people in the U.S.—almost one of every ten—have tested positive at some time.