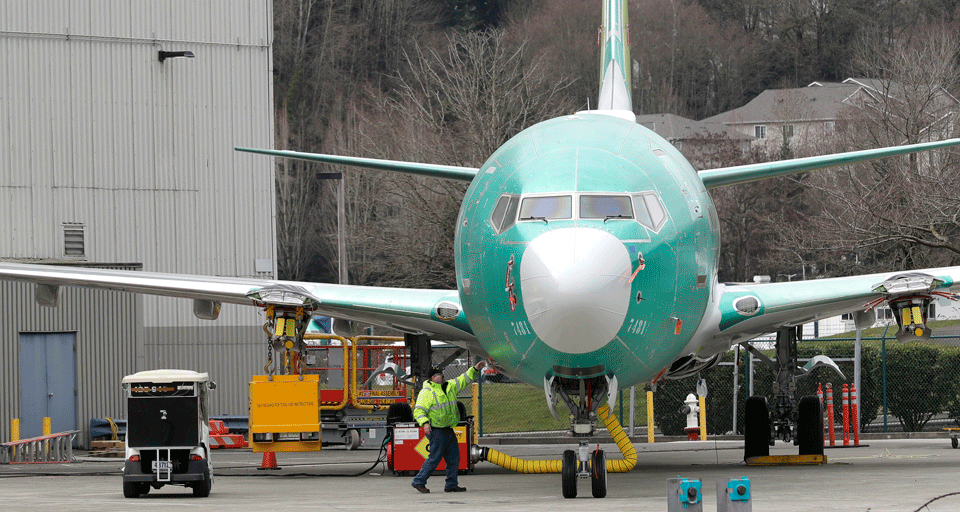 After the second fatal crash quickly after takeoff of what is almost literally a brand-new Boeing airplane, the Boeing 737 Max 8, the flight attendants' unions for the two carriers that use the craft—American and Southwest—demanded their immediate grounding.
And if American doesn't do that, the president of its flight attendants union adds, her members may refuse to board the planes.
Investigators believe faulty computer programming forced Lion Air Flight 610, at high speeds, to crash just after it took off, late last year, in Indonesia. The second crash, on March 10 in Ethiopia, is under investigation. Both crashes killed all aboard.
The second crash, just minutes after takeoff from the Addis Ababa airport, prompted the entire European Union to order its airlines to ground their 737 Max 8 planes. So did China, Boeing's largest customer. So did many other nations, including Australia, India, Brazil, Singapore, and Indonesia. Britain went a step farther and prohibited the Max 8s from flying over its airspace.
President Donald Trump's response was a tweet saying that the airplanes of today are "too complex." The 737 Max 8 groundings left the U.S., its Federal Aviation Administration, and manufacturer Boeing as the sole remaining advocates of keeping the planes flying. Many critics believe the FAA is too cozy with the industry it is supposed to be regulating and worry whether this partly explains why it trails behind other international air travel regulatory agencies.
Speaking out forcefully in favor of grounding the planes until further investigation are the flight attendants' unions and the Transport Workers Union, which represents huge numbers of ground workers at both airlines.
"We're calling on the FAA to temporarily ground the 737 Max fleet in the U.S. out of an abundance of caution in the wake of a second fatal accident involving the 737 Max 8 and until FAA-identified fixes to the plane can be installed," tweeted Sara Nelson, president of the Association of Flight Attendants-CWA.
Her union, which represents the Southwest Airlines attendants, also demanded a formal U.S. investigation into the accidents. Nelson also blasted Boeing for claiming that pilots didn't need additional training to fly the Max 8s.
"Professional pilots are the key to aviation safety, but advances in technology have also made us far safer. We don't need less of either; we need more collaboration between aircraft designers, manufacturers, flight deck crew, and cabin crew to ensure new tech enhances safety. And when accidents do happen, we need a swift and coordinated response from all stakeholders to figure it out and fix it," Nelson added in two consecutive tweets.
Lori Bassani, whose independent union, the Association of Professional Flight Attendants, represents American's attendants, agreed—and went one step further. She said her members may refuse to fly on the 737 Max 8s.
"The safety of our crews and passengers is paramount. Our flight attendants will not be forced to fly if they feel unsafe," her statement after the Ethiopian crash read in part.
TWU President John Samuelsen sent identical letters to the CEOs of American and Southwest, also demanding they ground the planes. "Boeing itself acknowledges there are issues with the aircraft's maneuvering characteristics augmentation system (MCAS) and it is unknown if it is a contributing factor in this catastrophe… Do the right thing and ground all the 737 Max 8 planes in the U.S. Put people over profits," Samuelsen said.
But there may be another factor in the two crashes: Company pressure on workers to certify planes as safe to fly, even when the workers have doubts. That's what CBS News reported on Feb. 5, quoting mechanics it interviewed at both carriers who had their voices dubbed and their faces blacked out for fear of management retaliation for their whistleblowing.
And the line maintenance techs at TWU Local 591, who work on American's planes, and those at the independent Aircraft Mechanics Fraternal Association, who work on Southwest's craft, lauded the CBS probe and backed it up with their own evidence.
"American claims to support a safety culture," Local 591 President Gary Schaible said in a joint statement. But he quoted an FAA report that regional maintenance director Evita Rodriguez instructed American technicians, "'You need to strike a balance between safety and productivity.'" Rodriguez was later promoted to overall director of maintenance. "The technicians can read this message in only one way: Push the planes out whether they are ready or not," Schaible said.
AMFA National Director Bret Oestreich said in the same joint statement that Southwest has the fewest line maintenance techs per aircraft of the four big U.S. carriers, and "is demanding the right to have maintenance work performed in foreign countries that do not meet" U.S. standards. To be fair to the carriers, their staff, and their passengers, Southwest should move the work back here, Oestreich added.
The Airline Pilots Association, which represents Southwest pilots, cautioned against jumping to conclusions until the investigations of both crashes are done. But the Allied Pilots Association, the independent union for American's pilots, raised questions about the safety of the MCAS system when Boeing brass visited union headquarters in Texas last Nov. 29.
Capt. Michael Michaelis, APA's safety director, "conveyed our pilots' serious concerns about the issues raised by the Lion Air 737 Max 8 accident" in Indonesia. "The subsequent discussion covered a wide range of topics related to the design of the 737 MAX, including the software that triggers the maneuvering characteristics augmentation system."
The New York Times reported three U.S. pilots also told the FAA in November, in required incident reports, about problems with the 737 Max 8's computerized systems. They switched out of autopilot during ascent to overcome them. One said neither Boeing nor his airline gave him enough training on the new system—countering Boeing's claim that pilots didn't need much time on it.