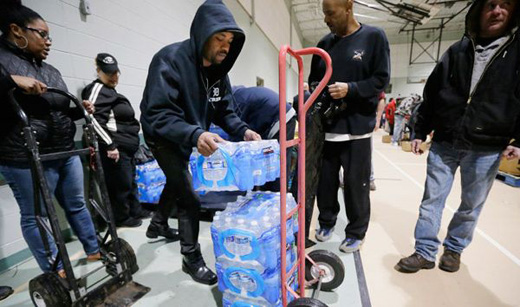 WASHINGTON – Yesterday, the attorney general of Michigan brought charges against three government officials for being part of a conspiracy to cover up the fact that the water in the city of Flint was poisonous. At almost the same time, the Nation Foundation and others gave the Ridenhour award to a Flint pediatrician for bringing the danger to light.
She is Dr. Mona Hanna-Attisha, the director of the pediatric residency program at Hurley Children's Hospital and assistant professor at Michigan State University College of Human Medicine. The Ron Ridenhour award, for "truth-telling," is given here annually by the Nation, Fertel, Mott foundations in honor of the veteran who exposed the massacre by American soldiers of noncombatant men, women and children at the village of My Lai during the Vietnam war.
Flint's water became contaminated with lead in April, 2014 when the city was under the dictatorial control of an "emergency manager" appointed by the governor. To save a little money, the governor, Rick Snyder ordered that the source of Flint's water be switched from Lake Huron to the Flint River. The reason was to save about $100 a year per Flint resident.
Snyder had been elected by promising to run Michigan "like a business."
To continue to keep costs down, the state did nothing when Flint River water was discovered to be highly corrosive, which caused lead to leach from Flint's aging pipe system into the water residents used for drinking, washing and bathing.
Flint residents, predominantly low income African Americans, began to get sick almost immediately. They suffered painful rashes and disabling internal ailments of all kinds. Two people died.
For 18 months, residents protested. They brought bottles of yellow water to city officials and to various public meetings. They were told the water was perfectly safe and to stop complaining. Some residents were arrested for making a fuss.
Meanwhile, hundreds of children showed symptoms of lead poisoning: lower cognitive functioning, irrational behavior and a wide variety of illnesses.
Uncovering the truth
Dr.Hanna-Attisha knew that routinely drawn blood-lead level data existed for thousands of Flint-area children, especially those on Medicaid or who live in high-risk areas for lead exposure. So she turned to the Genesee County Health Department, which told her test results are kept in individual patient files and could not be easily analyzed, and she faced similar challenges getting blood-lead levels from the state.
Undaunted, she decided to look into more than 3,000 files of children at the hospital where she worked – drawing comparisons before and after the water source switch.
She and her team found that the percentage of children with elevated levels of lead in their blood had nearly doubled, and in some neighborhoods even tripled. Given the public health emergency, she skipped the typical approach of publishing her findings in a medical journal and, instead, called an immediate press conference to alert the public.
She was ridiculed by state officials. Her license to practice was threatened.
However, the public outcry grew so intense, state and city officials was forced to reconsider attacking Dr. Hanna-Attisha and finally admitted she was right.
In January, the state and federal governments declared a state of emergency in Flint and started to truck in bottled water for use of the residents.
The cover up
Why did it take so long for state officials to admit they had made a mistake by not treating the water from the Flint River?
Part of the answer was given yesterday by Michigan Attorney General Bill Schuette in bringing charges against Mike Glasgow, Flint's laboratory and water quality supervisor; Mike Prysby, a Michigan Department of Environmental Quality (MDEQ) official; and Stephen Busch, who was an MDEQ district coordinator during the time the people of Flint were complaining about the bad water.
The charges against the three include falsifying water quality results, and "conspiracy to temper with evidence."
Schuette said, there charges "are only the beginning, I can promise you that." No one is above the law, not on my watch."
Many Flint residents expressed skepticism about bringing the real culprit to justice.
For example, Mikki Wade, one of the first Flint residents to speak out about the poisoned water said, "We are afraid that [the three charged] are just being scapegoated. The person really responsible is Governor Snyder.
"He should definitely be charged. He should resign and maybe be put into jail."
Meanwhile, the lead content of Flint water remains way above safe levels.
The people of Flint are still forced to use bottled water only for drinking, washing and bathing.
Dr. Hanna-Attisha now leads a new to research, monitor, and mitigate the impact of lead in Flint's drinking water on more than 27,000 children. She and her colleagues have also established the Flint Child Health & Development Fund to collect donations for Flint children's long-term needs.
Photo: People unload bottled water at a community center in Flint.   |   Carlos Osorio/AP